Music
Katy Perry At The Hollywood Bowl: Review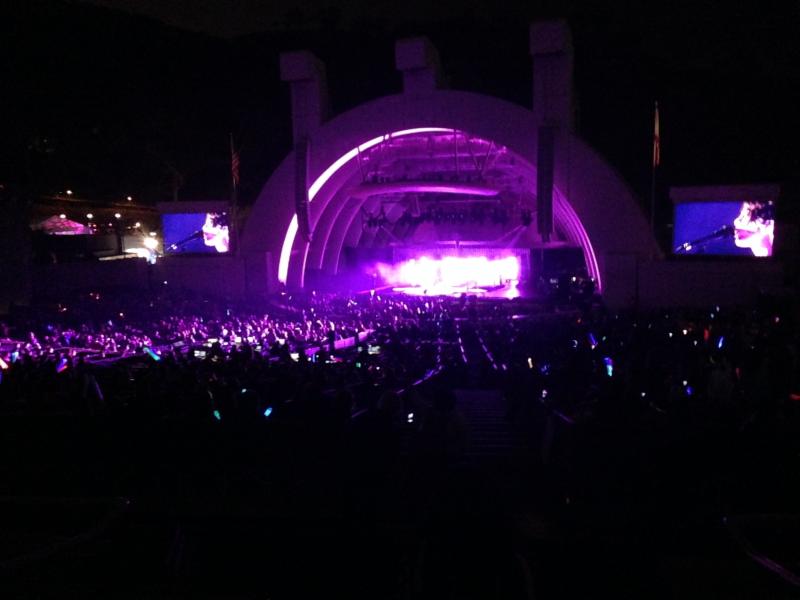 Last night's show at the Hollywood Bowl was full of fierce ladies and fireworks galore, as Katy Perry headlined a benefit concert to support
Young Survival Coalition
, a non-profit organization that provides aid and resources for young women diagnosed with breast cancer.
The We Can Survive benefit concert included other performers such as Ellie Goulding, Sara Bareilles, Tegan and Sara, Kacey Musgraves, and unannounced special guest Bonnie McKee.
The crowd, fully loaded with light swords and dance moves, ranged from 6-year-olds in Katy Perry blue wigs to 40-year-old bald men in plain t-shirts. (In testimony to this, I was sitting next to a man who danced the entire time).
Kacey Musgraves played first, with Tegan and Sara following, then Sara Bareilles, and Ellie Goulding before Katy Perry.
Perry played 5 songs off her new album, "PRISM," that was released the day before the show, including her hit single, "Roar," and "Dark Horse," during which Juicy J came out and rapped his part.
READ MORE: Katy Perry: 'PRISM' Album Review
Perry, dressed in an entirely metallic outfit (like a prism!), played a mix of old and new songs off all three of her studio albums. (See Perry's full setlist below.)
The crowd was in awe when Perry played "Firework" alongside a literal firework show, and then finished the night off with "Roar," where she brought out all the performers from the night. Here's the firework show during "Firework."
Perry played a surprisingly short set, not playing more of her hits like "Wide Awake" and "Last Friday Night (T.G.I.F.)." While Perry did play the most songs out of any of the performers, ads made it seem as if Perry would be playing a full concert - after all, she was headlining it. Just not in the way everyone thought.
Regardless, each performer was amazing and really pumped up the crowd from Goulding getting the crowd to dance to "Burn" and Bareilles had the crowd split down the middle vocalizing "uh oh's" and clapping to her hit "King Of Anything."
All proceeds raised from the concert, including tickets, tees, and posters, were donated to Young Survival Coalition.
Perry's finale with "Roar" had all the performers of the night come out and sing parts of Perry's newest hit single. As all the artists left the stage, Perry left the crowd with a tease, letting us know to look out for them on tour next summer. Perhaps, this benefit show is a sneak peek into Perry's summer tour? Looks like we'll just have to wait and see.
Perry's full setlist:
"I Kissed A Girl"
"Dark Horse" feat. Juicy J
"Part Of Me"
"By The Grace Of God"
"Walking On Air"
"California Girls"/"Teenage Dream" Medley
"Unconditionally"
"Firework"
"Roar"
Read more of NT's show reviews here.
Reach Contributor Katie Chen here. Follow her on Twitter here.