Food
Islands Celebrates Football Season With 'NFL Happy Hour' Menu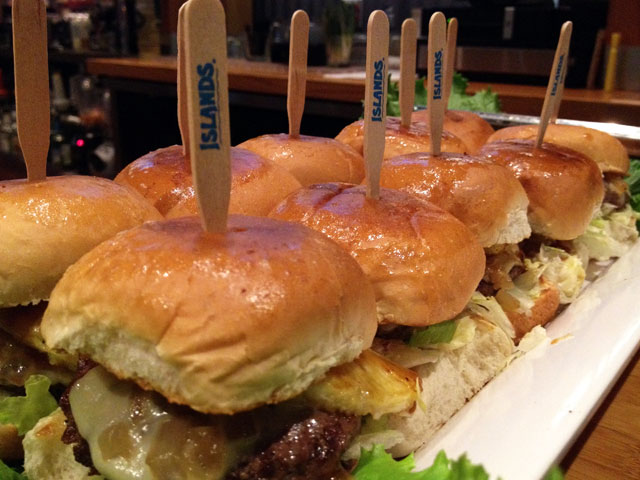 To commemorate Monday Night Football,
Islands Restaurants
locations nationwide are providing customers with "
NFL Happy Hour
" menu items.
Islands' "NFL Happy Hour" menu launched this past August with the pre-season NFL games. The "NFL Happy Hour" menu will be available on Mondays and Thursdays with items that cost $5 or less. This menu differs slightly from the company's regular "Happy Hour" menu in terms of its extended hours. On Mondays and Thursdays, the "Happy Hour" deals extend from 4 p.m. until closing, and on Sundays, "Happy Hour" items are available all day. With this special "NFL Happy Hour" menu, diners are invited to chow down, relax and enjoy the football season festivities with beer, tantalizing appetizers and other Islands' favorites at discounted prices.
The Islands Redondo Beach location partnered with Bread and Butter PR to host a VIP preview of the "NFL Happy Hour" menu on Oct. 21. From 6:30-8:30 p.m., guests were able to watch the Minnesota Vikings vs. New York Giants, while enjoying delicious dishes currently featured on the "NFL Happy Hour" menu.
Items on the "NFL Happy Hour" menu included a variety of cocktails, appetizers and tapas-style dishes. Fresh-cut "Island Fries," cheesy "Spinach & Artichoke Dip" served in a creamy Alfredo sauce, and "Chips and Salsa" are just some of the staples on the menu. Spicy "Buffalo Wings" served with celery sticks, carrots and ranch dressing (also available in BBQ or teriyaki) and the savory "Steak Tacos"—a delightful ensemble of caramelized onions, cilantro-chili sauce, lettuce, pico de gallo, cotija cheese and hearty steak wrapped in a corn tortilla—were also major hits. However, the "Hawaiian Sliders"—featuring mini burgers infused with fresh, grilled pineapple, caramelized onions, swiss cheese, lettuce, mayo and teriyaki sauce—stole the show, and several platters had to be brought out (with requests for more) for hungry guests.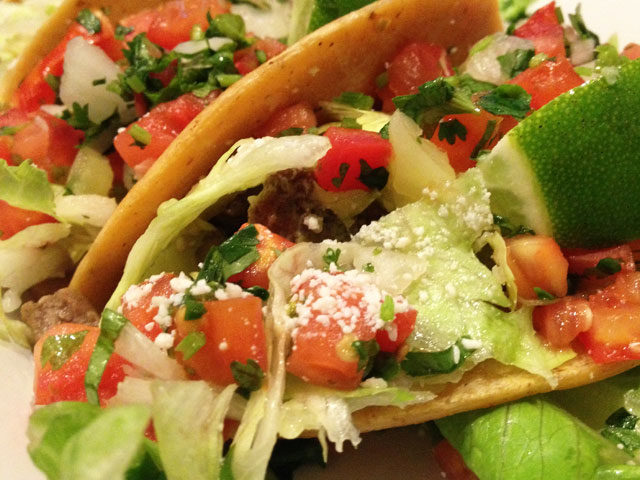 Most notable about this "NFL Happy Hour" menu was the debut of the "Makaha Maggie" cocktail — a pineapple margarita featuring Grand Marnier, lemon and lime juice, agave, crushed pineapple and grilled pineapple-infused tequila with a cinnamon sugar rim and pineapple wedge garnish.
"This pineapple drink is new and people seem to love it," said Cara Sprague, Islands' senior marketing manager. "It's soaked in white tequila for three days and has a sweet taste from the pineapple."
Islands makes NFL football Mondays and Thursdays even more exciting by doing free giveaways via a raffle. Diners will have the chance to win prizes like Islands beach towels and water bottles.
"This is the first year we're doing prize giveaways," Sprague explained.
If any of the "NFL Happy Hour" menu items whets your appetite, Sprague encourages NFL fans and foodies to fuse their interests at Islands.
"We've been offering the 'NFL Happy Hour' menu for about three years, but it's only available during the NFL season," she said.
And Sprague's favorite "Happy Hour" menu item?
"It's the 'Island Fries,'" she confessed. "They're just so addictive!"
Reach Kelli Shiroma here or follow her on Twitter.
View some of the "NFL Happy Hour" menu items below.