Science+Tech
IndieCade Closes, But Future Of Gaming Wide Open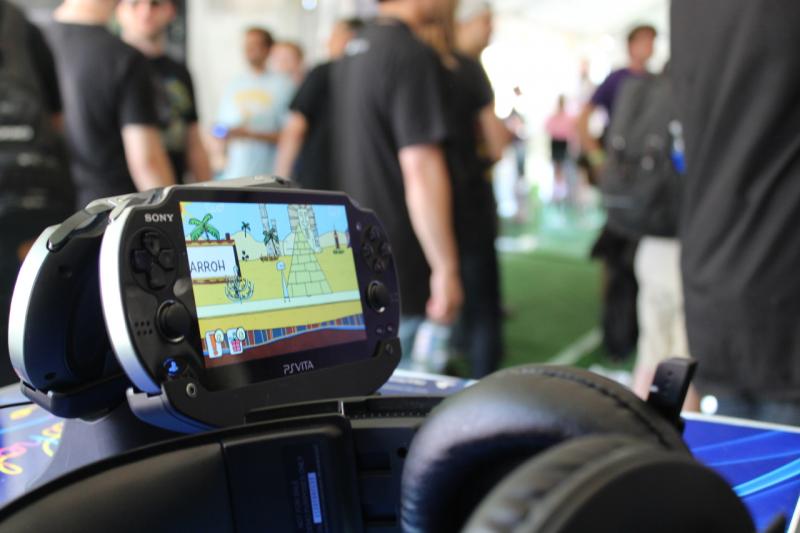 As IndieCade sponsors and game makers broke down their displays Sunday evening, there was much discussion about the future of the video game industry.
Sony and Nintendo had a massive footprint at the annual festival devoted to indie game makers, each attempting to lure indie game developers to their respective consoles.
Microsoft, which is trying to repair an anti-indie image, offered an olive branch in the form of free breakfast to exhausted game makers and sponsors on Sunday morning.
All three console manufacturers were hoping to find the next Minecraft or Braid in a tent somewhere in downtown Culver City, devoting resources usually reserved for more commercial trade shows like E3 or PAX.
It underscores how tenuous the market place is.
Both Sony and Microsoft have a little more than one month before they finally start shipping their next-generation consoles to retailers. Sony is hoping to reverse negative sales trends; Microsoft is aiming to maintain its dominance in the living room. As evident by the sheer diversity of products at IndieCade, success for either company is not guaranteed.
SEE ALSO: Sony's PS4 A Hit With Indies
Developers are torn between building games for mobile market places, like the Apple App Store, or for living room consoles. Some indies debuted content for handhelds, while others are offering their games on PCs and Macs.
The Ouya, a crowd funded video game console, has emerged as yet another option for developers. The small company staged an impressive showing at IndieCade, further complicating matters for indies.
With a price tag of just $99, it's practically an impulse purchase for hardcore gamers and remains an easy platform for indies to develop for. But as developers wait for Valve and Apple unveil their own market solutions, even consumers questioned the long-term viability of the Ouya.
"It's a fun device," said 23-year-old festival attendee Dominic Burress, "I'm not sure if it will do well once all the new systems come out."
SEE ALSO: Valve Reveals The Steam Controller
Some visionaries eschewed traditional input altogether, voicing their support for the burgeoning VR scene that has cropped up with advent of Oculus Rift VR headset. Hinting at its commercial viability, the lengthy queue to demo Oculus headsets was a consistent foe for IndieCade attendees throughout the weekend.
Graham Matuszewski is the "Build-master General" of a team led by USC students working on a virtual reality system called Project Holodeck. The system drew a steady stream of interested gamers and developers at IndieCade.
Matuszewski contends the project is platform agnostic, building a virtual reality Franken-system with the Oculus Rift, Razer Hydra and Sony Move controllers. Like many at IndieCade, Matuszewski was unsure about the long-term prospects for next-generation hardware, but feels that VR will factor heavily in the debate.
"[VR] is undoubtedly the future," Matuszewski added.
But if virtual reality is a natural progression for video games, there is little to no consensus about the industry's immediate future.
In an industry where manufactuers are shying away proprietary hardware, game makers are no longer hand tied to a specific platform. Microsoft, Sony and soon Valve, will all offer machines with internal components almost identical to PCs.
The situation is exacerbated by Unity, which had a near pervasive presence at IndieCade. Unity is a game engine designed to support almost any platform known to man and coder alike; its adoption is another indication that developers are attempting to hedge their bets.
One anonymous game maker said that Nintendo had reached out them, but they were still "trying to figure out the best [platform] to market their game."
That kind of sensitive discussion between an indie game developer and a mainstream firm would have been inconceivable a console generation ago.
About the only thing game makers could agree on was their responsibility to craft experiences that could be universal.
Henry Smith is the creator of free-to-play iOS title, Spaceteam. Smith told IndieCade attendees at a panel on Friday that truly great games are not "about the screen, but the interaction between players."
For everyone else, IndieCade was just a matter of what screen – if any at all – you develop your game for.
Reach reporter Will Federman here or tweet him at @wfederman.