USC Sports
Andre Heidari Back In The Swing Of Things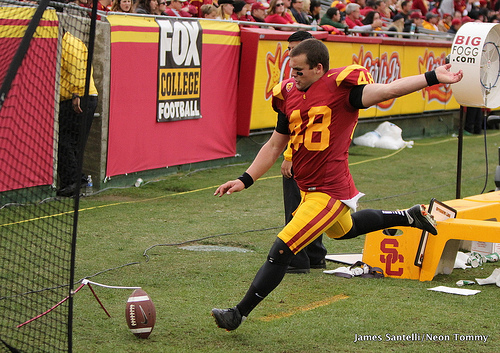 Three days before setting a career high in field goals made during a single game, USC kicker Andre Heidari looked the part of a frustrated man.
Less than two years removed from being named a freshman All-American and a first-team All-Pac-12 selection, Heidari was rudderless. The player who drilled 15-of-17 field goals as a freshman had missed five already this season, including two against rival Notre Dame, kicks that could have proved decisive in a 14-10 loss. Things had devolved so quickly in the aftermath of the Notre Dame loss that interim coach Ed Orgeron declared the kicking job was open and that Hediari, the sole scholarship kicker on USC's roster, would have to compete with walk-ons to retain his position.
And so the Mohawk-coiffed Bakersfield-native cut a subdued figure as he addressed the media Wednesday, projecting confidence about finding his form while also conceding he was in uncharted waters.
"I felt as of recently, I've just been lost in my swing," he said. "Those two balls I hit at Notre Dame went right, and I've never missed right in my career, ever. Right now, I'm pretty lost in my swing. This is the first time it's ever happened."
There was one other time Heidari found himself embroiled in a competition. It took place in the shadows in Bakersfield, Calif., at Stockdale High School, where Hediari – who by his own admission only began to take kicking seriously as an eighth-grader – upended a rival student to seize the starting job. Soon, he added punting duties as well and before long, the wiry 5-foot-11 late-bloomer began to cultivate a reputation for himself by dominating national kicking camps. When his senior year rolled around, renowned kicking coach Chris Sailer named Heidari the top kicker in the country, while Rivals.com tabbed him the nation's second-best kicking prospect. Years later, Sailer still shows film of Heidari's stroke – the one currently vexing him – to prospects he coaches to demonstrate ideal form.
Heidari's self-assurance and unflappability were his calling cards, and the tools that caught USC special teams coach John Baxter's eye in 2010 when the Trojans were looking to bring on a new kicker.
"When we recruited him, we were in a situation where we had to recruit a player that had to come in and play as a freshman," Baxter said. "There was no other plan in place. The thing that stood out about him was his mental toughness, his ability to compete. He's an extremely mentally tough player."
It was expected, then, that Heidari would dazzle the way he did in that sparkling 2011 debut season, the one that ranks among the very best for a kicker in USC history. There seemed to be no limit to his ceiling. USC has never fielded an All-American kicker, yet many tabbed Heidari to be the first; Sailer held he would be a surefire NFL kicker after he graduated.
But a torn meniscus suffered in last season's opener versus Hawaii derailed his sophomore year before it began. Though Heidari returned three games later, he looked noticeably diminished. He made just 10-of-16 field goals, and missed a pair of extra points after drilling all 50 he attempted as a freshman. Both he and Baxter insisted as soon as Heidari returned that he was healthy. But while the leg was strong, the psyche wasn't.
Those bruises were supposedly healed in this season's return game against the Rainbow Warriors, which Heidari punctuated with a booming 52-yard field goal.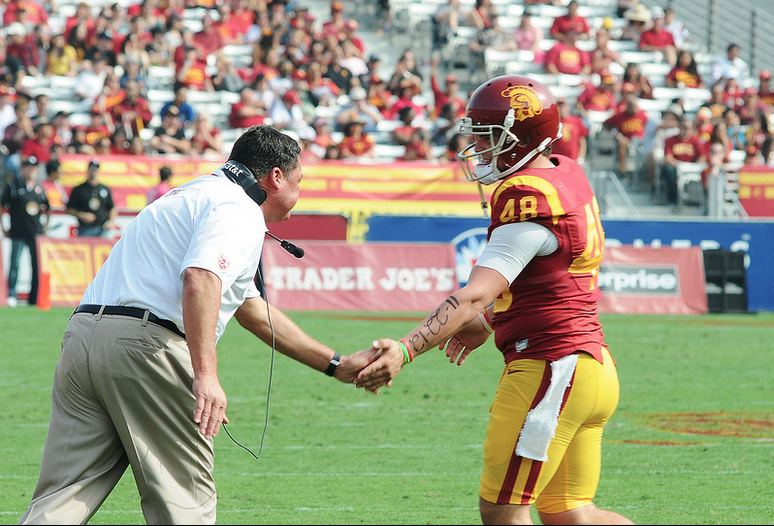 Once the misses began to roll in, though, he stopped being so sure.
"I thought I started the season off pretty well, but it's gone downhill," he said. The easy confidence was nowhere to be found in Wednesday's late-afternoon sun. There it was, the giving voice to doubt, the questioning of what was once an effortless technique. There had never been any reason for Heidari to question his mindset, until now.
"And," he said, "90 percent of kicking is mental."
The course seemed to have corrected itself on Saturday against Utah. Heidari drilled his first four field goals to score the final 12 points of the Trojans' gutty 19-3 victory, hushing his detractors and slamming the door on a competition that Orgeron suggested was "very close." Baxter praised his pupil's supposedly damaged approach, noting that while Heidari missed his final kick, all five attempts featured a good pass at the ball.
"That second kick against Notre Dame, he'll tell you it was the worst pass at a ball he's ever taken," Baxter added.
USC quarterback Cody Kessler, a fellow Bakersfield native, simply called Heidari "money."
Of course, it may not be quite so simple. Heidari's salvaged effectiveness could dissipate as quickly as his steady brilliance had before. He revealed to the Los Angeles Times' Helene Elliot that the sting from Notre Dame was still in his mind even as he walked into the Coliseum to take on the Utes. He was seemingly himself once again on Saturday, yet perhaps no one is more nonplussed about it.
"I was lost in my swing pattern and I just had to find it. I found it," he told her. "But we'll see where it goes from here."
His coach, however, foresees brighter days in the junior's future. The struggles were nothing more than a rite of passage that the late bloomer had yet to encounter.
"That's part of being an athlete," Baxter said. "You handle your ups, you handle your downs and you learn from them and move on. The true competitors do what he did. We're proud of him. He did a great job."