Nation and World
Furloughed TSA Worker Sees The Situation Rationally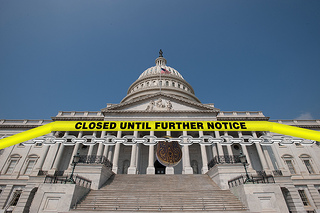 "There were only about 17 people out of around 200 in our office that were deemed 'essential'," says Neil Bonner, who works for the
Transportation Security Administration
. "On the day the
government shut down
, we received a multipage
furlough
document to sign which acknowledged we received notification."
According to a "Time" article, about 95 percent of the government workers were deemed "non-essential" due to the government shutdown. Workers that were not deemed essential were asked to leave their offices within moments of shutdown, and set up voicemails and email notifications stating that they will be out of touch.
Bonner had to do exactly that. His office was officially notified of the furlough last Tuesday, and he has not been able to return to work since.
ALSO SEE: Furloughs Close Glacier National Park, So Employees Stay Home
Bonner is responsible for a portfolio of Information Technology applications and systems: "For example, I am the IT manager responsible for the TSA mobile app that runs on smartphones. I also am responsible for the TSA.gov website platform."
While Bonner, among the other federal employees that have been furloughed, doesn't feel good about the situation, he tries to see the situation "rationally and separate from emotion." He realizes that no one was specifically out to get him but being called "non-essential" doesn't sound great, either.
"My biggest concern was the lack of income for the extended period of time," says Bonner. "I received my paycheck on Oct. 1 from the pay period that ended a few weeks ago. I'll probably get a partial paycheck for the six and a half days that I worked in the most recent pay period. Beyond that, I won't get paid until the government is ordered back to work. Fortunately, the House passed a bill to provide back pay for the time we were furloughed. I did not think that would happen, so obviously, I'm very relieved."
ALSO SEE: Furloughed, NASA Style
Instead of going to work every morning, Bonner has been spending his time playing golf. Also, he has been doing fix-it jobs around the house that he wouldn't have had the time to address had he been working at the TSA.
Bonner estimates that the government will reopen near the end of October: "I don't think we will be going back to work until they can compromise on the debt ceiling. Obama and the Senate leadership is not interested in working with the Republicans. I think this will lead to a short-term crisis before they come to their senses and pass a budget."
Reach Staff Reporter Beatrice Verhoeven here. Follow her on Twitter.