National
Fast Food Industry Is Costing Americans Billions, Report Says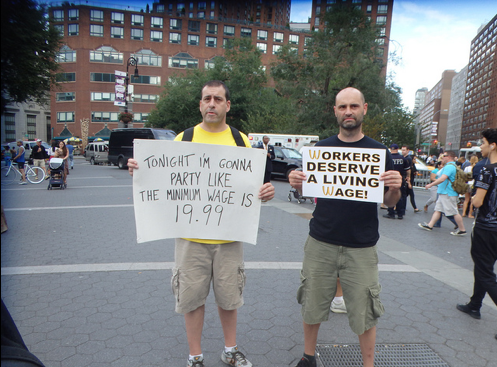 Americans are paying $7 billion per year in tax dollars to fund safety net programs utilized by fast food employees, according to a news conference held Tuesday afternoon.
The UC Berkeley and University of Illinois at Urbana-Champaign research attempts to calculate the amount of public benefits taxpayers indirectly provide to low-wage workers in the fast food industry.
READ MORE: L.A. Fast Food Workers Join Nationwide Strike
Nearly three out of five occupations created in the three years after the national unemployment rate peaked were low-wage positions, according to the National Employment Law Project.
"Median pay for core front-line fast-food jobs is $8.69 an hour, with many jobs paying at or near the minimum wage. Benefits are also scarce for front-line fast-food workers; an estimated 87 percent do not receive health benefits through their employer," the report said.
Of the 227,000 fast-food workers in California, 52 percent of fast-food employees' families rely on social safety nets funded by tax payers to receive basic necessities to survive, according to the report. Programs including Medicaid, the Children's Health Insurance Program, the Supplemental Nutrition Assistance Program's issuing of food stamps and the Temporary Assistance for Needy Families keep these families from falling below the poverty line.
Around $1.04 billion in food stamp credits are granted to low-wage earning families. An additional $3.9 billion is spent on Medicaid and healthcare for the children of fast food workers, and $1.91 billion is provided by the federal government via the income tax credit.
Ken Jacobs, chair of UC Berkeley's Center for Labor Research and Education, is just as shocked.
"The taxpayers costs we discovered were staggering," Jacobs said in an interview with UC Berkeley's News Center. "People who work in fast-food jobs are paid so little that having to rely on public assistance is the rule, rather than the exception, even for those working 40 hours or more a week."
UC Berkeley economist Sylvia Allegretto attributes this hefty cost paid by taxpayers to a lack of awareness by the general public. Allegretto feels the issue of low-wage jobs in the United States is shoved under the rug during national policy debates.
Within the past year alone, fast food workers in 60 cities have staged protests and walkouts demanding a wage increase to $15 an hour and union representation so they can stop relying on public assistance. California Gov. Jerry Brown approved legislation that would raise the state's minimum wage to $10 by 2016.
READ MORE: Gov. Jerry Brown Signs Into Law Minimum Wage Hike
These recent cries for reform attest to the breakdown of a common stereotype that all fast fast food workers are uneducated teenagers without a family. According to the Bureau of Labor Statistics, the average age of a fast food employee is 28 years and for women in the industry, the median age is 32.
Whether or not fast food is on the menu for one's typical meal, taxpayers are facing the brunt of the fast food industry's failure to ensure the survival and health of its employees.
Reach Staff Reporter McKenna Aiello here. Follow her on Twitter @McKennaAiello.