Nation and World
Economy Hurt On Shutdown's Third Day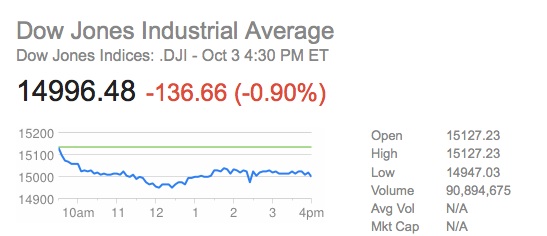 Three days after the US government shut down, shockwaves from the political standoff are reverberating worldwide.
The effects have been especially pronounced in economic terms. Immediately, the drying-up of federal funds dealt a blow to those on the ground level of government-supported operations, including researchers and park patrons. But now, a shade past 72 hours since congressional deadlock killed all non-essential operations, external industries and global finance systems are rattled.
ALSO SEE: Neon Tommy's Ongoing Coverage Of The Government Shutdown
According to PBS, economic issues related to the shutdown began in the Washington D.C. area almost immediately, as did tourism and the defense industry.
The slump will gain momentum if it continues for weeks or months, eventually diminishing loans and other indicators of economic confidence. If it lasts until Nov. 1, social security recipients will be unable to collect money. If it lasts until the federal debt limit is reached, the consequences will be "catastrophic to the economy," said Mark Zandi of Moody's Analytics.
Investors and strategists have been acting spooked since late in September, when market bellwethers including the Nasdaq composite index and the S&P 500 faltered hard. The Dow Jones Industrial Average dove 136.66 points before trading closed on Oct. 3.
ALSO SEE: The Repercussions Of FBI Budget Cuts
Congress' response to the shutdown may address this economic fallout by budgeting for retroactive payment of furloughed workers. But restoring investor confidence and global financial security will take more than the delivery of backlogged checks.
Reach Editor-At-Large Graham Clark here. Follow him on Twitter here.