Technology
Why The Downtown LA Streetcar Will Be A Loop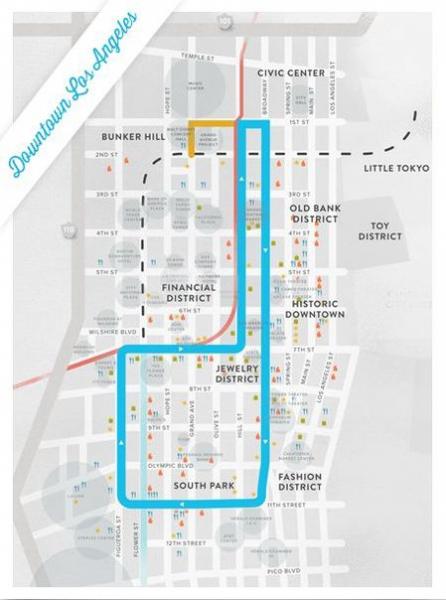 If all goes according to plan within the next few years sleek, modern streetcars will be circling Downtown Los Angeles.
Streetcars travel on tracks embedded in the street, and are significantly smaller than the light rail trains currently in use in Los Angeles. Los Angeles' streetcars will likely be powered by overhead wires.
Eric Metz, in charge of planning for the Downtown Los Angeles Streetcar, says that cars will stop almost every block going north and south, and about every other block going east and west.
Design work is in its early stages. "Right now, where we are is in the midst of the environmental process, moving towards engineering," he said.
Streetcars will be travel south on Broadway, west on 11th, north on Figueroa, right on 7th, and then north on Hill until 1st, where the cars will turn around to head south again on Broadway.
The stops will be more sophisticated than bus stops, but passengers will be able to step onto the streetcar directly from the sidewalk rather than from a platform. Signs will display when the next streetcar will arrive.
Streetcars will stop frequently, travel in city traffic, and stop at traffic lights, which will limit their speed to about that of a bus. Metz says that it's possible that streetcars will be given some kind of signal priority, although it's too early to tell.
He says that streetcars will be convenient to hop on and off, and will expand walking distances downtown. They will also reduce traffic because motorists will no longer need to drive between downtown locations. He advised them, "Park your car once, then take the streetcar to get around."
LADOT's Dash buses are neighborhood circulator routes that operate all across the city. Many of its routes are loops, and have buses running clockwise and counterclockwise for this exact reason.
However, the streetcar's one-way route may limit its usefulness.
Although she declined to comment on this project specifically, transit consultant Jarrett Walker offers important insight about the general problems with loop layouts.
"Whenever someone proposes a one-way loop as the solution to their transit problem, especially downtown, I feel the need to take a deep breath and offer— in my most calming and supportive voice, as though speaking to someone standing on a ledge—this crucial bit of wisdom that it took me years of study to acquire: Very few people actually want to travel in circles," said Jarret.
There are dozens of possible trips for which it would be convenient to take the streetcar one way, but very inconvenient for the way back.
It will be possible to take the streetcar, say, from the Grand Central Market straight down Broadway to 11th Street, but the return route would require a time-consuming detour via Figueroa and 7th Street.
Metz says that this does not concern him. The streetcar is intended to be a replacement for walking, not a replacement for driving a car or riding a bus. Therefore, any hypothetical passenger could probably walk back to 7th Street from 11th Street and take the streetcar from there.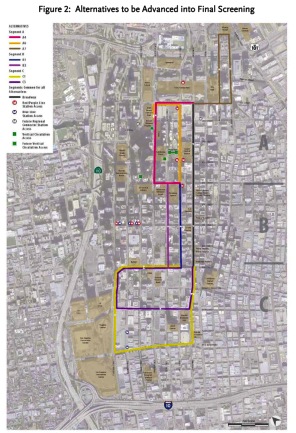 One of the criteria that planners used to evaluate different routes was the number of destinations the route would pass. A one-way loop maximizes the number of destinations the streetcar can pass, even if those destinations are only receiving half the service that a two-way route would provide.
When New Haven, Connecticut planned to build a downtown streetcar loop, University of Connecticut transportation engineer Norman Garrick cautioned, "Loops are usually done to hit as many places as possible even if it does not make sense in the long run."
The project did not move forward.
Yet, Metz explained that there are many reasons that a loop is preferable, including the cost.
With only one track on any given street, fewer pipes, wires, and drains have to be relocated. "It's a lot easier to put one track slab on a street than two. There are fewer utility headaches," Metz said.
Furthermore, streetcar passengers may not even need to return to where they came from, especially if they have a third or fourth destination to reach.
Although placing the northbound and southbound tracks on two different streets will increase walking distances, it will also bring more foot traffic and exposure for businesses along two streets, rather than one.
There is also a financial reason that a one-way loop makes more sense. In 2012, voters approved a downtown property tax to fund the streetcar. Properties within about three blocks of the streetcar will be taxed, so the route whose track spreads out over the widest section of downtown can receive the most funding.
By identifying empty land and parking lots that could be developed in the future, planners also took economic development potential into account when selecting the route. However, this process may have had the unintentional effect of favoring routes through the emptier parts of downtown.
According to Metz, there are many development projects along the route that will be finished by the time the streetcar opens. An overview by the Downtown News of upcoming new buildings and renovations shows several projects along and near the streetcar's route, including the Wilshire Grand tower and the new Federal Courthouse.
The streetcar is already being used to market development sites. "Lots of offer memorandums are going out with the streetcar on them," said Metz.
He also said that the streetcar will be important for developers to attract retail tenants.
"It's not going to be, 'I have a retail corner," said Metz. "It's going to be, 'I have a retail corner with a streetcar, and a stop with people on it.' It adds a lot of selling power that might otherwise not be there."
Some people, however, doubt the economic potential of streetcars. A project in San Antonio ran into the criticism that it was mainly for economic development, and did little to help mass transit riders.
Transit planner Samuel Scheib writes, "The dirty little secret is that at best [streetcars] are modestly successful transportation projects and at worst they are expensive objets d'art that very few people use."
However, streetcar proponents cite a study that forecasts the generation of 9,300 new jobs, $1.1 billion in new development, and increased tourism and shopping, among other things.
The Downtown Los Angeles Streetcar will have to attract riders in order to fulfill the promises of economic development. But if the one-way loop operation of the streetcar's route makes it inconvenient to ride, it may not meet these high expectations.
Read more LA transportation stories here.
Contact Staff Reporter Axel Hellman here.