National
Country Still Recovering One Year After Hurricane Sandy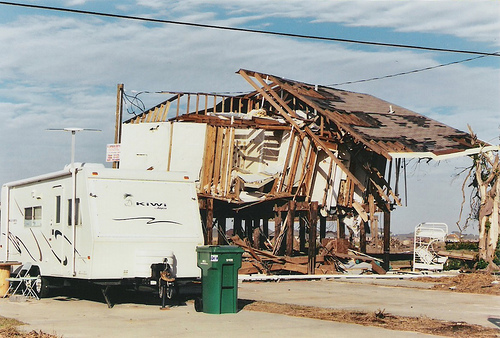 This week marks the one-year anniversary of the devastating "Superstorm", Hurricane Sandy. One year ago today, Hurricane Sandy hit southern New Jersey and went on to impact twenty-three other states. The storm consumed much of the eastern United States, causing sixty-five billion dollars worth of damange and claiming seventy-three lives.

The aftermath and recovery of Sandy was even more difficult. According to FEMA, "more than 23,000 people sought refuge in temporary shelters, and more than 8.5 million customers lost power. The storm flooded numerous roads and tunnels, blocked transportation corridors, and deposited extensive debris along the coastline."

Reports of the Sandy aftermath left the rest of the United States watching as hospitals with faulty generators struggled to care for patients, many were left homeless and, according to ProPublica, many Sandy survivors were left without signal on their cell phones because of the deregulation of telecom companies and could not reach their loved ones.

Today, the areas affected are still feeling the impacts of the hurricane. Several communities are still trying to rebuild, at least two hundred people are still homeless because of the storm and, of course, the familiar sting of suffering after a massive calamity is still felt by those directly and indirectly affected by the storm.

As our country looks back on the one-year anniversary of Sandy, many are thinking ahead for the next "Superstorm." The city of New York is looking to find more effective ways of preventing flooding in high-risk areas. The ProPublica website reads:

"At least 10,500 home and business owners whose properties are in FEMA's new advisory flood zones have been approved for an SBA disaster loan to rebuild from Sandy, according to a ProPublica and WNYC analysis of federal data. These loans are worth at least $766 million. And that figure could be much higher. FEMA has only released some of its preliminary flood map updates for the area."

Though the storm rests heavily in the hearts of many Americans, our country can only remember those who loss their lives, aid those still suffering and plan for the next "Superstorm" that hits our mainland.

Reach Executive Producer Miguel Arreola here.