Sports
College Football Week 9 Picks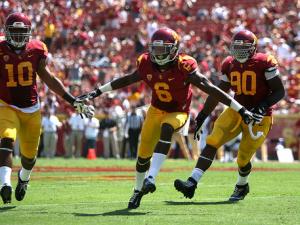 College football has another exciting week on tap, as our college football experts preview four top-25 matchups along with USC taking on Utah during Trojan Family Weekend.
Utah at USC
Max Meyer (@TheMaxMeyer): USC 21, Utah 17
The Trojans are suffering injuries on injuries, and their offense will be a shell of itself without Marqise Lee. Utah quarterback Travis Wilson seems like he will play, despite suffering an injury last weekend against Arizona. I think the home crowd will ultimately be the difference for USC, along with a strong running game featuring Tre Madden and Silas Redd.
Darian Nourian (@dariannourian24): Utah 21, USC 10
Utah will march into the Coliseum and beat the Trojans for the first time since 1916, simply because the Trojans lack depth at the cost of nagging injuries. USC has one scholarship tight end available and is most likely going to have to play a number of walk-ons at wide receiver. Add that with the USC defense not being able to stop a mobile quarterback in Ute's quarterback Travis Wilson, and you get a USC loss.
Mike Piellucci (@mikelikessports): USC 27, Utah 24
It's fairly pointless to say that a healthy USC beat Utah, because the Trojans aren't in the same continent of good health. Nor, however, is Utah's Travis Wilson, which puts the Utes in their own uncomfortable predicament of being one crucial injury away from disaster. Maybe it's the optimist in me, but I'll bet USC to barely eke out a win, although a Utah win should not surprise anyone.
Marc Sallinger (@marcsallinger): USC 28, Utah 23
The Trojans are coming off a close loss to Notre Dame where neither the offense nor defense looked very solid. Marquise Lee is labeled as questionable after re-injuring his knee, and being forced out of last week's game less than halfway through. Utah quarterback Travis Wilson has thrown for 1,600 yards and added 300 yards on the ground so far this season, and will be very difficult for the USC defense to contain. The Utes put up 27 points against both Stanford and UCLA, both top-25 defenses. Both teams have been very inconsistent this year, but I see USC coming away with a win to stay above .500.
Gabe Quintela (@gabequintela11): USC 28, Utah 21
I would pick Utah had it not been for starting quarterback Travis Wilson's injury and Utah's inconsistency on the road. Yet, USC has a great ability to shoot itself in the foot, and injuries have been of no help for the Trojans either. Expect a tight game.
Andrew Tweedy (@nyy_baseball): USC 21, Utah 17
USC's injury issues are a big concern this week, especially after Coach Orgeron announced earlier this week that freshman running back Justin Davis is out for the rest of the season. However, with Utah quarterback Travis Wilson's status for Saturday uncertain, and Utah's inability to play well on the road, I think the strong Trojan defense keeps this game close and they will win the game with a last-minute touchdown drive.
#12 UCLA at #3 Oregon
Max: Oregon 49, UCLA 31
I was surprised to see Oregon favored by more than three touchdowns over another ranked team at the beginning of the week, but everyone is extremely high on this team. Their offense led by Heisman favorite Marcus Mariota is simply unbelievable, and despite Brett Hundley's solid play, the Bruins will still lose big in Autzen.
Darian: Oregon 49, UCLA 21
Like every other team, UCLA will struggle to keep pace with Heisman hopeful Marcus Mariota, the black mamba in De'Anthony Thomas and the high-octane Duck offense. Brett Hundley will be able to produce a few scoring drives for the Bruins, but Oregon will prevail in any shootout as USC found out last season.
Mike: Oregon 38, UCLA 27
I've long held that the only Pac-12 team that can overcome Stanford's line play is Oregon, and that the Cardinal are the only team who can beat the Ducks up front well enough to disrupt their explosive offense. In other words, the Ducks and Cardinal are the class of the conference and I've yet to see anything to convince me otherwise. UCLA is very good but not better than Oregon, especially in Autzen.
Marc: Oregon 35, UCLA 21
This game will prove whether or not UCLA will be able to bounce back after its first loss of the season. The Ducks, on the other hand are undefeated, and are looking to keep it that way. Oregon could be playing at the Rose Bowl in January for the BCS championship, and need to keep winning if they want to stay at the top of the rankings. The Ducks are simply too powerful for the Bruins, and will improve to 8-0 after Saturday's game.
Gabe: Oregon 42, UCLA 24
Leading Heisman candidate Marcus Mariota and the Ducks offense don't lose games. Second place in the nation in points and rushing yards, Oregon provides a difficult match-up for any defense they play. More importantly they don't turn the ball over, as Mariota has thrown for 19 touchdowns without any interceptions.
Andrew: Oregon 45, UCLA 21
The Ducks are better than ever this year, and even without star running back De'Anthony Thomas last week, they exploded for 62 points. UCLA has shown some promise this year, but with a poor performance last week against Stanford, their confidence levels can't be high as they head into Eugene on Saturday. The Ducks will roll in this contest in their quest for a BCS championship.
#21 South Carolina at #5 Missouri
Max: Missouri 28, South Carolina 21
I honestly think that South Carolina just isn't very good. Quarterback Connor Shaw being out for this game on the road against a top SEC team doesn't do the Gamecocks any favors either. Maty Mauk will lead the Tigers to their second-consecutive win over a ranked team with him at the helm.
Darian: Missouri 31, South Carolina 24
The Tigers are coming off two huge SEC wins against Georgia and Florida, so they are heading into this game with a lot of momentum and a lot to lose after being ranked fifth in the first BCS ranking. Redshirt freshman Maty Mauk looked confident for the Tigers at quarterback after replacing injured senior James Franklin. Mauk threw for 296 yards and a touchdown in the team's 36-17 win last week.
Mike: South Carolina 31, Missouri 24
Perhaps no other team could withstand the loss of their starting quarterback better than the Gamecocks, with strong-armed Dylan Thompson a more-than-capable deputy for Conor Shaw. Maty Mauk, meanwhile, looked every bit of his lofty high school billing last week against Florida, making this the most exciting battle of backup quarterbacks anyone will see this year. The separation comes everywhere else, where the Gamecocks are stocked with bigger, faster athletes than the Tigers, making them my pick to knock Mizzou from the unbeaten ranks.
Marc: Missouri 27, South Carolina 24
The 5-2 Gamecocks roll in to Columbia to face the undefeated Tigers in a must-win game for South Carolina. If South Carolina wants to have any chance at winning the SEC East, they cannot afford to slip up again. The No. 5 Tigers are coming off two big wins against Georgia and Florida, and look unstoppable. Missouri will come away with a close home win, and South Carolina will go home with a third loss on their record.
Gabe: Missouri 28, South Carolina 20
Last week I picked against Missouri, worried about the loss of starting quarterback James Franklin. Yet, freshman Maty Mauk showed he's capable of leading this dynamic Missouri offense, throwing for 295 yards and a touchdown last week.
Andrew: Missouri 28, South Carolina 24
Mizzou has everything going for them coming into this game, and South Carolina is ailing with the injury to quarterback Connor Shaw. Coming off a loss to Tennessee last week, the Gamecocks go on the road to face a streaking Missouri team. Backup Tigers quarterback Maty Mauk looks to grab a win this week, essentially sealing the SEC East for this surprising Missouri team.
#6 Stanford at #25 Oregon State
Max: Stanford 35, Oregon 34
It's incredibly tempting to go with the Beavers, but I can't see David Shaw and Kevin Hogan suffering two Pac-12 losses before their meeting with Oregon. Tyler Gaffney will lead the way again this week, after rushing for well over 150 yards against UCLA last game.
Darian: Stanford 21, Oregon State 17
In this clash of one-loss Pac-12 teams, the Beavers are looking to take away the number-two spot in the Pac-12 North from the Cardinal. They have a high-powered offense led by Sean Mannion, but I think that the Stanford defense will be able to put them in check. If Kevin Hogan can once again lead a powerful, run-first offense, Stanford will be able to prevail in this big game on the road.
Mike: Stanford 26, Oregon State 20
The biggest story no one's talking about enough is Sean Mannion making a leap into the nation's elite quarterbacks. But I think Stanford has sufficiently demonstrated that the Utah loss is much more of a fluke than a referendum, and I won't buy anyone other than Oregon beating the Cardinal until I see it.
Marc: Stanford 38, Oregon State 24
The Cardinal is coming off their biggest win of their season so far after beating UCLA 24-10 last week. Stanford running back Tyler Gaffney rushed for 171 yards and two touchdowns against the Bruins, while Kevin Hogan threw for 227 yards. Oregon State holds the nation's top-ranked passing offense, averaging 442.1 yards per game. At the end of the day however, Stanford's powerful offense will prove too much for the Beaver defense. The Cardinal will come away with the win.
Gabe: Stanford 51, Oregon State 44
Stanford got back on track after a big win against UCLA last week, leaving their upset loss versus Utah in the past. Oregon State provides an interesting test for the Cardinal, as the Beavers have the best passing offense in college football at 442 yards a game. Yet, Stanford's defense held UCLA, a team that averaged 301 yards a game, to just 192 yards. I think the Cardinal defense will be able to hold the Beavers back enough for Kevin Hogan and the offense to win this game.
Andrew: Stanford 28, Oregon State 17
Stanford is coming off a big win against UCLA last week, dominating all game in a 24-10 victory. The Cardinal have re-established themselves as a top-10 team, and look to strengthen their case for a BCS bowl with a win at Oregon State. Solid defense and a couple breakaway plays from star running back Tyler Gaffney will lead Stanford to the win.
#10 Texas Tech at #15 Oklahoma
Max: Oklahoma 27, Texas Tech 21
The Red Raiders have been one of the most pleasant surprises this season, but Blake Bell and the Sooners will deal them with their first loss of the season. I think this will be the first game that freshman quarterback Davis Webb plays like a freshman for Texas Tech.
Darian: Oklahoma 28, Texas Tech 21
The Red Raiders could be considered a legitimate national championship threat if they beat Oklahoma this weekend, but with the Sooners playing this vital Big-12 game at home, I don't see that happening. Freshman Davis Webb has played like an upperclassman for Texas Tech, but the Sooners' strength is their pass defense, allowing less than 150 pass yards per game.
Mike: Oklahoma 34, Texas Tech 24
I have few rules in life but one of them is that I don't trust Texas Tech and even with how terrible Oklahoma has looked at times this year, that holds up here. The Sooners are banged up but like USC-Utah, there's still more talent on their sideline than that of the Red Raiders.
Marc: Oklahoma 28, Texas Tech 18
Texas Tech began the season unranked, but with a 7-0 start, they've moved into the top 10. Freshman quarterbacks Baker Mayfield and Davis Webb have led the Red Raiders along with wide receiver Jace Amaro, who has 742 receiving yards this season. Oklahoma quarterback Blake Bell has thrown 1,099 yards so far, and is complimented by running backs Brennan Clay and Damien Williams. My pick is Oklahoma because of their extremely solid defense.
Gabe: Oklahoma 28, Texas Tech 20
Texas Tech's passing offense is impressive, but the Sooners' pass defense is one of the best in college football, holding opponents to an average of 149.7 yards a game. Last week the Sooners held Kansas to only 16 passing yards, and they will pull out the home win.
Andrew: Texas Tech 28, Oklahoma 24
These two teams have been trending in opposite directions. With the Sooners losing Corey Nelson and Jordan Phillips on defense, they will be weaker against the run, allowing Red Raiders running back Kenny Williams to have a breakout game. The game will stay close, but it will come down to which team makes more mistakes, and I think a late interception from Sooners quarterback Blake Bell will be the difference in this one.
SEASON STANDINGS
1. Max 27-8
2. Gabe 23-12
3. Andrew 22-13
4. Darian 21-14
5. Mike 20-15
6. Marc 19-16