Sports
College Football Week 8 Picks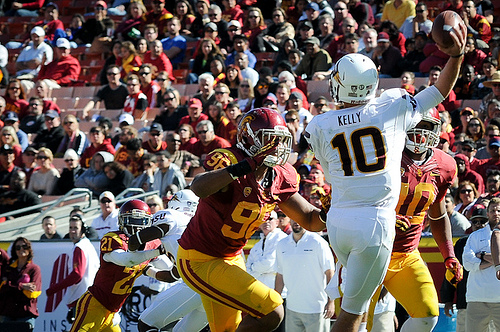 This week is a stacked slate of college football games, including outstanding Pac-12 and ACC matchups. Here are the winners that our college football experts predicted for the big games this weekend.
USC at Notre Dame
Max Meyer (@trojanmax12): Notre Dame 27, USC 20
Even though Marqise Lee is probable for this game, I don't think that USC has the depth to beat the Irish in South Bend. They've played much worse away from home of late, in fact they've failed to cover the spread in eight straight road games. Led by Tommy Rees, the Notre Dame offense will do just enough to end up prevailing over the Trojans.
Marc Sallinger (@marcsallinger): USC 21, Notre Dame 17
The week we've all been waiting for is finally upon us. USC travels to South Bend to write another chapter in the Trojan-Fighting Irish rivalry. The Trojans head to Indiana coming off a momentum-building win against Arizona a week ago. The USC running game looked very impressive and should be able to cause major problems for the Irish defense this week. We'll see if this team sustains the energy and unity that Coach Orgeron seems to have brought with him. Notre Dame is coming off a big win against Arizona State, who beat up USC three weeks ago. At the end of the day, USC will come away with a close win and keep Coach O undefeated.
Mike Piellucci (@mikelikessports): USC 27, Notre Dame 23
USC has the speed; Notre Dame the depth and balance; and I wouldn't be surprised in the slightest if these teams end the season with the same record. So, in a battle of evenly-matched teams, I defer to the one with the better top-end talent, whether or not Marqise Lee winds up playing.
Gabe Quintela (@gabequintela11): Notre Dame 28, USC 14
In one of the better rivalries in college football, this game provides USC with an interesting opportunity to get fired up, and show the heart and passion they've been lacking a majority of this season. Yet, with an away game against a Notre Dame team that is admittedly better on both offensive and defensive lines, I find it hard for the Trojans come out with a victory. Expect USC to hang around for most of the game, but without linebacker Morgan Breslin, Norte Dame should be able to wear down this Trojan team.
Andrew Tweedy (@nyy_baseball): USC 24, Notre Dame 21
Here's to hoping the Orgeron magic travels well when the Trojans make their trip to South Bend. With the return of Marqise Lee and the rest of the re-energized Trojan squad ready to turn their season around, USC looks to pull off a road upset against the physical play of the Fighting Irish.
Darian Nourian (@dariannourian24): Notre Dame 34, USC 21
The Irish defeated Arizona State 37-34 before jumping on their bye week. Last week, USC bounced back with a touchdown victory over Arizona. If Notre Dame is able to establish the run game early and get off to a fast start, it will be difficult for the Trojans to compete with the South Bend fans in this rivalry game. Also, Tre Madden is listed as doubtful, which is a blow to the USC running game, although it remains one of the deepest in the country.
#5 Florida State at #3 Clemson
Max: Clemson 34, Florida State 31
Clemson has been in this situation before, a home underdog against a perceived better team. Just like they beat Georgia in Week 1, I think the Tigers will prevail and show why they are the ACC elite. Tajh Boyd, Sammy Watkins and Rod McDowell will carry the offense, and I think the defense makes one big stop against Florida State freshman quarterback Jameis Winston.
Marc: Clemson 31, Florida State 27
This battle of top-five teams pairs together two of the most highly-praised quarterbacks in all of college football. Clemson senior quarterback Tajh Boyd is the ACC's leader in total offense, averaging 328.3 yards per game. He's also thrown 15 touchdowns with only two interceptions this season. On the other side of the field, freshman Jameis Winston has led the Seminoles to a 5-0 record, averaging 315.2 total yards per game and he's thrown 17 touchdowns versus just two picks. This will be the first time that two top-five ACC teams meet in a game since 2005, and the points should be plentiful. Look for Clemson to come away with a close win.
Mike: Florida State 45, Clemson 42
I'm so, so hoping that this lives up to the hype and produces the shootout we all want to see. And for the sake of this prediction not looking foolish, I so, so hope that Jameis Winston continues to play as well as he has thus far. Seminoles win a thriler, and Winston becomes the deserving Heisman front runner.
Gabe: Florida State 41, Clemson 35
Clemson is a hard place to play, but Florida State is rolling right now, having scored at least 41 points in every game this season, and coming off perhaps the most one-sided win against a ranked team I've seen in my lifetime (63-0 vs. Maryland last week). Quarterback Jameis Winston is completing an absurd 73 percent of his passes this season, and has thrown 17 touchdowns along the way. Florida State's defense is also ranked third in the country in points against, a defensive force that a Clemson team with a weak running game won't be able to contend with.
Andrew: Clemson 27, Florida State 21
In arguably the biggest game of the College Football season thus far, these two powerhouse teams look to gain an edge in the rankings. Both teams are legitimate national title threats, with Clemson at No. 3 and Florida State at No. 5 in the country, so you could make a strong case for either team winning this game. However, I have to go with the home team here, with Tajh Boyd grinding out a tough game against the solid Seminole defense and strengthening Clemson's bid for a spot in the BCS championship game.
Darian: Clemson 42, Florida State 35
In a battle of Heisman quarterbacks, we are going to be in for a treat to see whether Clemson senior Tajh Boyd or Florida State freshman Jameis Winston will outduel the other. The Tigers will win this game because they will be able to run the ball effectively with leading rusher Rod McDowell, and they will be behind their electric home crowd.
#9 UCLA at #13 Stanford
Max: Stanford 28, UCLA 21
I know Stanford lost week, but UCLA cannot compete in the trenches with the Cardinal. Kevin Hogan will have his hands full with UCLA's front seven, led by Anthony Barr, but I think he will make a few big plays against their questionable secondary. I also think Stanford has the advantage in coaching, and they definitely have the crowd advantage.
Marc: UCLA 28, Stanford 23
Stanford is coming off their first loss of the season in a debilitating and embarrassing loss to Utah a week ago. Up until then, the Cardinal had looked very impressive with Kevin Hogan leading the way at QB. Tyler Gaffney has averaged 5.3 yards a carry and has made the Stanford running game a real threat. UCLA rolls in to Palo Alto attempting to keep their perfect record intact. The Bruins have averaged an absurd 45.8 points per game on their way to a 5-0 start. Look for UCLA to pick up the road win and hand Stanford their second loss in two weeks.
Mike: Stanford 31, UCLA 27
If nothing else, last week's stunner at Utah should shatter the notion of Kevin Hogan being one of the better signal callers in the Pac-12. Hogan's not bad, mind you, but he's also not Brett Hundley and that's the advantage that UCLA has to hang its hat on if they are to win this game. Ultimately, though, I'll continue to reiterate that no team aside from Oregon can beat the Cardinal with skill players alone, and I don't think the Bruins are strong enough yet to beat Stanford in the trenches.
Gabe: Stanford 35, UCLA 28
Since they were upset by Utah last week, the Cardinal have something to prove back at home against UCLA. With a lot of people expecting this Bruin team with momentum to run over a shaken Stanford team, I think the Cardinal will be able to rally around that mentality. Let's not forget the importance of Stanford head coach David Shaw, he'll have this team ready. The man knows how to win.
Andrew: Stanford 28, UCLA 24
The Bruins have looked very strong this year and Stanford is coming off their first loss of the season against Utah, so the momentum could be in UCLA's favor. However, just last week, people were still talking about Stanford as one of the best teams in the nation, and the Bruins have not entered that conversation so far this season. I don't think Stanford will fold two straight weeks, as they will use this matchup against the rising UCLA program to get their season back on track.
Darian: Stanford 28, UCLA 24
The Cardinal is coming off being upset on the road by Utah, and they go into this important Pac-12 matchup in a must-win situation. Kevin Hogan is going to need to step up for Stanford, and be able to throw the ball through the UCLA secondary in order to balance out their "ground and pound" style. Stanford will need to stop both the arm and legs of Heisman candidate Brett Hundley if they want to come out with the victory.
#20 Washington at Arizona State
Max: Arizona State 35, Washington 31
I'm going with the upset here, although Arizona State is favored. Taylor Kelly has played better at home this season compared to on the road, and I think the Huskies will struggle to adjust to the climate change. In a battle of the offenses, Kelly will win out over Washington's Keith Price and Bishop Sankey.
Marc: Washington 28, Arizona State 24
After avenging their loss to Notre Dame two weeks ago by destroying Colorado last week, Arizona State comes into this game looking to hand Washington their third-straight loss. No. 20 Washington has fallen to Stanford and Oregon in consecutive weeks, and is looking to get back on track after starting the season strong. I'm going with Keith Price and Bishop Sankey to push the Huskies to a close win over a very impressive Sun Devil team.
Mike: Washington 41, Arizona State 34
Washington's loss to Oregon last week was a step back in the short-term, but a half-step forward over the long haul. After three seasons of 7-6 ball, Steve Sarkisian sent a message that Washington is gaining ground on Stanford and Oregon. For all the improvement shown under Todd Graham, the Sun Devils are a year or two away from that threshold and the talent gap will trump ASU's home field advantage.
Gabe: Washington 24, Arizona State 17
In the last two weeks, Washington has played Stanford and Oregon, the #5 and #2 ranked teams respectively when the games took place. The Huskies were competitive in both games, but were unable to pull out the result. This is a team just waiting to pounce on the first opportunity they have to capitalize and win a game, and that's exactly what'll happen against Arizona State.
Andrew: Washington 35, Arizona State 28
Even though they started off the season at 4-0, Washington made it clear that they do not have the talent yet to battle with the best of the Pac-12, by suffering tough losses to Stanford and Oregon. However, the Huskies are still a force to be reckoned with, and will give Arizona State trouble in Tempe if they can continue to be explosive on offense behind rising quarterback Keith Price and running back Bishop Sankey.
Darian: Washington 38, Arizona State 28
Two players will win this game for the Huskies, and their names are Keith Price and Bishop Sankey. The quarterback-running back duo will not be able to be stopped by the Sun Devil's defense. Taylor Kelly will try and keep ASU in the game, but Washington will win this game on the road.
#22 Florida at #14 Missouri
Max: Florida 21, Missouri 14
The Gators have been decimated by injuries this year, but I'm still picking them because I don't see the Tigers offense performing well without their starting quarterback, James Franklin, who is injured. Florida's defense is arguably the best in the SEC, and they will be the reason why the Gators remain ranked after this week.
Marc: Florida 28, Missouri 17
No. 14 Missouri is flying high after beating Georgia, in Athens, a week ago. Unfortunately for the Tigers, starting quarterback James Franklin suffered a shoulder injury and will be forced to give up his starting position to redshirt freshman Maty Mauk. Mauk will have to face a top-ranked Florida defense that will undoubtedly make his inaugural start very challenging. I don't think the freshman can step up and beat a team like Florida. Missouri will suffer its first loss of the season.
Mike: Florida 24, Missouri 10
Missouri without James Franklin is a very different animal, one that's wounded, but far more toothless than it had been up to this point. Maty Mauk could be a very big deal down the line, but just like Tyler Murphy had his "Welcome to the SEC moment" last week against LSU, so too will Mauk versus a nasty Florida defense.
Gabe: Florida 24, Missouri 21
I love this Missouri team, and under normal circumstances I would pick the Tigers, but losing starting quarterback James Franklin is a tough blow before a game against arguably the top defense in the SEC (fourth in the nation by allowing 13 points per game).
Andrew: Florida 17, Missouri 14
I picked Missouri last week for the upset against Georgia, and I would be tempted to do the same this week against Florida if the Tigers hadn't lost quarterback James Franklin to a shoulder separation last week. While Mizzou's offense is still explosive, I just don't think backup quarterback Maty Mauk will be able to do what it takes against one of the elite defenses in the country in Florida. The Gators defense will keep them in the game, and their inconsistent offense will do just enough to pull off the road win against Missouri.
Darian: Florida 21, Missouri 14
Missouri would have been in a great position to win this game if James Franklin was their quarterback at the helm. However, he suffered a shoulder injury in their upset over Georgia, making redshirt freshman Maty Mauk the starter. Florida quarterback Tyler Murphy will be able to create big plays on offense as long as he gets the protection from his offensive line, which he didn't get against LSU.
SEASON STANDINGS
1. Max 24-6
2. Andrew 21-9
3. Gabe 20-10
4. Darian 19-11
4. Marc 19-11
6. Mike 18-12