Sports
College Football Week 7 Picks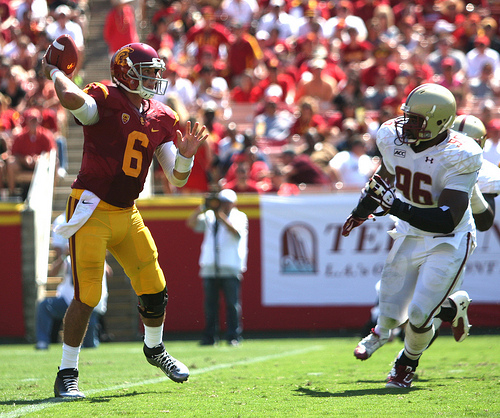 USC football is back this week, but there are quite a few outstanding games this week in college football. Our experts had to predict the winners for three conference battles between Top-25 teams.
Arizona at USC
Max Meyer: USC 28, Arizona 13
When Arizona lost by 18 to Washington two weeks ago, the Huskies ran the ball 60 times. USC needs to employ a similar formula. With stud running backs Tre Madden and Justin Davis each averaging over five yard a carry, I don't think the Wildcats will be able to stop USC's rushing attack. Despite Marqise Lee and Morgan Breslin potentially not playing for the Trojans, I just can't see Arizona quarterback BJ Denker leading Arizona to an upset victory on the road.
Mike Piellucci: USC 27, Arizona 13
BJ Denker might be the worst quarterback in the conference, and USC's offense should ratchet up a notch or two with Clay Helton in charge. The Trojans are still injury-ravaged, but ought to win this comfortably.
Darian Nourian: USC 21, Arizona 17
The Trojans are coming off two of their most fun practice weeks in years and the energy, and intensity that they established in practice is going to translate to the Coliseum on Thursday night. As long as the USC defense that was once invincible is able to make some big plays and give the offense good field position, they shouldn't have much trouble scoring. This is really USC's game to lose, but if they have any remaining hopes of making it to the Pac-12 Championship game, they are going to have to win this game.
Gabe Quintela: USC 28, Arizona 24
Lane Kiffin is gone, as are all the memories of what has happened this season. It is time for the Trojans to regroup, and by having the bye week to do so, I believe they'll pull out this win. Look for the offense to find new inspiration and for Cody Kessler to be presented with some different passing situations that he wasn't given under Kiffin.
Marc Sallinger: USC 21, Arizona 17
After allowing 612 total yards of offense and committing four turnovers two weeks ago against Arizona State, the revamped Trojans look to put their past behind them and make the rest of the season worthwhile. For, Ed Orgeron this is a chance to show that he is the man that the Trojans can stick with for the long run. The Trojans play an Arizona team that has truly only been tested once so far this season, against Washington, and lost badly. The Trojans, fueled by a new coach and the potential to turn the season around, should come away with a win and keep their season two games above 500.
Andrew Tweedy: USC 35, Arizona 24
Even though the Trojans lost their last game against Arizona State, their offense seemed to have finally put it together, scoring a season-high 41 points. However, their defense was exposed and dominated, giving up 62 points against the Sun Devils. This team seems more focused this week and with former head coach Lane Kiffin out, the Trojans are ready to move on with their season. They will need to string together some wins, starting with the first-ever Thursday night regular season game at Los Angeles Coliseum.
#2 Oregon at #16 Washington
Max: Oregon 49, Washington 38
Washington proved a lot last weekend in their close loss to Stanford. However, in my mind, Oregon is the top team in the country. They have an embarrassment of riches on offense, and they even get explosive running back De'Anthony Thomas back for this game. This game will be a lot of fun to watch, but Marcus Mariota and Thomas will lead the Ducks.
Mike: Oregon 45, Washington 34
This is quietly one of the nation's nastiest rivalries and Washington quietly has amassed a group of skill players that rival even the Ducks. But Oregon's spread is still the gold standard and Washington doesn't have the line play disrupt Mark Helfrich's attack.
Darian: Oregon 56, Washington 35
One word to describe this Pac-12 North clash is shootout. Both teams have very explosive offenses with some of the most dynamic players in the country. Marcus Mariota, De'Anthony Thomas and the Ducks will outrun and outscore Washington's Keith Price and Bishop Sankey, in which the first team to 50 points wins.
Gabe: Oregon 51, Washington 41
Oregon's offense is simply too much to handle. With 12 different offensive players that have scored this season, they present a mismatch for any defense they play. Washington is admittedly coming off an impressive performance against Stanford, but I just can't see their offense producing enough to outscore the Ducks.
Marc: Oregon 38, Washington 27
History shows that Oregon should come away with an easy win. The Ducks have beaten the Huskies nine consecutive times by an average score of 43-17. However, Keith Price and Bishop Sankey have taken over Washington's offense and have shown the nation that the Huskies are a team that deserves respect. Oregon running back De'Anthony Thomas should be able to play this week after sustaining an ankle injury against Cal two weeks ago. His return adds another dimension to an already powerful Oregon offense. By the end of the game, Oregon's fast-pace offense and powerful running game will be too much for a questionable Washington defense to handle.
Andrew: Oregon 42, Washington 31
This one will be exciting with two high-powered offenses. The team that makes the most big plays will come out on top. Even though the Huskies have been solid this year, it's impossible to bet against the Ducks this year, who are yet again legitimate national title contenders. Marcus Mariota has played at an elite level at quarterback this year, and he should be able to continue his strong play this week to lead the Ducks to victory.
#25 Missouri at #7 Georgia
Max: Georgia 31, Missouri 28
Georgia has suffered a lot of injuries, and if this game was in Missouri, I'd pick the underdog here. However, the home crowd in Athens and the Heisman play of Aaron Murray will be the difference here. The depleted Bulldogs win a close one in a battle of top-tier SEC offenses.
Mike: Georgia 38, Missouri 35
Tennessee proved just how vulnerable Georgia is right now with so many of Aaron Murray's favorite weapons sidelined. But I'm all in on Murray - I think he should be the Heisman favorite after how he guided the Bulldogs through a brutal early portion of the schedule - and I think he won't let them lose this game between the hedges. Mizzou makes it interesting, but Georgia wins another nail-biter.
Darian: Georgia 31, Missouri 21
Coming off a scare from Tennessee, the Bulldogs return home to hold their ground in the SEC. Behind Aaron Murray and an impressive pass rush that has came up with nine sacks in the last three games, Georgia wins this game.
Gabe: Missouri 31, Georgia 28
This is risky pick. I wanted to go with Georgia because of my admiration for Aaron Murray and his ability to find ways to win, but with injuries to starting running back Todd Gurley, safety Tray Matthews, running back Keith Marshall and wide receiver Michael Bennett, I don't think Murray has the available weapons to pull out a win against an up-and-coming Missouri team.
Marc: Georgia 35, Missouri 32
Missouri attempts to improve their record to 6-0, while Georgia looks to continue their four-game win streak after falling to Clemson in their opening game. The Bulldogs have been marred by injuries, and will most likely be missing their top three receivers in Malcolm Mitchell, Michael Bennett and Justin Scott-Wesley along with their top two running backs in Todd Gurley and Keith Marshall. Georgia's home field will surely become an advantage as the crowd in Athens will get rowdy, especially late in a game that promises to be close. Overall, Georgia will come away with a close win.
Andrew: Missouri 24, Georgia 21
Here's the shocker pick of the week. Georgia is beat up at the wrong time against an unbeaten dark horse Mizzou squad that has shown some offensive firepower early in the season. On Saturday, the Bulldogs are going to be without running back Keith Marshall, wide receivers Justin Scott-Wesley and Michael Bennett, as well as running back Todd Gurley and safety Tray Matthews, who are both listed as doubtful for the game. While Georgia will keep this one close, look for the Tigers to leave Georgia victorious this week.
#17 Florida at #10 LSU
Max: LSU 24, Florida 20
Florida has not allowed an SEC opponent to score more than 20 points against them in 11 games. LSU has scored at least 35 points in all of their games this season. I'm going with LSU because most of SEC play this season has been decided by home field and quarterback play. And I don't trust Florida's offense to come through in crunch time.
Mike: LSU 35, Florida 13
LSU is really good and is playing with a very small margin for error. The Gators, meanwhile, are a mess on offense and Tyler Murphy's learning curve hasn't been steep enough to prepare him for a bonafide top seven-caliber team. This is Murphy's "Welcome to the SEC" game.
Darian: LSU 35, Florida 28
While LSU's offense has carried the team for the beginning of the season, it's going to be tough for them to do so against an elite Florida defense. Running back Jeremy Hill is going to have a big day for the Tigers to balance out the stellar arm of Zach Mettenberger. With LSU playing this game in Death Valley, I can't see them losing this game to a lower-ranked SEC opponent.
Gabe: LSU 35, Florida 21
Zach Mettenberger has been excellent with 15 touchdowns this season, seven of them to Jarvis Landry. The running game has also added 20 rushing touchdowns to make the Tigers' offense one of the most intimidating in college football. More importantly, the Tigers have taken care of the ball, as they have limited turnovers this year. If these trends continue, I can't see Florida beating LSU on the road.
Marc: LSU 32, Florida 27
No. 17 Florida travels to Death Valley to take on No. 10 LSU in an SEC rivalry game. Both teams are coming into this game riding high on momentum. Florida beat Arkansas 30-10 last week and LSU beat Mississippi State 59-26. The LSU defense surrendered 468 yards of offense to Mississippi St. last week, a stat that needs to be greatly improved if they want to beat a defensively strong Gator team. I think LSU will step up to the challenge and beat Florida in a close one.
Andrew: LSU 24, Florida 17
Zach Mettenberger and the LSU offense will face a very tough Florida defense on Saturday in a game that will surely be fun to watch. However, I think LSU has the edge in this matchup because Mettenberger has already shown he's capable of exposing difficult coverages, even against tough SEC teams. This one will be close, but LSU will get the best of the Gators D in the end.
#19 Northwestern at Wisconsin
Max: Wisconsin 28, Northwestern 21
Northwestern lost a brutal game to Ohio State last weekend, and playing in a road game coming off an emotional loss is a potential recipe for disaster. Especially at Camp Randall. The running back duo of Melvin Gordon and James White will be too much for Northwestern's defense to handle, so I'm going with the Badgers here.
Mike: Wisconsin 24, Northwestern 20
I'm not convinced by the Wildcats, not with a defense has only held one opponent below 20 points so far this season. Of course, I'm not entirely convinced by Joel Stave, either, but the Melvin Gordon-James White combo plus Camp Randall are enough for me to buy the Badgers taking this in a tight one.
Darian: Wisconsin 28, Northwestern 24
Northwestern lost a tough one at home to Ohio State last Saturday, and that hangover will carry over to this weekend as they travel to Madison to take on the Badgers. Although Wisconsin also lost their last game narrowly to Ohio State by a single touchdown, Northwestern hasn't won a game at Wisconsin since the last millennium.
Gabe: Wisconsin 35, Northwestern 28
Wisconsin's offensive presence, especially on the ground, has been impressive this year. Ranked sixth in the country in rushing yards, averaging just over 300 yards a game, Melvin Gordon and James White provide a difficult match-up for a Northwestern defense, ranked 68th in the country in scoring defense, that isn't great at keeping teams off the board.
Marc: Wisconsin 28, Northwestern 21
The Wildcats showed the nation exactly what they were capable of a week ago when they took Ohio State down to the wire. This week, the Wildcats face a Wisconsin team that cannot afford another Big Ten loss. Wisconsin has the fewest offensive turnovers in the Big 10, while Northwestern has the most takeaways in the conference. Wisconsin's home-field advantage looks to play a big part in the game, and ultimately I think the Badgers will come away with the win.
Andrew: Northwestern 31, Wisconsin 24
The biggest Big 10 matchup of the week features two teams with a lot to prove. These teams are the last two to lose to Ohio State, and whichever one loses again this week will have very little chance of winning its division. With high stakes for both teams, I think Northwestern pulls through to take this game on the road in front of a hostile Wisconsin crowd.
SEASON STANDINGS
1. Max 20-5
2. Andrew 17-8
3. Gabe 15-10
3. Darian 15-10
3. Marc 15-10
6. Mike 14-11