Sports
College Football Week 6 Picks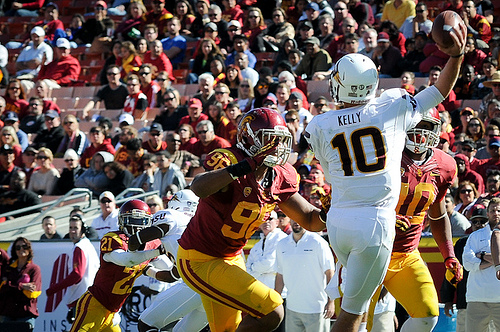 It's Week 6 in the college football season, and USC is on a bye week. However, there are still other college football games that our college football experts will analyze for you this week.
#15 Washington at #5 Stanford
Max Meyer (@TheMaxMeyer): Stanford 31, Washington 17
As entertaining as the Washington offense is with Bishop Sankey and Keith Price, Stanford is just too dominant in all three phases of the game to be dealt a home loss. Keith Hogan has been very steady this season, and look for him to lead Stanford to another conference win in Palo Alto.
Darian Nourian (@dariannourian24): Stanford 28, Washington 14
ESPN Gameday won't be making a trip to Palo Alto when the Huskies battle the Cardinal because there is no way that the No. 5 ranked Cardinal lose this game at home. As long as the strong Stanford defense is able to stop Huskies running back Bishop Sankey and the arm of Keith Price, they will win this battle of undefeated Pac-12 teams.
Gabe Quintela (@gabequintela11): Stanford 35, Washington 21
Washington is a good team, don't get me wrong, but Stanford is starting to look like the 2011 team that Andrew Luck led to a Fiesta Bowl victory. The offense is clicking and Kevin Hogan is showing himself as a very efficient quarterback, boasting a completion percentage of over 63 percent. Backed by the defensive grit that is so often the staple of Stanford football, I can't see this team losing.
Marc Sallinger (@marcsallinger): Stanford 24, Washington 21
The battle of undefeated teams visits Palo Alto, as both Stanford and Washington look to keep their perfect records alive. Although Keith Price and Bishop Sankey are red-hot after a commanding 30-13 win last week over Arizona, the Cardinal defense will look to stop the running game and force the dual-threat quarterback to rely on his arm. Stanford has allowed an average of 1.81 yards a carry and a total of one rushing touchdown in the two games they have played at home this season. Stanford's homefield advantage should guide them to victory and hand the Huskies their first loss.
Mike Piellucci (@mikelikessports): Stanford 31, Washington 14
It's tough to deny the turn around Steve Sarkisian's Huskies have made after implementing a new, turbo-charged offense. It's even more difficult, though, to ignore that Stanford has a distinct advantage on both sides of the line as well as in coach, and get a shot at revenge in their building. The Huskies are a notch below the Cardinal and Oregon in the Pac-12 North, and this is the game where it shows.
Andrew Tweedy (@nyy_baseball): Stanford 31, Washington 21
Although the Huskies have looked strong this season, I can't fully buy in until they beat a legitimate top-5 team like Stanford. They look comparable to UCLA in terms of Pac-12 rankings, but still have a lot to prove to be in conversations with Oregon and Stanford. The Cardinal have been able to dominate all three phases of the game against every opponent this year, so I think the Huskies put up a respectable fight, but lose in the end.
#22 Arizona State at Notre Dame
Max: Arizona State 38, Notre Dame 21
Taylor Kelly and the dynamic Arizona State offense will be taking their talents to Jerry World this week as they take on Notre Dame in Dallas. The Irish defense is clearly not the same unit as it was last year, and Arizona State simply has too many playmakers that will give the Irish trouble.
Darian: Arizona State 42, Notre Dame 21
Coming off a 62-41 rout of USC that resulted in the canning of Lane Kiffin, the Sun Devils and their high-potent offense is at an all-time high in regards to confidence level. Notre Dame simply hasn't been the same team as the one that lost in the BCS national championship last year, and they are coming off a loss to Oklahoma. Taylor Kelly and the Sun Devil's offense will be able to run and pass all over the Fighting Irish.
Gabe: Arizona State 41, Notre Dame 35
I've picked Arizona State twice now and they haven't let me down yet. The offensive connection of Taylor Kelly to Jaelen Strong has been impressive, as the receiver has gone for over 100 yards in his last three games. Running back Marion Grice also can't stop scoring, the running back has found the end zone in every game this season, scoring a total of eight times in just four games. Look for ASU to establish its dominance as a top team.
Marc: Arizona State 35, Notre Dame 21
A week after destroying USC, Arizona State heads down to Texas to take on a struggling Fighting Irish team in Dallas. ASU's fast paced offense has destroyed teams throughout the season, and the Notre Dame defense has been struggling heavily throughout this season. A year ago, the Irish were undefeated and on their way to a BCS championship game. This year, the Irish have two losses and are faced with a must-win game to salvage their season. ASU will come out of Texas with a win to solidify themselves as a solid bowl-game contender.
Mike: Arizona State 31, Notre Dame 20
Last week, I bet on the Irish against a faster, more athletic team and looked dumb. As much as I'm tempted buy in again against an ASU team that is one officiating snafu and a chip shot field goal away from 2-2, I can't do it. The Sun Devils have proven they can score points against good defenses, Notre Dame hasn't.
Andrew: Arizona State 28, Notre Dame 24
Coming off a big win against USC last week, this ASU team has got to be fired up. Their offense is clicking on all cylinders and they're looking to make a statement at Cowboys Stadium on Saturday to get back in the conversation as a legitimate threat out of the Pac-12. Notre Dame should make this a close game with a huge performance from RB George Atkinson III against a shaky ASU run defense, but in the end, I think the Sun Devils pull this one out.
#4 Ohio State at #16 Northwestern
Max: Ohio State 35, Northwestern 24
You have to give a lot of credit to Pat Fitzgerald for turning around this Northwestern football program, and making them a serious Big 10 contender. But, with Braxton Miller still at the helm for the Buckeyes, I think the Wildcats are one year away from upending the best team from the conference.
Darian: Ohio State 35, Northwestern 14
If the Buckeyes get off to another fast start as they have been accustomed to doing this season, it will be very tough for the Wildcats to win the game. Braxton Miller and Carlos Hyde are going to give Northwestern a lot of trouble both on the ground and through the air, but they will need to be able to take care of the ball if they want to get this win on the road.
Gabe: Ohio State 35, Northwestern 21
I'd like to inform everybody that Braxton Miller is back. As if the Ohio State offensive wasn't producing enough as it was, having their big-play quarterback on the field will only help this offensive keep rolling. Expect Miller to have a big game and Ohio State to continue its undefeated streak.
Marc: Ohio State 42, Northwestern 21
ESPN College Gameday rolls into Evanston as No. 16 and No. 4 teams look to keep their undefeated records alive. This Big Ten matchup will show the nation whether or not the Buckeyes are real BCS title contenders. The Wildcats are coming off a bye week, which hasn't played out well for the team, as they are 0-4 under Pat Fitzgerald after bye weeks. Ohio State should be able to come away with a one-sided victory.
Mike: Ohio State 45, Northwestern 24
The easy narrative is to paint this as good versus evil, but that's a little too easy and will be a little too depressing if/when the Buckeyes steamroll the Wildcats. Pat Fitzgerald has done a magnificent job building his Northwestern program up, but it's still a ways away from possessing the talent of Urban Meyer's crew.
Andrew: Ohio State 35, Northwestern 27
Ohio State QB Braxton Miller will have to have a big game to get past the Wildcats, but I think he's up to the task after getting some rust off last week coming off an injury. Look for him to have a solid game, but if he doesn't, turnovers could be the only way Northwestern squeaks out a win against a strong Buckeyes team.
#24 Ole Miss at Auburn
Max: Auburn 28, Ole Miss 24
This is my shocker pick of the week. I simply like the home underdog coming off a bye week, especially in such a physical conference like the SEC. I expect Auburn quarterback Nick Marshall to have his best game so far this season, and for the Tigers to come up with the upset.
Darian: Ole Miss 42, Auburn 28
The Auburn defense is currently giving up 439.5 yards per game, while Ole Miss is allowing only 358 YPG. The Ole Miss offense is also very dangerous behind the arm of quarterback Bo Wallace and the legs of running back Jeff Scott. If the Tigers cannot stop either of them, it could be a long day for them on defense.
Gabe: Ole Miss 30, Auburn 21
Auburn has struggled to pick up the run this year, especially in their loss to LSU two weeks ago. Ole Miss running back Jeff Scott is an effective weapon in the backfield, having rushed for more than 130 yards every time he gets more than 10 carries in a game.
Marc: Ole Miss 38, Auburn 28
Both Ole Miss and Auburn enter the game with matching 3-1 (1-1 SEC) records and are looking to rebound after they both lost in their previous game. Almost nothing went right for the Rebels last week, as they were handed a 25-0 loss against Alabama. LSU beat Auburn two weekends ago, which handed the Tigers their first loss of the season. Ole Miss will win this matchup in a close one.
Mike: Ole Miss 35, Auburn 24
Gus Malzahn's offense is predicated on quarterback play, and right now it's far from ideal in Nick Marshall's shaky hands. Alabama game aside, the Rebels have a balanced attack and a defense that was every bit as impressive against the Crimson Tide as the offense was ineffective. The Tigers will be frisky, but not enough to upend Ole Miss.
Andrew: Ole Miss 28, Auburn 24
Coming off a tough loss against Alabama last week, Ole Miss looks to rebound on the road against the Tigers. They've shown they can beat solid teams already this year, with wins against Vanderbilt and Texas. Although it won't be easy against a rested Auburn team coming off a bye week, I think the Rebels will be able to take this one with a late game-winning drive.
Michigan State at Iowa
Max: Michigan State 17, Iowa 14
Let me go on the record, and say that I will certainly not be watching this game. Both of these offenses are not fun to watch, and I think that this game is a coinflip that will be decided by turnovers. Michigan State is an opportunistic team, so that's why I'm going with the Spartans.
Darian: Iowa 21, Michigan State 20
The Hawkeyes' offense looked well-balanced against Minnesota last game, with 218 yards in the air and 246 on the ground. With games against these two teams decided by razor-thin margins in the past, this game could come down to who wins the battle at the line of scrimmage.
Gabe: Iowa 21, Michigan State 14
Iowa, who is ranked 17th in the country in points allowed (15.0), presents an interesting match up for the Spartans who have struggled offensively this season. Additionally, with dual threats in the backfield in Mark Weisman and Damon Bullock, Iowa will be able to wear down the tough Michigan State defensive and pull out this victory.
Marc: Michigan State 21, Iowa 17
Michigan State comes off a bye week to face a 4-1 Iowa Hawkeye team that has looked fairly good so far this season. Iowa is coming off a solid win against Minnesota, in which they put up 464 yards of total offense. Michigan State has struggled with their passing game so far this season, averaging just 153.8 yards per game. Michigan State will come away with the road win in a close one in Iowa.
Mike: Michigan State 17, Iowa 13
No one should have to watch this game. This is Big 10 football at its worst - plodding, predictable, poorly executed - and a sad state of affairs for two teams that were formidable not too long ago. If nothing else, Michigan State has a defense, which makes them the better bet to remain unbeaten in conference play. Tune in at your own peril, though.
Andrew: Michigan State 14, Iowa 13
Michigan State's defense will have to halt the Hawkeyes RB Mark Weisman after a big game last week, but if they can hold him for under 100 yards and only one TD, they should be able to produce enough points from their inconsistent offense to get the win on the road.
SEASON STANDINGS
1. Max 16-4
2. Andrew 14-6
3. Gabe 13-7
3. Darian 13-7
5. Marc 12-8
6. Mike 11-9