Food
Cheap Halloween Eats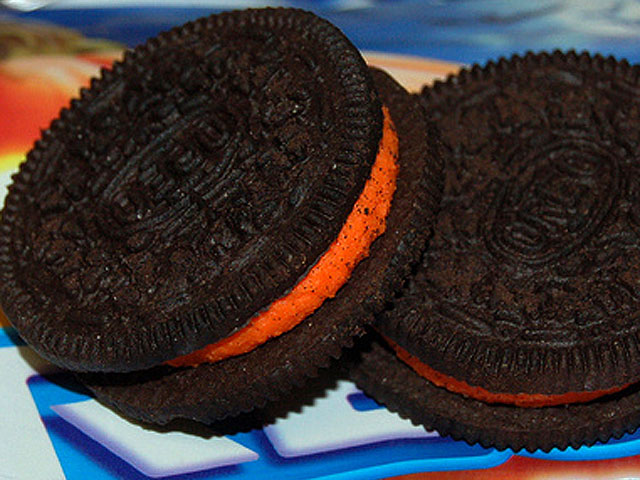 Don't have time for trick-or-treating but still craving that something sweet? Get into the spirit of Halloween with these seasonal snacks at low cost.
White Chocolate Candy Corn M&Ms
With Valentine's Day, Christmas and Easter M&Ms, of course the famous candy line would roll out a Halloween version. You can find these seasonal, white chocolate, candy corn-flavored goodies at your local grocery store.
Halloween Oreo Cookies
Sporting different colored cream fillings for various occasions, the classic Oreo cookie always gets a face-lift for Halloween. America's favorite chocolate sandwich cookie currently has an orange-colored cream. These cookies feature designs of ghosts, bats and other trademark Halloween symbols. This Oreo flavor is so hip, it even has its own Facebook page.
Baskin Robbins: "Trick OREO Treat" Ice Cream
This ice cream chain takes a twist on Halloween thru its monthly flavor, "Trick OREO Treat Ice Cream." This sweet treat features vanilla ice cream with chunks of Butterfingers and Baby Ruth candies, as well as festive pieces of Halloween Oreo cookies.
Georgetown Cupcake: Assortment of Halloween Treats
Ranging from pumpkin-flavored cupcakes to Halloween-themed treats, Georgetown Cupcake seems to have it all. The pumpkin cupcake flavors include "Pumpkin Spice," featuring a pumpkin spice cupcake topped with a fondant maple leaf and filled with maple cream cheese frosting, and "Pumpkin Cheesecake," which is a pumpkin-infused cheesecake cupcake adorned with maple cream cheese frosting and a fondant maple leaf. Georgetown Cupcake's Halloween collection includes four flavors — the "Halloween Ghost," a chocolate cupcake topped with a fondant ghost; the "Halloween Bat," featuring a Madagascar Bourbon vanilla cake topped with a black fondant bat and bright orange buttercream frosting; the "Chocolate Spider Web," a Valrhona chocolate cupcake infused with crushed pieces of toffee and topped with purple buttercream frosting and a fudge, spider web drizzle; and the "Vanilla Spider," a Madagascar Bourbon vanilla cupcake baked with M&Ms and adorned with an orange buttercream frosting and a black fondant spider. Note: The Halloween cupcakes are available daily during Halloween week and by special order only throughout October, per the bakery's website.
Handel's Ice Cream: Seasonal Flavors
Handel's Ice Cream sports a grandiose variety of flavors, including a plethora of seasonal ones. Flavors fit for the fall/Halloween season include "Deep Dish Apple Pie," "Pumpkin Ripple" and "Caramel Apple."
See's Candies: Chocolate Marshmallow Jack 'O Lanterns
Chocolate-covered marshmallow treats can be found in a variety of shapes at See's Candies—depending on the season—and Halloween is no exception. The confectionary's signature marshmallow is dipped in chocolate and is hand-decorated with orange frosting to commemorate the trademark Halloween icon. See's Candies also provides an assortment of Halloween-themed boxes and goodies.
Panera Bread: Jack-O-Lantern Cookie
The freshly baked cookies at Panera Bread are traditionally moist and chewy, and the seasonal "Jack-O-Lantern Cookie" is no exception. This hand-decorated, soft, shortbread cookie will definitely get you into the Halloween spirit with its festive icing and sweet flavor.
Starbucks: Pumpkin Sugar Cookie and Pumpkin Treats
Starbucks is currently featuring an assortment of fall flavors, and a pumpkin-shaped sugar cookie is one of its many treats. Back in September, the coffee chain started selling a line of La Boulange pastries, and this "Pumpkin Sugar Cookie" is one of the bakery's many additions. Buttery and soft, this lemon-spiced sugar cookie definitely evokes the season of fall.
Sprinkles Ice Cream: "Candy Corn" Ice Cream
Even with shorter days and cooler nights, it's never too cold for ice cream. Sprinkles Ice Cream will bring out chills everywhere with its "Candy Corn" flavor of the month (available every day for all of October). This decadent flavor features candy corn-flavored ice cream with chunks of frozen candy corn interspersed throughout. After trying creative combo, you definitely won't need to do any trick-or-treating.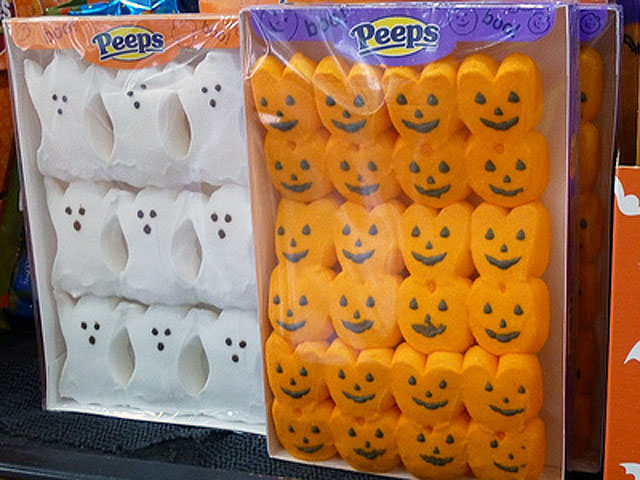 Peeps: Halloween Treats
Peeps are the signature go-to when it comes to marshmallow treats, and they come in many varieties to commemorate different holidays. For marshmallow-inclined, Peeps are available in several selections, including "Chocolate Covered Pumpkins," "Chocolate Dipped Orange Chicks" and "Snack Size Marshmallow Chicks."
Frosted Cupcakery: Seasonal Flavors
Frosted Cupcakery gets into the Halloween spirit of things with its special seasonal flavors and "Cupcake of the Month" flavor. The current "Cupcake of the Month" is the "October Black Velvet," while seasonal flavors include a fresh pumpkin cupcake and cream cheese frosting combo, as well as an orange cupcake with cream cheese frosting.
Isabella's Cookie Company: "Spook-Tacular Sugar Rush Cookies"
These "Spook-Tacular Sugar Rush Cookies" decorated with orange frosting and chocolate sprinkles are sure to get you in the spirit of Halloween. Isabella's Cookie Company also offers various gift box combos—such as the "Hallo-Scream" and "Ghouls Just Want to Have Fun"—are also great to bring to any Halloween party.
Yummy Cupcakes: Different Halloween Delights
Every day is Halloween at Yummy Cupcakes, which has been featuring a different Halloween-themed cupcake for every day of October. This "Spooktober" campaign (featuring a Halloween-themed cupcake each day for the whole month of October) goes to the next level on Oct. 25, as specific "Monstrous Cupcakes"—including flavors like "Red 'Devil' Velvet," "Midnight Delight," "Devil Dog" and "Caramel Apple"—will be in stores every day until Halloween.
Golden Spoon: "Pumpkin Pie"
The "Pumpkin Pie" flavor at Golden Spoon is definitely reminiscent of the dessert, featuring a blissful medley of pumpkin, nutmeg, clove and cinnamon flavors combined in a smooth soft serve.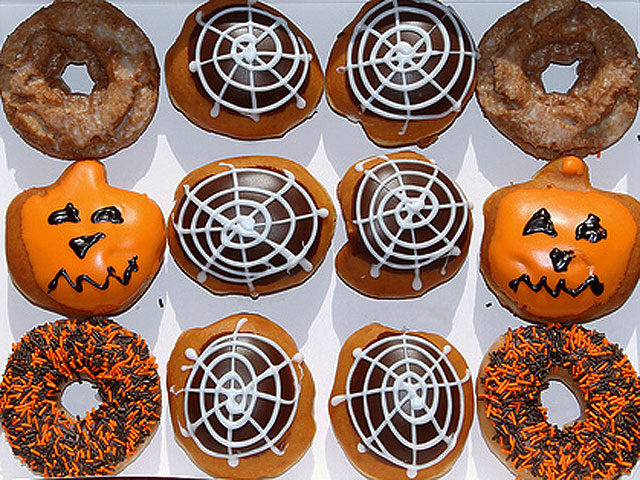 Krispy Kreme Doughnuts: "Krispy Skremes"
The Halloween-themed doughnuts at Krispy Kreme—aptly called "Krispy Skremes"—are fun, flavorful and decked out in delicious frosting. The "Sprinkle Doughnut," which is the chain's chocolate iced original glazed doughnut covered with orange and black sprinkles; the "Spider Web Doughnut," a doughnut covered in chocolate icing and sporting a white, frosted web; and the "Pumpkin Doughnut"—featuring a "Jack-O-Lantern" doughnut covered in orange and black icing—are only available for a limited time.
Crumbs Bake Shop: Variety of Halloween Cupcakes
There are several monstrously delightful cupcakes at Crumbs Bake Shop to celebrate the Halloween season. For starters, the "Candy Corn" flavor (the bakery's current cupcake of the month) features an orange-tinted cake with a vanilla buttercream frosting and is adorned with vanilla cream cheese frosting, sprinkles and candy corn bits. The "Jack O' Lantern" cupcake is a vanilla cake both filled and covered with orange-tinted vanilla cream cheese frosting and decorated with a fondant face. The scary-looking "Cyclops" Cupcake features a red velvet cake frosted and filled with vanilla cream cheese frosting and is finished with buttercream veins and a chocolate eyeball. Finally, the "Monster Mash Up" Cupcake comprises a chocolate fudge-filled chocolate cake that is covered with yellow-tinted vanilla cream cheese frosting, a non-edible finger puppet and sprinkles. For those looking for a larger pack of Halloween treats, the "Halloween Signature Collection" provides the perfect solution, complete with "Candy Corn," "Jack O' Lantern," "Orange Squiggle," "'Boo'kies and Cream," "Monster Mash Up" and "Ghastly Ghost" cupcakes. Note: The "Jack O' Lantern," "Cyclops" and "Monster Mash Up" Cupcakes are only available from Oct. 17-31.
Menchie's: "Apple Pie" and "It's Pumpkin Time"
Both, the "Apple Pie" and "It's Pumpkin Time" flavors at Menchie's are seasonal favorites. It's never too cold for frozen yogurt … especially those with fall flavors.
Sprinkles Cupcakes: "Boo Box"
The festive cupcake assortment at Sprinkles features "Vanilla Milk Chocolate," "Red Velvet," "Caramel Apple" and "Black and White" cupcakes with "BOO" sugar decorations and Sprinkles ghost fondants. "Caramel Apple"—featuring a granny smith apple-studded cupcake covered with a buttery caramel frosting—is the bakery's current seasonal flavor. To celebrate all things Halloween, some of the other regular cupcake flavors—like "Vanilla Milk Chocolate," "Dark Chocolate," "Vanilla" and "Black and White"—feature special seasonal decorations (pumpkins, bats and ghosts) as well.
Dairy Queen: "Pumpkin Pie Blizzard" Treat
"Pumpkin Pie Blizzards" are back for a limited time at Dairy Queen. This current Blizzard flavor of the month includes pieces of pumpkin pie mixed with a creamy vanilla soft serve and adorned with nutmeg and a whipped topping.