Arts+Culture
Celebrities Wear Purple For LGBT Spirit Day
Today, millions are showing their "spirit." GLAAD is sponsoring a Spirit Day in which the public is encouraged to wear purple in protest of the bullying of lesbian, gay, bisexual, and transgender (LGBT) youth. The day has been observed annually since its foundation in 2010 by high school student Brittany McMillan, who conceived of the idea in response to an escalation in suicides byyoung people within the LGBT community.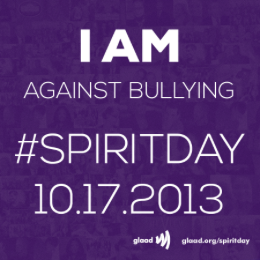 This year, an astounding number of celebrities as well as relatively unknown inspirational figures are asserting themselves as Ambassadors of the campaign. Here are the top seven Spirit Day Ambassadors who have lent their support to LBGT youth:
1. Macklemore & Ryan Lewis
Arguably revolutionary in his field of work, rapper/hip hop artist Macklemore and his producer, Ryan Lewis, made exemplary strides in the music industry with their song "Same Love feat. Mary Lambert." The duo presents itself as a role model not only within the rap music genre, but for all those who are hesitant to declare support for the LGBT community for fear of judgement or social stigma.
2. Nicole "Snooki" Polizzi & Jenni "JWOWW" Farley
Widely recognized for their infamous performances on MTV's Jersey Shore and its spin-off, Snooki & JWOWW, these outspoken, tough, New-York-turned-New-Jersey girls are never reluctant to express their opinions, whatever they may be. Snooki habitually offers her support to LGBT related issues during interviews and public appearances, while JWOWW has engaged in heated arguments via Twitter with other media personalities who articulate anti-LGBT comments.
3. Jazz
After gaining public acknowledgment through an intimate documentary sponsored by the OWN Network, 12-year old transgender female, Jazz, has risen to embody a figure of inspiration and acceptance. Wise and mature beyond her meager years, she has made it her priority to educate the community around her regarding transgender issues in young children. She has displayed both her thoughtfulness as well as eloquence during the documentary, entitled I Am Jazz, as well as during her speech alongside Elle Fanning and Alex Newell at the 2013 GLAAD Media Awards.
4. Ke$ha
Perhaps underestimated because of her carefree, provocative persona, singer, songwriter, and performer Ke$ha has utilized her fame to spread awareness of her beliefs. Whether she is performing undeniably appealing popular music and starring in an MTV reality television show entitled, "Ke$ha: My Crazy, Beautiful Life" the superstar has never demonstrated any regard for what is "normal" or "acceptable." When she is not performing or filming, Ke$ha, an ordained minister, oversees weddings for same-sex couples.
5. Cast of "Degrassi"
This perpetually controversial television show about a variety of Canadian high schoolers has been pushing the boundaries of viewers' comfort since its original airing during the 1980's. "Degrassi: The Next Generation" has tackled incredibly authentic issues that plague teenage years, including heartbreak, abuse, mental illness, addiction, bullying, pregnancy, and multiple LGBT related topics. Currently in its 13th season, "Degrassi" continues to handle the plot lines of its LGBT characters with poise and grace, exhibiting their stories with the same genuine expression that it displays with the rest of the ensemble cast.
These Ambassadors are only a select few of a vast number of public figures who are speaking in support of the Spirit Day campaign. GLAAD is eager to involve all possible participants, asking that the public changes their profile pictures on Facebook, post purple photographs on Instagram, and #SpiritDay in their Twitter posts in order to spread awareness of the cause. Join the hundreds of participants, Ambassadors, and corporations who, with a simple color, are taking a stand against bullying.
To learn more about GLAAD and the Spirit Day campaign, visit http://www.glaad.org/spiritday.
Reach Staff Reporter Emily Mae Czachor here.