Film and TV
'Breaking Bad' Spanish Remake Confirmed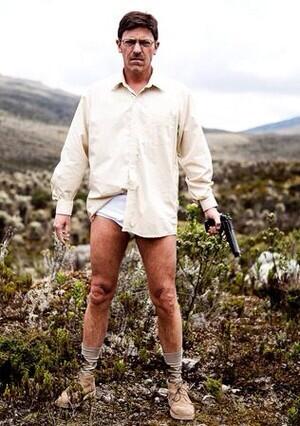 What should the lead character of a Spanish "Breaking Bad" remake be named? Sony Pictures Television chose the most literal translation possible: Walter Blanco.
Add Jose (Jesse), Cielo (Skylar) and Henry Navarro (Hank), and you have the ingredients for a fresh batch of the addictive series.
Diego Trujillo will play Walter Blanco in the Spanish remake "Metástasis," alongside Sandra Reyes as Cielo, Roberto Urbina as Jose and Julian Arango as Henry Navarro.
But aside from the character's names, how closely will "Metástasis" echo "Breaking Bad?"
Angela Guerra told The Hollywood Reporter that the producers of the remake have consulted with Vince Gilligan, and plan for the first episodes of the series to stay true to the original series. There are just a few changes in the works. Since motorhomes are not popular in Colombia, Walter's RV meth lab will instead be a decrepit and "barely drivable" school bus.
Regarding the decision to remake the series, Guerra said that though the cable system in Latin America limited the distribution of "Breaking Bad" when it originally aired, "there is a universality to the story and its characters that we recognized could work very well."
Sony has already presold the first season of "Metástasis" to all major Spanish-speaking markets in Latin America, and the series will also air on the American network UniMas.
Sony reports that no other remakes are in the works at this time.
"Breaking Bad" had its swan song on Sunday, to a whirlwind of excitement on the Internet. Sony is hoping to have a similar effect on its Latin American audience. Twitter fans are definitely talking—in both Spanish and English.
Sony has released a trailer (in English) promoting the new series.
ALSO SEE: 'Breaking Bad' Fans React To 'Felina' At Finale Party
Reach Staff Reporter Jennifer Kuan here and follow her on WordPress here.