USC Sports
Behind Enemy Lines: Trojans March East To Notre Dame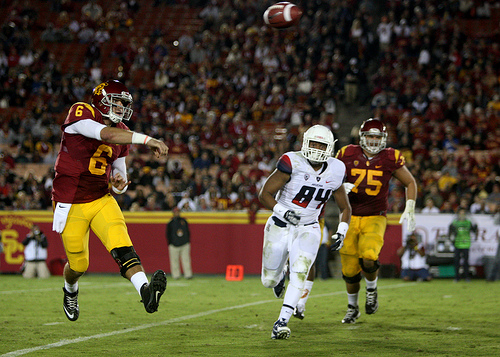 Anticipation is high for the USC football squad this week, as they head to South Bend for their annual rivalry game against Notre Dame. The Trojans are 1-0 in the Ed Orgeron era after beating Arizona 38-31 last week, and the upbeat attitude surrounding the team hasn't gone away yet. The Trojans are 4-2 overall, and so are the Fighting Irish after defeating Arizona State, the team who effectively ended the tenure of Lane Kiffin, 37-34 two weeks ago.
Brian Kelly's squad won last year's matchup at the Coliseum en route to their BCS National Championship Game appearance, but USC has won the last five games played in South Bend. The game should be a highly contested one, so to give us a different perspective, we brought in LaMond Pope of the Chicago Sun-Times to tell us what we need to know about the Fighting Irish.
Jacob Freedman: Both squads are 4-2, with Notre Dame off the bye week after beating Arizona State 37-34. Halfway through the season, what seems to be the read on this Fighting Irish squad, and what are expectations for Saturday?
LaMond Pope: Notre Dame's offense has spent most of the season searching for consistency, particularly with its running game. Quarterback Tommy Rees has put up some good numbers, but there have been times where the pass game hasn't clicked. The Irish couldn't overcome turnovers in the losses to Michigan and Oklahoma.
Defensively, everyone knew it would be difficult to replicate the eye-popping numbers from last year, especially when a team loses someone like Manti Te'o. Michigan and Oklahoma hit Notre Dame for big plays in the Irish's two losses, while Notre Dame did a better job getting pressure on the quarterback against Arizona State. The team had four sacks entering the game and collected six against the Sun Devils.
The win against the Sun Devils gave Notre Dame momentum heading into its bye. Notre Dame coach Brian Kelly said the team enters Saturday "in a pretty good place right now."
Freedman: USC is averaging over 200 rushing yards a game, while the Notre Dame line, led by nose tackle Louis Nix, is holding opponents to less than 125 yards per game and just three total rushing touchdowns this season. What do the Irish need to do to limit the Trojan attack, and who else should the Trojans look for on the Notre Dame front seven?
Pope: That is one of the intriguing battles. Nix is going to have to continue to clog up the middle to try to slow down USC's rushing attack. This is where the linebackers will be crucial for the Irish. Inside linebacker Jarrett Grace suffered a season-ending leg injury against the Sun Devils. Dan Fox – who had a fumble recovery and an interception in the ASU game – is back as a starter. Expect to hear Fox and Carlo Calabrese's name throughout the game. Freshman Jaylon Smith had a big day against the Sun Devils with a team-high nine tackles. The outside linebacker gets better with each game.
Defensive end Stephon Tuitt – a projected first-round draft pick – and outside linebacker Prince Shembo are two players to look for. Shembo had three sacks against ASU. Defensive lineman Sheldon Day could also provide a boost. He's been limited in recent weeks because of an ankle injury.
Freedman: Like USC, the Notre Dame offense has been underwhelming on multiple occasions. Quarterback Tommy Rees has thrown for 13 touchdowns, but is completing just over 50 percent of his passes. What kind of play should we expect from him on Saturday, and how able will Rees be to take advantage of a susceptible USC secondary?
Pope: Rees emphasized limiting turnovers coming into the season. In the team's four wins, he has nine touchdowns and one interception. In the two losses, he has four touchdowns and five interceptions. His completion percentage, 41.7 percent in the last three games, has to improve Saturday. I think it will.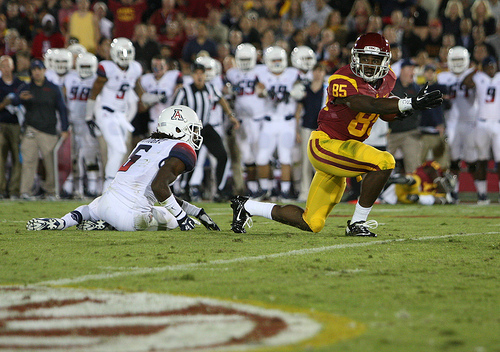 T.J. Jones and DaVaris Daniels have been his two top targets. Jones is dependable (team-leading 33 catches). Daniels helps stretch the field, as his 82-yard touchdown reception against Purdue showed. Tight end Troy Niklas might also be a factor. He's proven to be a reliable option.
Notre Dame's line has protected Rees, giving up only four sacks. If he has time Saturday, Rees could be in line for a big game.
Freedman: Notre Dame appears to have a running back by committee approach, with George Atkinson III, Cam McDaniel and Amir Carlisle splitting reps. What does each back offer, and who do you think will see the most carries against the Trojans?
Pope: The run game has had its ups and downs. The team had a stretch where it collected 96, 91 and 78 rushing yards. The ground game has picked up the last two weeks, including 220 yards against Oklahoma.
Atkinson had a breakout game against Oklahoma, rushing for a career-high 148 yards. He showcased his big-play capability, bursting through for an 80-yard touchdown against the Sooners. McDaniel is a grinder. He's helped extend drives late in the victories against Purdue and Arizona State. He also had the game-winning touchdown against Michigan State. Carlisle, a transfer from USC, has good hands and can catch the ball out of the backfield. But he's also had strong runs between the tackles.
The bulk of the rushes the last three weeks have gone to Atkinson and McDaniel. Carlisle only had two carries against the Sun Devils, but he could be more of a factor Saturday.
Freedman: Head coach Brian Kelly has said the USC game is Notre Dame's rivalry game. The Fighting Irish won in Los Angeles last year, and are favorites once again this year. Has the view of USC changed in the past four seasons post-Carroll, and if so, how do you think the dynamic of the rivalry has also become different?
Pope: I don't think the view of USC has changed. Kelly had a good quote during Tuesday's news conference. He said: "We would hope that both programs are competing each and every year for BCS Bowls and playoff opportunities, and I think that's where both programs want to be, that they're on equal footing, that you don't have to wait three, four years to get a win. I think both programs are looking forward to those days where it's a great matchup year in and year out."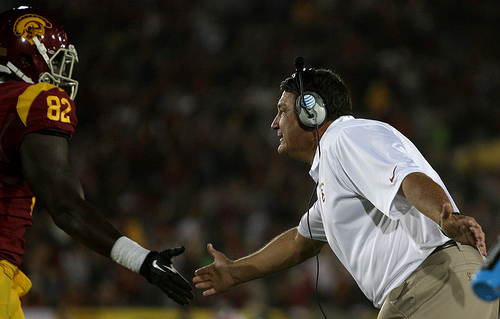 There's always going to be buzz when Notre Dame plays USC. The fact that the game is up for grabs adds intrigue to the contest.
Freedman: What is your prediction for Saturday's game?
Pope: Notre Dame has a knack of winning the close ones. The team is 11-1 in its last 12 games decided by a touchdown or less. I'm anticipating another tight contest Saturday.
I'm intrigued to see how Notre Dame's defense stacks up against USC's rushing attack. I'm also looking forward to seeing if the Trojans can get pressure on Rees and force mistakes.
I think Notre Dame will do just enough to win its second straight in the series.
Notre Dame 24, USC 21
Neon Tommy Editor Predictions
Jacob Freedman: Notre Dame 27, USC 24
Jeremy Bergman: Notre Dame 26, USC 24
Max Meyer: Notre Dame 27, USC 20
Reach Senior Sports Editor Jacob Freedman here or follow him.