NBA
2013-2014 NBA Pacific Division Preview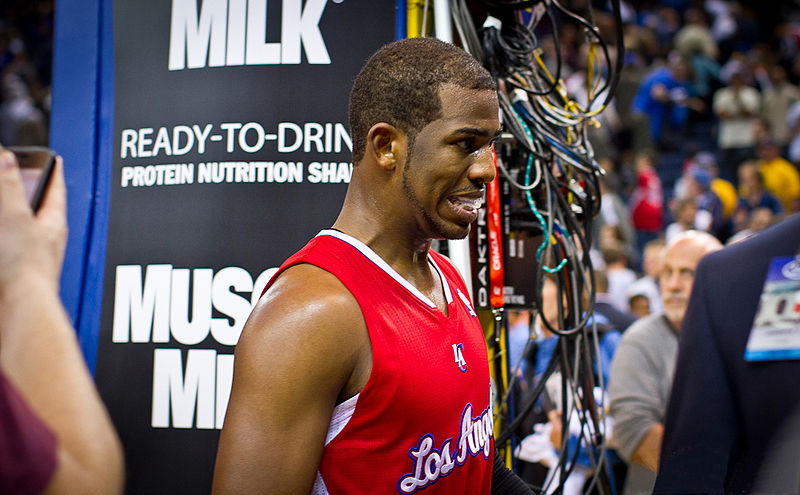 Teams Ranked in Order of Projected Finish
1. Los Angeles Clippers
Last Year's Finish: 56-26, Lost in Second Round to Memphis Grizzlies (4-2)
Projected Starting Five
PG: Chris Paul
SG: J.J. Redick
SF: Jared Dudley
PF: Blake Griffin
C: DeAndre Jordan
Key Bench Players: Jamal Crawford, Darren Collison, Antawn Jamison
After a busy offseason, the Clippers have not only shown the Lakers that they are the new show in town, but they have also become the NBA's second-deepest team behind the Brooklyn Nets. What will also be exciting is to see how effective the Clippers are going to be able to play 'In and Out' basketball with their newly acquired perimeter shooters in J.J. Redick and Jared Dudley. Blake Griffin could evolve into one of the league's best facilitators if this plays out.
The Clippers also have arguably the league's best point guard in Chris Paul and the NBA's best sixth man in Jamal Crawford. They are expected to be putting up 100-plus points per game and even better yet, they can play defense too. DeAndre Jordan is a shot blocker that deters scorers from the paint, and Dudley is also a talented perimeter defender. Finally, new team leadership via the acquisition of Doc Rivers from the Boston Celtics gives the Clippers the general they need to hold all the glue together for a very talented team that had lacked discipline in the past. At their best, the Clippers are one of the Western Conference's best teams, if not the best. The regular season is not the real test though, as the Clippers have yet to break past the second round with Paul leading the way.
Prediction: 61-21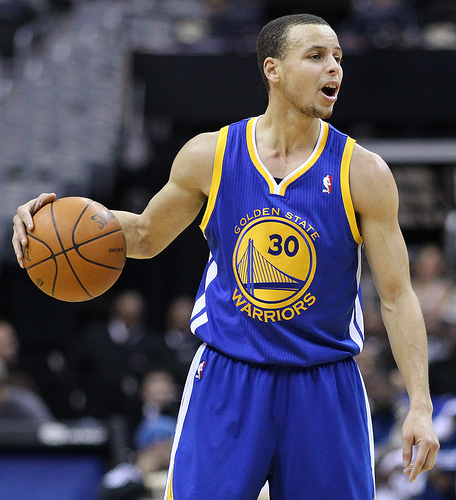 2. Golden State Warriors
Last Year's Finish: 47-35, Lost in Second Round to San Antonio Spurs (4-2)
Projected Starting Five
PG: Stephen Curry
SG: Klay Thompson
SF: Andre Iguodala
PF: David Lee
C: Andrew Bogut
Key Bench Players: Harrison Barnes, Toney Douglas, Jermaine O'Neal
The Warriors are the division's most improved team with the addition of the explosive Andre Iguodala, who is going to open up great possibilities for Golden State this season. He is going to be able to penetrate opposing defenses, and when the defense collapses on him, kick the ball out to deadly three-point shooters like Stephen Curry and Klay Thompson. Iguodala meshes perfectly with Marc Jackson's up-and-down style, and is also going to be a large presence on the defensive end to go along with a rim protector in Andrew Bogut. Curry and Thompson have already proved that thet are the best scoring backcourt, and having a post presence inside with Lee, Bogut and veteran Jermaine O'Neal will also aid them in better spreading the floor. If this Warriors team can stay healthy, they'll be a sleeper contender in the West.
Prediction: 55-27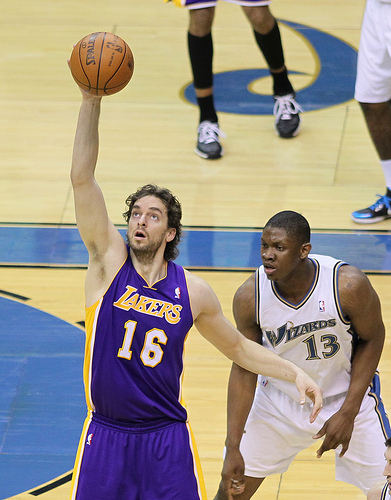 3. Los Angeles Lakers
Last Year's Finish: 45-37, Swept by San Antonio Spurs in First Round
Projected Starting Five
PG: Steve Nash
SG: Kobe Bryant
SF: Nick Young
PF: Pau Gasol
C: Chris Kaman
Key Bench Players: Jordan Hill, Steve Blake, Jodie Meeks
It's incredible to see how far downhill the Lakers have gone in just one year. They have quickly gone from championship contenders, with last year's additions of Steve Nash and Dwight Howard, to a team that is projected to be in this year's draft lottery after losing Howard to free agency and Kobe Bryant indefinitely to injury. For at least the beginning of the season, the Lakers are going to struggle to score with not having Bryant out on the court. The team is going to have to be carried by Pau Gasol and Nash early, and it's going to be a mystery night in and night out of who else is going to step up for the team. The Lakers' biggest offseason acquisition has to be Nick Young, who will bring scoring and energy to the squad. Chris Kaman, although not a worthy replacement for Howard, will need to anchor a Lakers defense that has had a lot of trouble in guarding quick point guards and the pick-and-roll. Where the Lakers finish this season is going to be determined by how they start the first 20 games of the season, with or without Bryant. If they are going to want to have a shot at making the playoffs, the Lakers have to finish those games with at least a .500 record.
Prediction: 42-40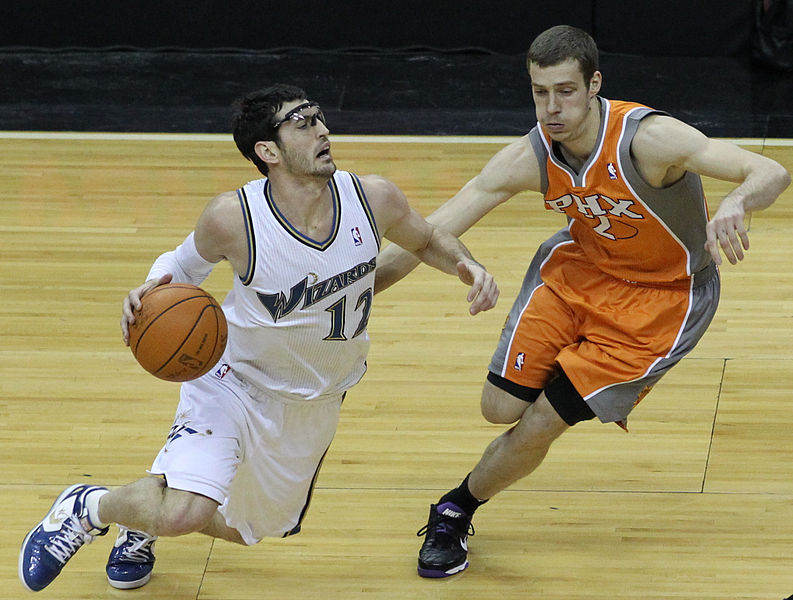 4. Phoenix Suns
Last Year's Finish: 25-57, Missed Playoffs
Projected Starting Five
PG: Goran Dragic
SG: Eric Bledsoe
SF: P.J Tucker
PF: Markieff Morris
C: Emeka Okafor
Key Bench Players: Alex Len, Channing Frye, Gerald Green
With the recent trade of Marcin Gortat, Shannon Brown and Kendall Marshall to the Washington Wizards for veteran center Emeka Okafor, the Phoenix Suns have basically given the reigns to their hot off-season acquisition Eric Bledsoe. He and Goran Dragic should shape up to be a very good backcourt, and will probably be the source of all Phoenix offense this year. The loss of Jared Dudley, Luis Scola and Wesley Johnson are going to be felt not only on the court with their scoring and defensive presence, but also in the locker room, as this team doesn't really have anybody to lead. This is troublesome for players like rookie Alex Len, who is going to have to contribute more with the loss of Gortat. Len has struggled in the preseason and it looks like he is going to need some time to develop before having a big presence in the paint. In the end, the Suns are going to be able to score with their talented backcourt and some perimeter shooters, but will struggle even more defensively.
Prediction: 24-58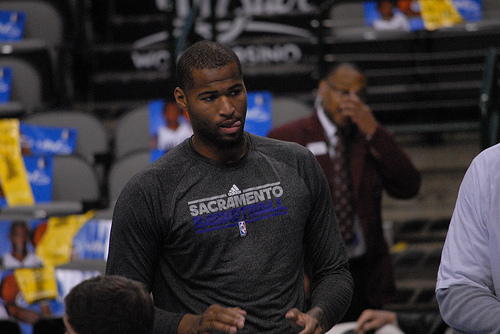 5. Sacramento Kings
Last Year's Finish: 28-54, Missed Playoffs
Projected Starting Five
PG: Greivis Vasquez
SG: Marcus Thornton
SF: Luc Richard Mbah a Moute
PF: Jason Thompson
C: DeMarcus Cousins
Key Bench Players: Isaiah Thomas, Ben McLemore, Carl Landry
With the team settled in Sacramento for at least the near future, the Kings can finally get back to focusing on just basketball. However, they are going to need to improve in multiple areas if they are going to climb out of the depths of the West. Last season, they were the NBA's worst defense, giving up 105.1 points per game and finishing last in rebounding defense. Sacramento is just about average on the offensive end, but with their uptempo style, they are bound to average over 100 points a game after they averaging just over 100 (100.2) last season. They are going to have to make up for the loss of Tyreke Evans, who was their second-leading scorer last season. The addition of Greivis Vasquez will somewhat make up for the loss of Evans, although Vasquez is primarily a pass-first point guard. The team's best player is arguably DeMarcus Cousins, who led the team in scoring last year with 17.1 points per game. He is pretty much a double-double night in and night out, but the Kings ultimately don't have enough weapons to compete in the cutthroat Western Conference.
Prediction: 23- 59
Reach Staff Writer Darian Nourian here or follow him on Twitter.