Los Angeles and Region
Walmart Protests Gone Wrong
Protesters came out to share their sentiments in Downtown L.A. today, rallying to fight plans for opening a new Walmart location in Chinatown.
Recent protests have been historically unique in a few ways—employees of the company have been striking on an unprecedented scale this year, in a movement sustained since July. But protests of the big box retailer are nothing new. There have been legal and social allegations lobbed at Walmart for decades, running a gamut in terms of tactics and sticking points. The outcomes have been hugely varied, with property destruction and wide-scale arrests common.
READ MORE: Protesters Rally In Downtown L.A. Against Walmart
Here are just a few surprising moments in the history of Walmart protests. If you've got other tales from picket lines with surprising twists, let us hear about them in the comments below.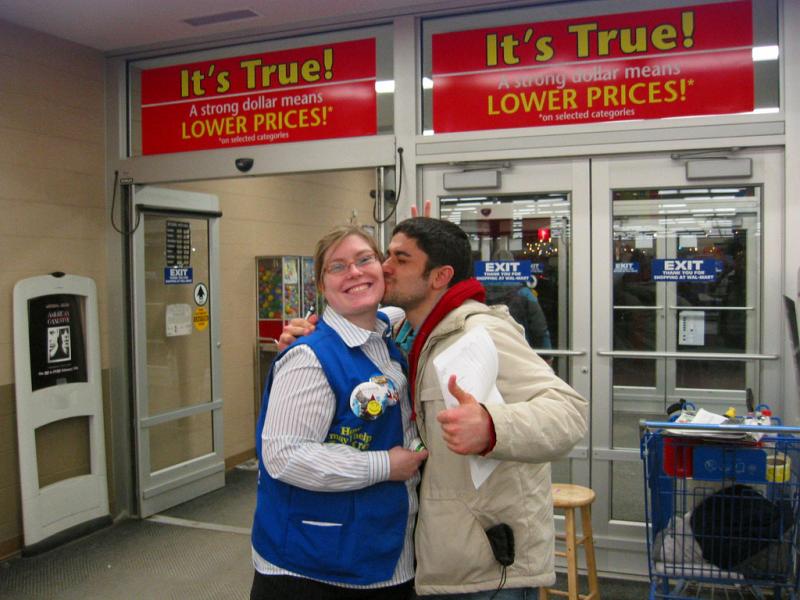 1) When Apparel's More Than Half Off
Exposure can easily make or break a protest, so it's in each party's best interest to command an audience and grab media attention. That's probably why Walmart protesters have a tendency to bare their birthday suits, employing nudity while expressing business beliefs.
The Sept. 5 protesters in L.A.'s Chinatown showed some skin, enhancing their suntans with scrawled phrases such as "Walmart strips workers of rights."
But that's nothing compared to what one frustrated customer claims to have done when Walmart policy stopped her from entering one of their locations in Virginia. Consumerist reported that she attempted to wheel a bike into the store, then:
The most evil grandmother I've ever met grabs my arm with her claws and says I can't bring it into the store. I explained to here there was nowhere outside to lock it up and that I had brought it into that particular store with no problem. She insisted that I had to leave it in the foyer and I calmly said that I wasn't going to leave a 600 dollar bike just sitting in the foyer and that I'd like to speak to her manager.
So the manager comes out and says I can't bring the bike into the store, so I explain to her that there are safe places for people who drive to lock their cars but there is no safe place for me to lock my mode of transportation. She says that I should have driven there I told her that I didn't own a car and that my bike was my only form of transportation and I couldn't risk having it stolen. She said I couldn't bring it in because they sell bikes…
I was starting to get really frustrated since I had ridden all the way there seemingly for no reason, so I asked her if they also sold shirts in the store. She said yes so I took off my jersey and said well then I'd better not bring this in either. She got kind of flustered and said that it was a different situation but couldn't explain why. So I said that if they also sold shorts in the store that I'd better not wear those in either and I took off my shorts. Same goes for the shoes and sunglasses. Now I'm standing there in my spandex and a sports bra and I ask here if I can leave my things behind the customer service counter where they will be safe until I finish making my purchases.
No wonder that happy face logo is always smiling.
READ MORE: Walmart In Chinatown: A Q&A With Chester Chong, Los Angeles Chinese Chamber Of Commerce
2) Trayvon Tips The Scales
It could be called an instance of cultural crossover, with one issue blurring into another. Or perhaps it was just an instance of a store being in the wrong place, at the wrong time.
Regardless of why it happened, the reality remains: on July 16, a crowd angered by the outcome of George Zimmerman's trial had convened on a highway in L.A. As the police presence intensified, protesters spilled into a Walmart. The aftermath saw merchandise damaged and pilfered.
While not intended as a statement related to business, it did hearken to explicitly Walmart-centric efforts in that it ended with the arrest of participants.
READ MORE: Walmart Employees Protest Company Retaliation Against Workers
3) Bargains Go To Randy's Head (And Bowels)
Claims of rights abuses, economic and ethical malfeasance might lead you to believe that Walmart protests are nothing humorous. But serious subject matter has always attracted the attention of the Comedy Central's animation mainstay.
On season eight of South Park, the episode "Something Wall Mart This Way Comes" portrayed a sentient retail center with a spooky spectral ability to trap shoppers.
Trey Parker, co-creator of South Park, has said that the episode came into being after observing reactions to a Walmart store's opening in Evergreen, Colorado, where he attended high school.
He described his intentions for creating the half-hour of TV by saying, "It wasn't really a pro Walmart or anti Walmart thing."
"It's about greed and desire," Parker said.