Los Angeles
USC Tailgate Program Hurts Recycling Collectors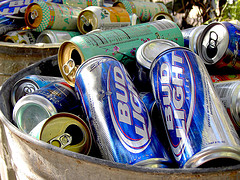 On Saturdays before and during USC home football games, scores of people come to collect recycling, and the money that comes with it. Ever since the passage of the California Beverage Container Recycling and Litter Reduction Act in 1986, bottles and cans have had monetary value in this state. And so a corps of entrepreneurs has arisen to redeem the 5¢ deposit on recyclable containers. With nearly a hundred thousand people in attendance, the vast majority of whom will consume, and discard, some sort of bottled or canned beverage, the impact of California recycling deposits can be seen at its highest form during USC home games.
But collecting recycling is a tiring, messy task nowhere near as easy as picking up change off the ground. Recycling collectors spend hours searching for bottles and cans, carrying around their finds all day, and then they must maneuver their load to a recycling center. After the fees imposed by recycling centers, most recycling collectors do not make very much money.
This meager, but important source of income for many citizens of Los Angeles is now endangered by formal recycling programs. The LA Conservation Corps, a job-training beautification and environmental conservation program, regularly sends young adults to collect recycling on USC's campus. And a two-year-old tailgate waste diversion program run by the USC Office of Sustainability also deploys students to collect recycling.
The program is an effort to raise awareness of recycling, and certify official "Zero Waste Tailgates." It includes a push to recycle the ubiquitous red Solo cups, which can only be recycled in a program operated by the manufacturer. The USC Office of Sustainability indirectly pays dozens of students to walk around campus and collect bottles and cans from tailgaters, to set up recycling bins, and to inform them about recycling and composting. Student organizations can recruit their members to spend 5 hours doing this job, for which the organizations receive $50 per student, according to Victoria Chu, a graduate student who serves as the Tailgate Waste Diversion Education Coordinator.
Chu said that last Saturday, 103 student volunteers were combing the campus for recycling. While the program seems to have been set up with little concern for, or even ignorance of the activities of local recycling collectors, Chu said that they now recognize their work. "We're definitely caught in the middle," she said. "We have to produce numbers to show the university, but this is a source of income for community members, and we are sympathetic to that."
Chu explained that she is not worried about her program impacting the local recycling collectors, saying, "Even at the end of the day, there is still a large number of bottles found in trash cans in the area."
Austin Reagan, a student and Sustainability Office employee, joined the volunteers on one Saturday. He concurred with Chu, saying, "There is trash everywhere. The amount of citizens picking up recycling only makes a small dent in it."
Nonetheless, recycling collectors say that they can make more money collecting bottles and cans in Exposition Park, where tailgating is just as strong as on campus, but there is no competition from the LA Conservation Corps or student volunteers. On campus, recycling collectors say that they can make anywhere between $10 and $40 in one day. But in the park, they say that they can earn between $50 and $80.
Angelica Mateo comes to USC's campus during every home game to collect bottles and cans, and says that the amount of competition has reduced the amount she can make. "In the last two years, there was a lot of recycling." She said, "But this year, not so much."
Mateo and several other recycling collectors also complain that they are harassed by USC's police force, the Department of Public Safety. She said that last year, DPS officers confiscated some of her compatriots' hard-won bags of recycling and chased them off campus.
While on campus recycling collectors are sometimes treated like criminals, in Expo Park it can be a fun, family activity. Jimmy Doering and his family brought a picnic lunch to the park, and took turns looking for recycling and minding what they had collected. "We're tailgating in our own way, and having our fun with the rest of the people," he said.
Doering also explained that while the trip to Expo Park is in a sense a family outing, it is also work. "If you live in poverty, like most of us, that garbage bag means a lot."
To read more Neon Tommy stories on environmental issues, click here.

To contact Staff Reporter Axel Hellman, click here.