USC Sports
USC Football Notebook: Kiffin Talks Sanctions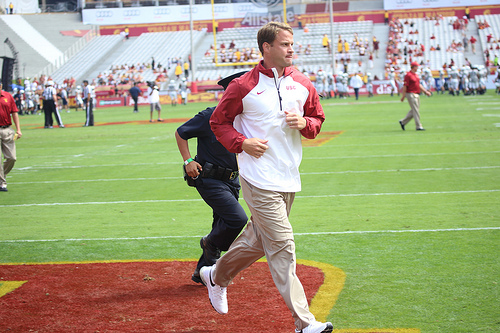 Less than 24 hours away from landing in Tempe, Lane Kiffin found himself answering more questions about Indianapolis on Thursday.
In the aftermath of the NCAA's decision to return scholarships to Penn State after imposing sanctions last year, USC athletic director Pat Haden released a statement Thursday indicating that he met with NCAA officials recently in Indianapolis and that USC has "proposed creative 'outside the box' solutions" to scholarship penalties that Haden termed "unprecedented and inconsistent with NCAA precedent in prior cases."
Kiffin praised that gesture Thursday, calling it "another example of Pat fighting for us."
"Our players, coaches and fans should be very appreciative of that," he said. "I think it shows what Pat has done and will continue to do for this university and for the athletic department. Pat and [University President] Max [Nikias], in my three years here of being with them, have been extremely dedicated to compliance. They've totally changed the staff here, the atmosphere over the last three years. This is not the first time he's done it. It's just the time it made it into the news."
Haden's appeal for leniency is based on the impact both scholarship limitations and resulting transfers have had on USC's depth. Kiffin said that the team will only travel 56 "scholarship-recruited players" to ASU, a number he compared to that of an NFL roster. Yet according to Kiffin, the sanctions' greatest impact goes beyond the depth chart.
"They've changed our practice feel, the way we practice, the amount our guys play and at some point there becomes a player safety issue involved, there, too," he said. "We have some players on our defense that play almost 100 percent of special teams and defensive snaps combined. That was never that way here before. You don't want it to be that way.
"That's the situation we're in. We're just trying to maximize it. Sure, it's difficult at times, but I think it speaks a lot to our players that they're playing this well. We expect to win every week and everyone expects to win every week regardless of our numbers."
However, the NCAA shot down any reduction in lost scholarships on Friday. "There is no comparison between USC and Penn State. USC's appeal was denied, and there is no further consideration being given," the statement released by the NCAA said.
A win against Arizona State is crucial to any chance of staying in the Pac-12 title race as the Trojans look to avoid an 0-2 start in conference. Among the biggest keys to stopping the Sun Devils, both literally and figuratively, is containing senior defensive tackle Will Sutton. The 290-pound Corona native was a consensus All-America in 2012, and someone Kiffin said his team will have to monitor in the Sun Devils' shifting defensive fronts.
"They move him outside to defensive end in certain packages so he doesn't just give your center and guards problems; he gives your tackles problems at times, too," he said. "Will really is a dominant force at times. He can really disrupt teams and was getting ready to do it to Oregon until he got hurt in that game a year ago. [He's got] a ton of ability [and is] very powerful."
USC will be looking for its first win in the state of Arizona since 2010, when they edged Arizona 24-21. Their last win in Tempe came in 2009, when Matt Barkley's 75-yard pass to Damian Williams sealed a 14-9 victory.