USC Sports
USC Football Mega-Preview: Not Your Same Old Cougars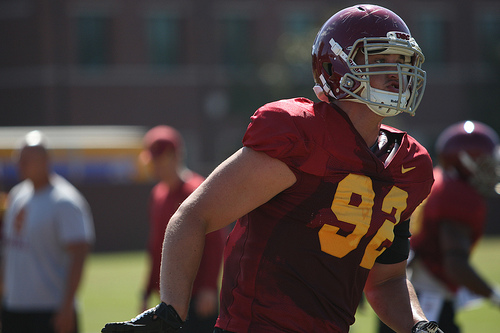 Last week was not a pretty sight for the Trojan faithful. After a fall camp filled with quarterback speculation and injuries, the Trojans scored just 3 points through the first 25 minutes against a Hawaii squad expected to finish near the bottom of the Mountain West Conference. USC won 30-13, but the fuel to critics' fire has only been lit by shaky performances from the offensive line, quarterbacks and cornerbacks. Here's five storylines heading into Saturday's home opener.
1) Hoping The Secondary Isn't On 'Halliday'
Hawaii's Taylor Graham was starting his first college game last Thursday, but Washington State's Connor Halliday played in nine games last year and is more prepared for a Pac-12 level defense. The WSU QB threw three interceptions last week, but also threw for 344 yards and attempted 65 passes. The Cougars will be going to the air early and often, and it won't help the Trojans that the injury bug is chomping down their cornerbacks. Both starters, Anthony Brown and Kevon Seymour, are injured and could miss Saturday, while backups Torin Harris and Devian Shelton was shaky against Hawaii. USC is also moving safeties Demetrius Wright and Josh Shaw to cornerback in practice to provide some depth. The safeties can help over if needed, but a few big plays by Halliday could allow the Cougars to keep things interesting.
2) Two Quarterbacks… Or No Quarterbacks
Lane Kiffin said earlier in the week that he knows his starting quarterback for Saturday. Fox College Football reported on Tuesday that it was Cody Kessler, but Kiffin hasn't acknowledged the report. It's a positive that the team knows, which means the starter can have a week of practice with the first team, especially with an uncertain offensive line rampaged by injuries and inconsistent play. No matter who starts though, chances are the second signal-caller will come in during the second half to lead the team. Even if one shines and the other one sputters, Kiffin still has three weeks until USC plays a game where the Trojans won't be a solid favorite, and he'd be wise at this juncture to give both real-time reps to prove what each can do.
3) Breslin's Return Or Ruffin' It?
In his first year at USC, Morgan Breslin had 19.5 tackles for loss and 13 sacks, the most by a Trojan in almost a decade. He also missed the season opener with a lingering foot injury, and Lane Kiffin hasn't addressed his injury during this week of practices. If he can't make it again, the responsibility will fall upon redshirt freshman Jabari Ruffin as well as J.R. Tavai to help out in the pass rush. The Trojan defense torched Hawaii for seven sacks and four interceptions, and will need to continue this momentum, Breslin or no Breslin, to make up for the question marks on offense.
4) High-Five For Heidari
Lost among last year's struggles was the regression of kicker Andre Heidari, who was just 10-of-16 on field goals after achieving an 88.2 percent clip his freshman year. Heidari had arthroscopic surgery last year, which caused him to miss two games. Against Hawaii though, Heidari looked ready to kick off a season reminiscent of his 2011 campaign. He hit a pair of short field goals, but also nailed a 52-yarder right before the end of the first half, the longest of his career. The Trojans are as talented as any team in the Pac-12, but it's a great safety net to have a kicker with the range Heidari displayed last Thursday.
5) Gauging The Approval Ratings
This being the home opener, it will be intriguing to see how the fans react to the Trojans. Will there be a boo every time Kiffin calls a bubble screen that results in a loss? Will either quarterback receive preferential treatment from the fan base? Will the stadium be filled for an earlier=than-usual Pac-12 opener in just the second game of the season? The public's reaction shouldn't affect the Trojans on the field, but the audible reaction to Kifffin and the team will be an insightful litmus test into the state of the program.
Sad Stat For WSU: The Cougars are 2-20 in Pac-10/12 road games over the past five seasons.
Sad Stat For USC: After defeating Hawaii in last season's opener, the Trojans also fell one spot in the AP Poll. In 2012, they moved from No. 1 to No. 2, while in 2013 they moved from No. 24 to No. 25.
Neon Tommy Editor Predictions
Jacob Freedman: USC 31, Washington State 21
Jeremy Bergman: USC 51, Washington State 16
Max Meyer: USC 30, Washington State 17
READ MORE: USC-Washington State Week 2 Betting Preview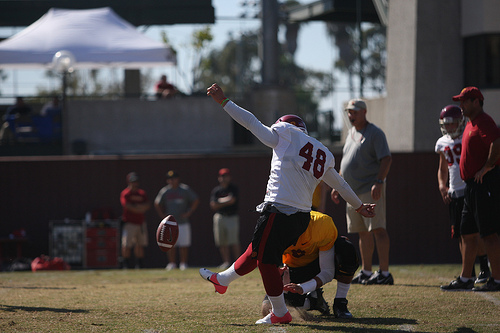 ---
In order to gain a different perspective on the visiting Washington State squad, we also talked with Britton Ransford, publisher of WazzuWatch.com.
Neon Tommy: The Cougars lost 31-24 at Auburn in Week 1. It's hard to believe in moral victories, but was this a better-than-expected performance from this squad?
Britton Ransford: Moral victories and Washington State have been synonymous for the better half of a decade and I believe this team is past that, especially under Leach. The Auburn game was a game I think a lot of the players, along with the fans, thought was a winnable game.
For those that followed camp closely, you could tell from day one that this was an improved group all over the field. The performance was certainly better than expected going into an SEC house, in that humidity, and playing toe-to-toe with a much improved Auburn squad. They came away angry and believing that they thought they let one get away. They have a lot of confidence, which is something we haven't seen in Pullman for some time.
NT: WSU Players sound like they have a lot of confidence in freshman cornerback Daquawn Brown going up against Marqise Lee. Do you think Brown can limit Lee, or will the WSU secondary need to make special adjustments to cover the Biletnikoff winner?
Ransford: The secondary is the biggest question mark on the entire team. Brown, who didn't start against Auburn, is definitely a player that the team is excited about. He's a talkative, fiery competitor on the field and won't shy away from the challenge. I think you'll see senior Damante Horton also line up again Lee, but that usually doesn't end well for the Cougars.
It's going to be a tough task to at least contain Lee. He's certainly going to get his catches, but it will be limiting his big plays after the catch that will go a long way towards this secondary being successful. Can Brown do that in his second game? I'm not so sure he can, but he -- and the rest of the defense -- surely has the confidence he will.
NT: The Cougars ran for just 349 yards last year, but ran for 120 in their season opener. What does the running game provide for WSU, and do you think it can shape up against USC's strong front seven?
Ransford: What the running game in Mike Leach's offense is designed to do is gain three or four yards per rush. It's not designed to break big runs, and if they do, it's a luxury. The offensive line was much improved and a big surprise against Auburn.
One thing we learned last season was they won't completely abandon the running game if they fall behind. They'll continue to use it as a change of pace. It's going to be a big, big test for the offensive line against a physical front seven that tore apart Hawaii. You may see a lot more screens to the receivers, hoping to pass-to-run, if you will.
Overall, I think what we saw in the running department against Auburn is more of a semblance of what you'll see the rest of the year. Though, expecting 120 yards this Saturday may be a reach. I'd settle more in the 70-80 yards rushing range, just because USC is so good up front.
SEE MORE: Arrogant Student Nation Videocast: Washington State Preview
NT: Quarterback Connor Halliday threw for 344 yards last Saturday, but also threw three critical interceptions. What kind of quarterback do you think he is right now, and what does he need to do to cut down on his mistakes?
Ransford: Halliday made some really bad decisions in the Auburn game, specifically the late game interception in the Tigers endzone that essentially sealed their fate. The majority of his bad decisions can be sorted out on film. Each of his interceptions came on first down, which is unacceptable. Sometimes (often times) he'll try to do too much with the ball and force throws that just aren't there.
However, you could see that he has a lot more control of the offense and at times looked special last week. When he is taking what the defense is giving him, using his underneath routes and methodically moving the ball 5-10 yards a play, it will open up plays down the field.
Against a USC defense that is going to bring a lot of pressure, he's going to need to make quick decisions and if it's not there, throw the ball as far out of bounds as he can. If he does that, he can be successful.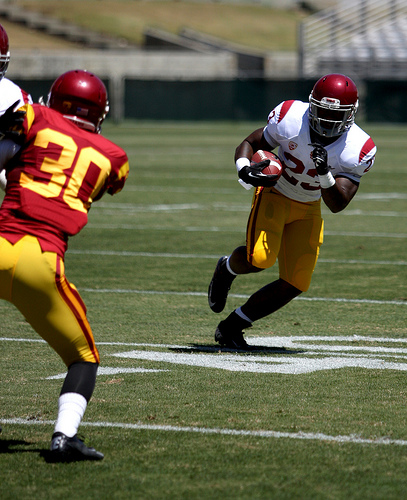 NT: Mike Leach called out some of last year's team for being "zombies and corpses". How much more unity and team positivity would you say this Cougars team has, and why is it so improved?
Ransford: This is the closest I've seen this team in many years. The players that didn't want to buy in are out of the program and everyone there is focused on the team and getting better each and every day. Their confidence level is off-the-charts and they have practiced extremely well over the last month.
It's a fun environment to be in and I think that's translating on the field. They believe in one another and believe they can win every game they play. A lot of that has to do with the coaching staff instilling a winning attitude in the program and the players buying in.
But it's also being in the program in year two, and despite all the losses, there is noticeable progress. The Apple Cup win was huge for the players and sparked an impressive offseason. They're more comfortable in the system on both sides of the football and it's simply a fun group to be around.
NT: Your prediction for Saturday's game?
Ransford: This isn't the same Washington State team that has been punished by previous USC squads over the years. They're confident coming into the game and I would be astonished if the Trojans came in overlooking them.
I think the secondary for the Cougars is going to be a big "if" and with Agholor and Lee on the outside, it could spell a long day for Washington State. Can the defense come up with enough stops? They'll need to get a few takeaways and protect the ball themselves.
I don't see the Trojans running away with this game but I'm not ready to proclaim that this WSU team is ready to come into the Coliseum and walk away with a victory. Though it is a winnable game, I think the Trojans take this one, 35-27.
---
Reach Senior Sports Editor Jacob Freedman here or follow him on Twitter.