Sports
USC Football Fall Camp 2013: Trojans Look To Solve Cougars D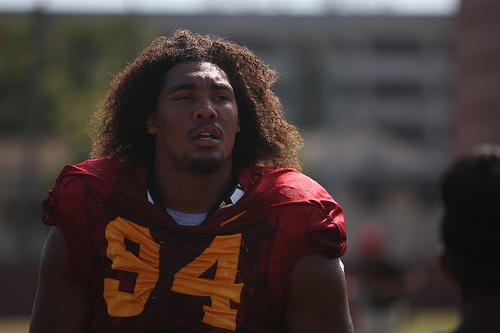 These days, "multiple" is one of the first buzzwords on every football coach's lips. How many fronts can their defense line up in? How many sets does their offense run? How well can they shift and masquerade within those? The list goes on and on, and doesn't figure to end any time soon in a world where subterfuge is a trendy path to dominance.
Mike Leach and the Washington State Cougars don't ascribe to that philosophy. According to USC head coach Lane Kiffin, the challenge when facing WSU doesn't lie in how many plays they run. It's in how well they execute the ones they do.
"I don't think it's a secret that, at the line of scrimmage, versus certain looks they try to use the run to their advantage," Kiffin told the media after Thursday's practice. "They're not real multiple in the looks they give you. They just do it really well and have done it for years. They run the same plays over and over, and they do them really well."
Most of the time, it entails spreading the field and airing it out within Leach's patented Air Raid offense. To that end, the Trojans are gearing up for a busy day of pass defense, and looking to ways to limit Cougars quarterback Connor Halliday. Halliday was a mixed bag against Auburn, with 344 passing yards to go with three interceptions, but Kiffin sounded quite impressed with the junior's play over the last two seasons.
"Really a great game [against Auburn]," Kiffin said. "He played really well, really accurate. Really poised in the pocket, didn't let the rush get to him and kept his eyes downfield. I thought he had some great games last year, too."
Kiffin kept his defense's workload in mind Thursday by running a lighter practice session that included no cleats or helmets. It was a byproduct of fewer numbers due to sanctions and even fewer healthy bodies from re-implementing more physical practices throughout spring and fall camps. There are certainly benefits to that – Kiffin cited the team's physical play running the ball and in the run defense as two big ones. The tradeoff, though, comes in needing days like this one to take the foot off the accelerator and keep his troops energized for Saturday.
"Our team, after yesterday, was really tired," Kiffin admitted. "The price we pay with the numbers being where they're at, I think has taken a toll on our frontline guys because they've taken so many reps. As a head coach, you want your team to be fresh and the last thing you want to do is run them into the ground."
With nine days in between games, the Trojans will be rested. Now, it's up to them to solve the non-multiple choice test that is the Cougars at 7:30 pm in the Coliseum.