USC Sports
USC-Boston College Betting Preview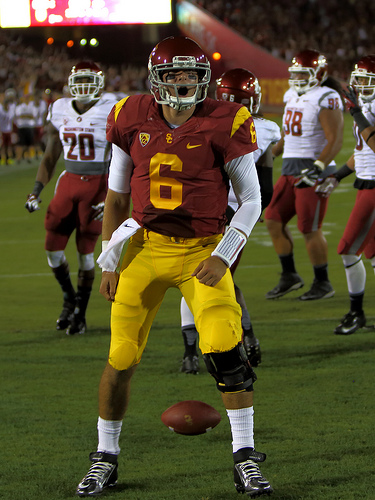 USC Trojans 1-1 (0-2 ATS) vs. Boston College 2-0 (1-1 ATS)
Saturday, September 14th at 12:00 p.m. PST on Pac-12 Networks
Latest Odds: USC -13.5 and Over/Under 43
When I first saw what Vegas had as the spread for the USC-Boston College game, I was in utter shock. How in the world could USC be favored by 16 points, when it's quite possible that the Trojans wouldn't even score that many because of their lackluster offense?
After watching game tape of Boston College, however, it made me realize that it was time to recommend USC as a favorite to the college football betting community.
Since USC opened as a 16-point favorite, the line has dropped considerably. The Trojans are currently favored by 13.5, and since the line is below the magic number of 14, it's the perfect time to pounce.
Boston College already has two wins, which is the same total they had last year. Yet, both of them came against weak opponents in Villanova and Wake Forest, and they were both at home.
The Eagles have struggled considerably on the road the past two seasons.
In their 12 road games over that span, Boston College has only won two of them. In those 10 losses, they have been outscored by an average of 17.4 points. Additionally, the Eagles are 0-4 against the spread in their last four road games.
But, let's dig deeper into this year's Boston College team. The focal point of their offense is senior running back Andre Williams. Williams has had a strong start to the season, and was named the ACC Player of the Week after his 204-yard performance against Wake Forest.
Williams on the season has 58 rushes for 318 yards, which is good for 5.5 yards per carry. This is a running back though that is a 230-pound bruiser, which plays well for USC's defense.
Led by great run-stuffing defensive linemen Leonard Williams and George Uko, USC's run defense has given up only 15 yards per game and a minuscule 0.57 yards per carry. The fact that Andre Williams is a power back, and not a speed back, leads me to believe that he won't be as effective against USC's strong defensive line.
Williams has been great on first down (6.3 yards per carry on 40 rushing attempts) and when Boston College has been winning (6.4 yards per carry on 35 rushing attempts). Yet, since he's more of a one-dimensional back and not a threat in the pass game, his numbers in other scenarios aren't ideal.
While he hasn't had as many rushing attempts on second down or when the Eagles have been losing, it's a startling difference. On 17 second-down carries, he's averaging 2.8 yards per carry. Additionally, when the score is not in Boston College's favor, he's ran the ball 18 times for only 61 yards. He also does not have a reception so far this season. Essentially, if Boston College gets off to a slow start against USC, Williams will not have the same impact he's had in their first two games.
Boston College also has a senior at quarterback, Chase Rettig, but he's mostly benefitted from his running back's strong start. The Eagles are averaging 9.3 passing yards per attempt, because of their play-action passes. If USC's front-seven can shut down Williams, Rettig will struggle because the offense will not move the ball if they have to rely on his arm more. Rettig's been effective thus far because defenses have focused on Williams, and he's been finding open receivers on play-action passes.
Boston College's run defense has also been impressive. Yet, one of the teams they've faced is an FCS team (Villanova) and Wake Forest averaged only three yards a carry as a team last season. USC has the advantage in talent and depth along their defensive line, so expect them to have a stronger game against the run.
I also think USC's passing attack will have a bounce-back game. Unlike Washington State, whose defensive backs pressed at the line of scrimmage often, Boston College's defensive backs play a few yards off the receiver. USC struggled last game with their short passes because they couldn't gain yards after the catch with the Cougars' defensive backs covering them so closely.
If the Eagles play their defensive backs off the line of scrimmage against USC, the Trojans' short passing game will be dangerous because receivers such as Marqise Lee and Nelson Agholor will have more room to break open for big plays.
It won't be hard for USC to play better on offense against Washington State, especially since Lane Kiffin is feeling the pressure from the Trojan fan base. Yet, I still don't trust Cody Kessler to put up a monster game. However, Boston College will struggle to score this game. USC's defense matches up perfectly with their strengths on offense.
Final Score Prediction: USC 24, Boston College 10
My Best Bet: UNDER 43 Points
LAST WEEK's PICKS 2-0 || SEASON'S PICKS 4-0 || BEST BETS 2-0
Reach Senior Sports Editor Max Meyer by email.