Los Angeles
U.S. Export Prices Fall Sixth Straight Month, Import Prices Stagnant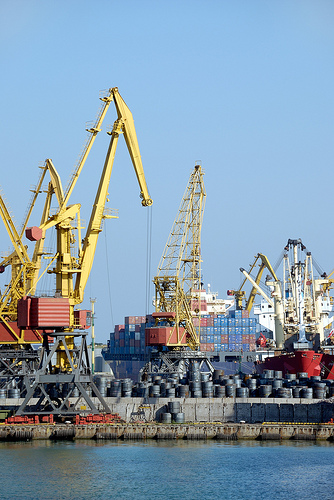 Export prices fell for the six straight month while import prices remained stagnant, but local shippers shrugged off the news as they expected cargo volumes to continue to climb.
The Department of Labor released Thursday its monthly import and export price index, which documents the prices of goods made in the U.S. or overseas and shipped internationally.
The steady decline in import and export prices could translate into lower costs for consumers for everything from apples to T-shirts.
But drops like these could spell trouble for shippers. Producers might have less incentive to ship overseas since the relative cost of transportation increases as the prices of goods decrease.
U.S. export prices fell half a percent in August. Agricultural goods, a key component of the index, recorded an even steeper drop of 4.3 percent, accounting for much of the month's losses. Export prices were down 1.1 percent from a year earlier.
August import prices showed no change from the previous month. Petroleum import prices rose 0.8 percent, but prices for other imported goods declined 0.2 percent. It was the fourth month in a row that the prices for non-petroleum goods fell.
READ MORE: August's import and export price index.
So far, L.A. freight forwarders aren't worried about the report. They pointed to cargo volume, the number of shipped containers and the value of the U.S. dollar relative to foreign currencies as more important factors for their businesses.
"It sounds terrible, but when you get into it, it's not a crazy deal for us," said Kasha Ferasat, marketing director for American Export Lines. "You might have the same number of containers coming in but just less volume or lesser valued commodities."
Ferasat said a decrease in import and export prices would most greatly affect larger companies, whose profits relied on competitive pricing. U.S. exporters would have to drop their prices to match those of foreign competitors.
"It's a little concern to see what'll happen next, but exports have been increasing in terms of traffic and volume," he said.
For the 2012-2013 fiscal year, the port of Los Angeles saw a 5 percent drop from the previous year in the number of containers it shipped out.
But the port sent out almost 10,000 more containers in July than it did during the month before. And the number of imported containers in July — 370,745 — was nearly 10 percent higher than at the year's start.
President of Carmichael International Services, John Salvo, said he wasn't concerned about the impact the drop in import and export prices had on his shipping company of 52 years.
"It really depends on the clients' commodities. Some things they can't source here in the U.S.," he said. "But we're not losing sleep over it."
Reach Melissah Yang here. Follow her on Twitter @Melissah Yang.