Food
Trick Or Treat, Time To Eat: Halloween-Themed Snacks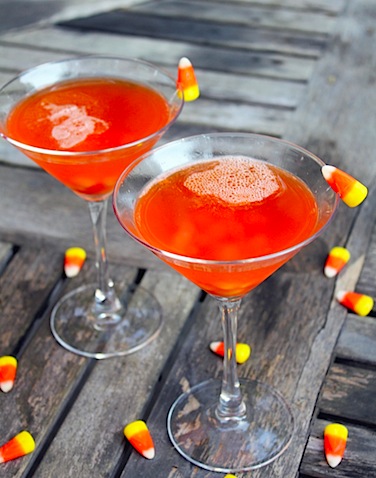 Get festive for Halloween with these cute and yummy treats! They're easy to make and fun to eat. Whether you're hosting a Halloween bash or just ready to bake up some ghastly goodies, these delicious desserts will put a spell on all the ghosts and ghouls who come knocking at your door.
Ingredients:
Ice
1 C vodka
¾ C candy corn, plus extra for garnish
¼ C butterscotch schnapps
Instructions: Pour candy corn into vodka and let it soak for about three hours. Once those dreadful three hours end, you're ready to mix! In a shaker, add 1 C candy corn infused vodka, ¼ C butterscotch schnapps, and shake! After shaking your cocktail a few times, add ice and start shaking again. Once your cocktail has been shook to your hearts content, get out your martini glasses and pour away! Feel free to throw some extra candy corns into your glass for a little pizzazz! This drink will definitely be super sweet, so expect to drink it as a dessert.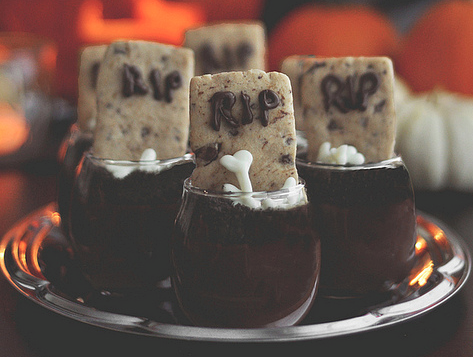 Dark Chocolate Pot de Creme
Ingredients (For the Tombstone Cookies):
2 T finely chopped chocolate, semi-sweet or bittersweet.
6 T butter, softened
½ C granulated sugar
1 large egg
½ tsp vanilla extract
1 – 1/3 C all-purpose flour
1 tsp espresso powder
½ tsp baking powder
¼ tsp salt
Melted semi-sweet or bittersweet chocolate for decoration
Instructions: Preheat oven to 350 degrees. Chop chocolate until it's about the size of rice. Beat butter and ½ cup sugar until creamy, then beat in the egg and vanilla. In another bowl, whisk together the flour, espresso powder, baking powder, salt, and cocoa nibs. Gradually add this mixture to the butter mixture, and blend thoroughly, until soft dough forms. Divide dough in half and cover each portion with plastic wrap and refrigerate anywhere from one hour to three days. After chilling, roll out dough to a thickness of about 1/8 in. Cut out whatever Halloween themed shape you want, in this case, let's make a tombstone. On parchment paper, bake cookies until lightly browned; this will take about eight to 10 minutes. Once baked and cooled, pipe the letters "RIP" in chocolate on each cookie. You can serve these either by themselves or with your pot de crème!
Ingredients (For the Pot de Crème):
11 oz dark chocolate, roughly chopped
3 oz semi-sweet chocolate, roughly chopped
2 large eggs
2 egg yolks
2 – ½ C heavy cream
1/3 C coffee-flavored liqueur
¼ C granulated sugar
½ C chocolate cookie crumbs
Tombstone cookies
White chocolate for bone decoration
Instructions: Pulse chocolate in a food processor or blender until finely chopped. Pulse eggs and yolks in a food processor or blender until well blended. Place the whipping cream in a pot and bring to a small boil using low-medium heat; this will take about three to five minutes. After this, place your processor or blender on high speed and pour your boiled cream in at a slow and steady stream to your eggs. Make sure this mixture stays at about 160 degrees; if it gets any lower, reheat the entire mixture over a pot on low heat and whisk it the entire time. Combine this mixture with chopped chocolate, sugar, and liqueur, and then pulse in your processor or blender until smooth; this will take about a minute. Pour your chocolate mixture into glasses and let it chill for about 30 to 45 minutes. Once chilled, let it stand at room temperature for about 30 minutes before serving if possible; this will give the pot de crème that creamy texture you're looking for. Spoon 1 tsbp of chocolate sandwich cookie crumbs into each pot de crème, and then insert a tombstone cookie into each serving. Enjoy!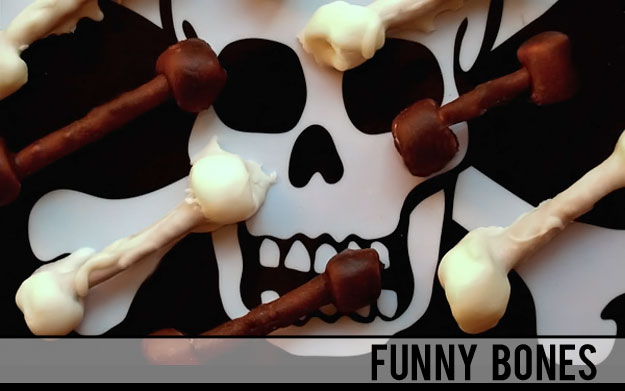 Funny Bones
Ingredients:
Bag of pretzel sticks
Bag of mini marshmallows
Semisweet chocolate
White chocolate
Instructions: Break pretzel sticks into different shapes to make different sized bones and put mini marshmallows on the ends of pretzel sticks to form bone shapes. Coat your bones with melted chocolate of your choosing; make sure not to put the bones into the chocolate when it is too hot otherwise the marshmallows will melt off the pretzels. Once you let your finished bones set at room temperature on some parchment paper, you're done!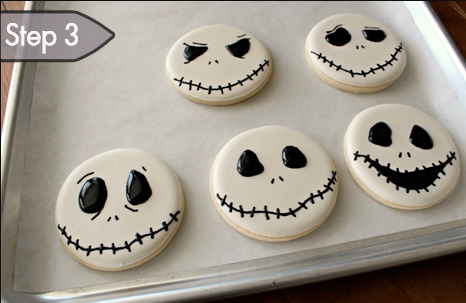 Jack Skellington Cookies
Ingredients:
White piping and flood icing
Black food color marker
Black 20-second icing
Instructions: Make sugar cookies; feel free to use a boxed mix and follow the directions on the back of the box, or make your own from scratch. Once those are cooked, cooled, and ready, outline and flood your cookies. Let your icing dry overnight. The next day, use a black food color marker to sketch out Jack's face. After you finish sketching, use 20-second icing to fill in Jack's face. Let your design dry for about three to four hours, and your cookies are ready!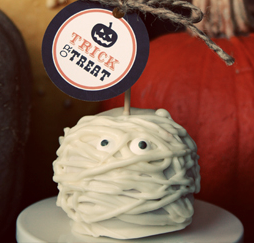 Mummy Apples
Ingredients:
Apples
Lollipop Sticks
Almond Bark
Wilton Candy Eyeballs
Instructions: Place a stick into an apple. Coat it with a light layer of almond bark and stick two candy eyeballs on your coated apple. Allow it to cool in the refrigerator for a few minutes. Once the apple is chilled, pipe melted almond bark all around the apple to make a gauze looking pattern. Put it back in the fridge and serve once it's appropriately chilled.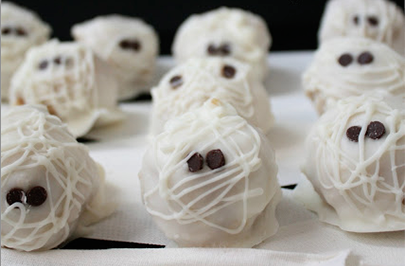 Mummy Cookie Bites
Ingredients:
1 package (8 oz.) cream cheese, softened
36 finely crushed golden Oreo cookies
14 oz Bakers white chocolate
Mini chocolate chips (optional)
Instructions: Mix cream cheese and cookie crumbs until blended, and then shape them into one inch balls. Let them freeze for about 10 minutes and then dip the balls into melted chocolate. After freezing them again for about an hour or until firm, you can start piping. Pipe two dots onto your cookie bite to form the mummy's eyes; you can either do this using milk or dark chocolate or you can use the piping more as a glue and place two chocolate chips on top of your pipe work to make eyes. After making the mummy's eyes, you can pipe the remaining chocolate (white) onto your cookie bites to resemble gauze strips. Congratulations; you just made mummy cookie bites!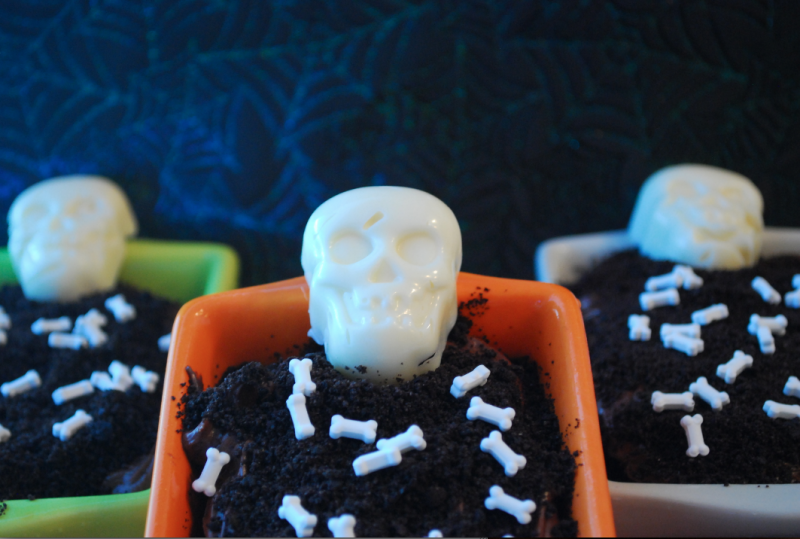 Spooky Graveyard Brownie Cakes
Ingredients:
1 box fudge brownie mix, plus ingredients on the back of the box
1 can chocolate frosting
1 C Oreo cookies, finely crushed
Bone sprinkles
About ½ bag of white chocolate candy melts or almond bark
Instructions: Preheat oven to 350 degrees and lightly spray mini loaf pans with cooking spray. Prepare brownie batter according to the package directions, place mix into mini loaf pans, and bake for about 40 to 45 minutes or until a toothpick inserted in the center comes out clean. While waiting for your brownie batter to bake, you can prepare our candy skulls. Melt candy bark according to the package directions. Once melted, pour the candy into a piping bag and pipe a skull cavity. Let your skulls set in the fridge for about 15 to 20 minutes. Once your brownie cakes are baked and cooled, spread chocolate frosting on the tops and then sprinkle your crushed cookies on top of the frosting; the crushed cookies will look like the dirt! After that, you can sprinkle your bone sprinkles on top of the crushed cookies, or you can try to organize them to look like the skeleton's body. Once you throw your candy skull on top of each loaf pan, you're all set!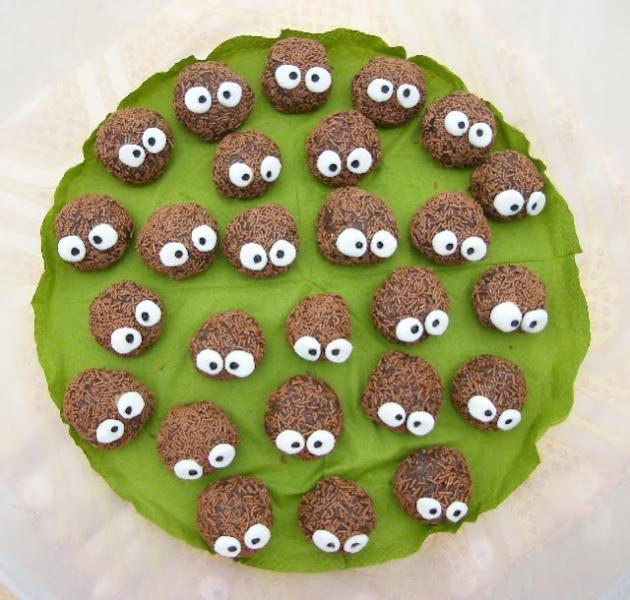 Sprite Truffles
Ingredients:
500 g packet of Digestive Biscuits
397 g tin condensed milk
4 T margarine
12 T desiccated coconut
5 T drinking chocolate
5 T cocoa powder
10 T orange juice
Grated rind of 2 oranges
Peanut butter
Edible black marker pen
Fondant
Chocolate vermicelli or strands
Instructions: Bash the digestive biscuits to fine crumbs. Mix together the melted margarine, condensed milk, crushed biscuits, coconut, drinking chocolate, cocoa powder, and orange juice in a large bowl. Once the mixture is well combined, place your mixture in the fridge for about half an hour to let it firm up. After you take the mixture out of the fridge, roll the mixture into balls and then roll the balls in chocolate vermicelli. Make little eyes out of fondant by rolling them into balls, pressing to flatten. Then, glue the eyes to your truffles with a small dab of peanut butter. Once the eyes are stuck on the truffle, you can draw the pupils with the edible marker pen. There you go!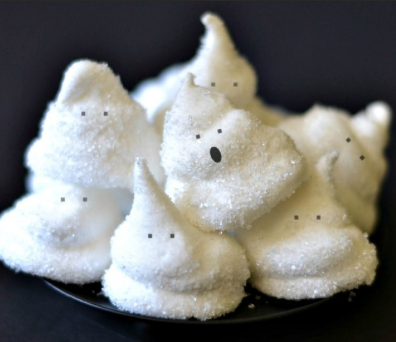 Vegan Peeps
Ingredients:
1 packet Naturals Dessert Jel, unflavored
1/3 C cold water, plus ¼ C water
1 C sugar
Instructions: In an electric mixer, sprinkle gelatin over 1/3 cup cold water. Allow gelatin to soften; this will take about five minutes. In a small saucepan, combine ¼ cup water and sugar and stir over medium-high heat until all of the sugar is completely dissolved. Continue to boil sugar until the temperature reaches about 238 degrees. Turn the heat off, and add the sugar water to softened gelatin. Mix by hand using a whisk for a few minutes, and then beat on medium-high until soft peaks form and the marshmallow mixture begins to hold shape; this will take about eight to 10 minutes. After putting your marshmallow mixture into a piping bag, sprinkle sugar onto parchment paper and start piping your ghosts! Once done, you can dust off your peeps with sugar and give your little ghosts a face using a black edible marker. After you let your peeps set for about 20 to 30 minutes, get ready to serve them up!
The great thing about all of these recipes is that they're all extremely versatile. Be creative! If you don't want to make skulls, make ghosts; if you don't like mummies, make a Frankenstein. If you don't like an ingredient, try and substitute it for something else. It's Halloween; use your imagination!
Reach Staff Reporter Janelle Cabuco here.