Food
Small Plates: Restaurant Chains' Next Big Trend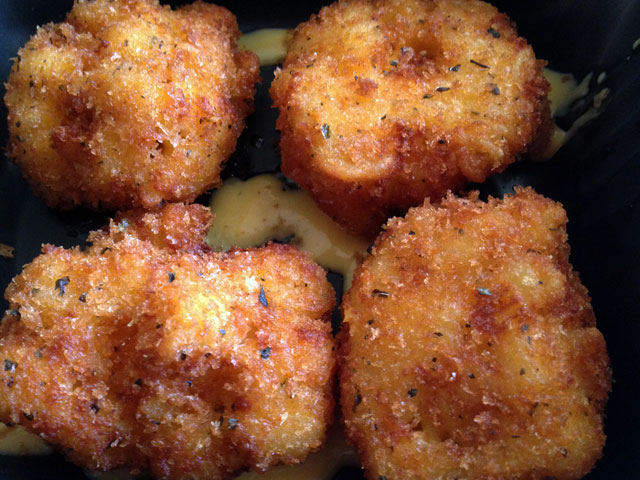 Small plates, big following? It's a question many restaurant chains have been asking themselves recently, and
Olive Garden
is the latest to jump on the small plates bandwagon,
according to OC Weekly
.
Since this summer (and even in the months preceding it), "small bites" and "shareable appetizers" menus—featuring smaller, cheaper, tapas-style dishes—started popping up at various eateries. These "small plate" options are not only useful for ordering smaller-sized appetizers before entrées, but also for sharing. It's the perfect solution for groups to try a little bit of everything without going broke … and for those exercising portion control.
While Olive Garden was only testing a small plates menu as of June, its parent company, Darden Restaurants, confirmed that the tapas-style dishes will join the permanent menu in the company's stores nationwide.
Unlike other eateries' motives for having these "smaller plates"—to cater to customers' spending habits in the current economy while providing more dining options—Olive Garden's implementation of the tapas-like dishes is to attract younger crowds to its restaurants, OC Weekly reports. Many of the dishes on the "smaller plates" menu are hand-held and the average cost is about $4, and Olive Garden managers note that it's easier for diners in their 20s and 30s to multitask—text, Tweet, use Instagram, etc.—while munching on these bites.
Want to try some of these tapas-style dishes? Here are some "smaller plates" you can find the next time you dine at one of these chains.
T.G.I. FRIDAYS – "Taste and Share"
The "Taste and Share" menu at T.G.I. Fridays currently features seven different bite-sized items. These dishes fit for tasting include diner favorites like the "Garlic & Basil Bruschetta"—comprising Roma tomatoes, fresh basil and roasted garlic atop freshly baked Parmesan baguette crostinis drizzled with a balsamic glaze—and "Bacon Mac & Cheese Bites," featuring crispy bites with a blend of three varieties of Cheddar and served with beer cheese dipping sauce.
THE CHEESECAKE FACTORY – "Small Plates and Snacks"
The Cheesecake Factory is known for its extensive breakfast, lunch, dinner and cheesecake menu, and its "Small Plates and Snacks" menu—which debuted in 2009—is no different. There is enough variety on this small plates menu for every diner to find something they like, whether it's the crispy "Fresh-Baked Flatbreads," flavorful "Dynamite Shrimp" or the savory "Parmesan Polenta Fries."
CALIFORNIA PIZZA KITCHEN – "Small Plates"
"Crispy Mac 'N' Cheese," "Mediterranean Focaccia" and "Bianco Flatbread" are just some of the "Small Plates" diners can find on California Pizza Kitchen's menu. Formerly known as the "Small Cravings" menu, these tapas-style dishes are cheaper and feature tasty, bite-sized dishes like "White Corn Guacamole + Chips" and "Petite Wedge."
OLIVE GARDEN – "Italian Small Plates"
The "Italian Small Plates" menu that Olive Garden was testing included a variety of dishes with several pricing options (one for $4, two for $7 or two with unlimited salad and breadsticks for $10). These small plates range from more traditional dishes like the "Pizza Fritta"—featuring fried pizza dough served with a choice of dipping sauce (sun-dried tomato, meat sauce or five-cheese marinara)—to more unique shareable dishes like the "Grilled Chicken Spiedini," a serving of chicken skewers served with citrus-apricot or spicy garlic aioli dipping sauces.
BJ'S RESTAURANT AND BREWHOUSE – "Snacks & Small Bites"
BJ's Restaurant, recognized for its deep-dish pizzas and unique "Pizookie" desserts, has a "Snacks & Small Bites" section of its varied menu. New dishes—like the "Fresh Watermelon and Feta Salad" the eatery is currently promoting—are regularly featured on this menu. Other "small bites" favorites include "Chicken Wontons"—lightly battered wonton pieces filled with cream cheese and marinated chicken, served Thai or Buffalo style—and "Spinach Stuffed Mushrooms," a savory dish featuring small mushrooms stuffed generously with a blend of spinach artichoke dip, feta cheese, fresh spinach, chopped mushrooms and Parmesan cheese. The mushrooms are also topped with a lemon pesto sauce and sprinkled liberally with crispy breadcrumbs.
Reach Kelli Shiroma here.