Sports
Mark Sanchez To Undergo Surgery, Miss Jets Season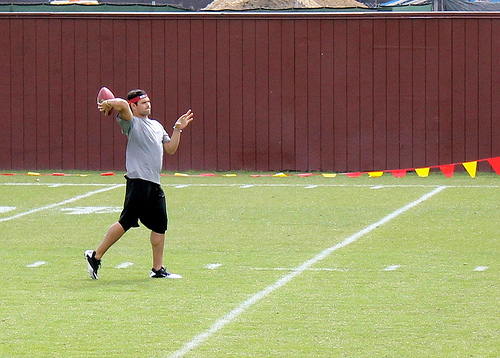 Mark Sanchez's rocky career with the New York Jets may be over,
as USA Today is reporting
that the 26-year-old will require season-ending shoulder surgery.
Sanchez signed a new five-year contract extension before the 2012 season worth $58.25 million, not including another $10 million in escalator clauses. He counts a whopping $12.9 million against the cap this season, and the Jets would take an additional $4.8 million dollar hit in 2014 if he were released.
But Sanchez reportedly expressed concerns that if he went on injured reserve – almost certain to happen if surgery is required – that he would be permanently out of the team's plans with rookie quarterback Geno Smith now entrenched as the team's starter.
If that happens, it would mark a precipitous fall from grace for the fifth overall pick in the 2009 draft.
After being drafted, Sanchez quickly made his mark in the Big Apple, quarterbacking the Jets to the AFC Championship game in each of his first two seasons. But his individual statistics never matched the team's production and after the team went a combined 14-18 over his last two seasons, many in the media and in the team's fan base have called for a change. Through four years, Sanchez has completed just 55.1 percent of his passes to go with an unsightly 68 to 69 touchdown to interception ratio.
Sanchez turned pro as a redshirt junior. He only started one season at USC, a 12-1 campaign in 2008 that culminated in a 38-24 blowout of Penn State in the 2009 Rose Bowl.