Music
Saint Rich At The Echo: Review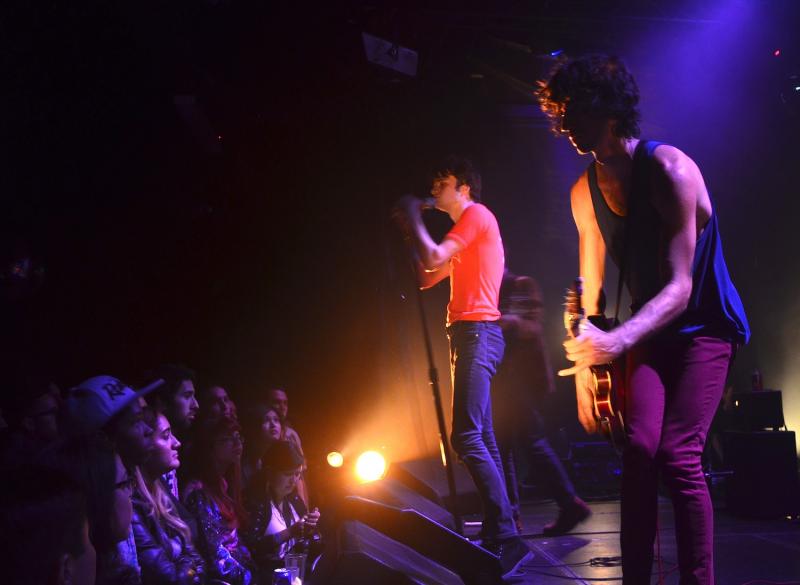 Saint Rich performed at
the Echo
on Saturday. They played songs from their upcoming release
"Beyond The Drone,"
available for purchase
Sept. 30
and currently
streaming online via SPIN.
The band is led by Steve Marion and Christian Peslak, who previously toured together as songwriter and backing musician of the outfit Delicate Steve, respectively.
Marion spoke on the difficulties tied to working as a full band. He described playing guitar with Saint Rich as "harder."
"It's harder to find my voice live," he said, "as opposed to either the live incarnation of Delicate Steve or the studio aspect of Saint Rich. Whereas I have one amp, one thing, and I'm not the main guy. I'm now just a building block."
"I was totally a backseat driver," Peslak said. "Now, I'm the driver."
"Crack the whip!" was Marion's response.
SEE ALSO: Delicate Steve Prove Music Can Be Good
If Delicate Steve's songs burst with melodic zeal, this performance powered forward with a time tested chug-a-lug. Perhaps that's something that will shift as they continue touring under the Saint Rich banner. Perhaps Marion's Stretch-Armstrong-filled-with-jerkey physique was the slightest bit bogged down after days spent sans-exercise in a van. But the fact is, whereas the previous incarnation of the duo's musical efforts tears up the air with rocket-throttle abandon, Saint Rich sounded simply like a well-honed band set on delivering solid rock numbers. They played their album's worth of material, all musicianship top-notch—Peslak can even do this Destroyer-cum-Mick Jaggery flouncing, which was great considering that the Stones played on the same stage only months ago. But when they hit their last note, the crowd seemed geared up to hear Wild Belle, the evening's headliner, more than anything.
SEE ALSO: Neon Tommy's Full Live Music Coverage
Whatever fruits their musical efforts may bear, the frontmen's personal relationship appears stolid. When engaging in sweat-smattered embraces onstage, their backstory—they've played music together in some capacity for years of their New Jersey youths—appears legit. Previously, Delicate Steve's PR team had packaged Marion's first solo album with a completely phony backstory penned by Chuck Klosterman, so such suspicions are only appropriate.
When Marion ane Peslak decided to turn the mic on each other mid-interview, their long history and warm understanding of the other most vividly came to the surface, betraying their stage-ready scowling jowls.
"Can you talk a little bit about where you're from in New Jersey?" Marion asked his bandmate.
"I'm from Roxbury, New Jersey," Peslak said. "Which is Lenni Lenape for 'Black Rock.' It's Exit 28, off Route 80. It's a nice little town. I live on Emmans Road."
"Talk a little bit about the problem that's going on with the landfill in your neighborhood," Marion says.
"You're gonna wanna go to fenimorelandfill.com to read up on that."
"Do you find yourself looking into the eyes of all of the eyes looking back at you onstage and trying to instill a message into their souls?" Marion asked.
"Yes," Peslak said.
"What's your favorite part about being in a band with me?"
"Using your toothpaste," Peslak said.
Listen to a live recording of Saint Rich playing "Already Gone" by clicking the play button below.
Contact Editor-At-Large Graham Clark here. Follow him in Twitter here.
You may need: Adobe Flash Player.