National
President Obama Volunteers In Honor Of 9/11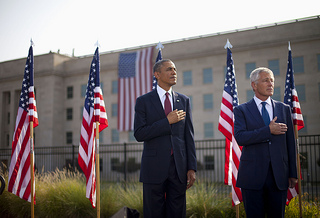 While citizens throughout the country have been lighting candles, holding moments of silence, and attending memorials to commemorate the heroes who lost their lives in the September 11 tragedy, President Obama also took time out of his day to honor the brave firemen and police officers who lost their lives 12 years ago.
Congress has designated September 11 to be henceforth known as the National Day of Service and Remembrance, a national holiday intended to honor the victims of 9/11.
President Obama upheld that sentiment by volunteering at Food & Friends a charity in Washington D.C. that provides meals to people with life-threatening illnesses.
He worked alongside the charity's other volunteers in an assembly line to help those in need.
In his speech on Wednesday morning, president Obama urged Americans to "look for a way to volunteer in your own community," and through his volunteerism with Food & Friends, the president has done just that.
As the president emphasized in his speech today, September 11 should be about "neighbors helping neighbors," as a way to pay tribute to the brave men and women who gave their lives to help others a dozen years ago.
Contact Executive Producer Sara Newman here and follow her on Twitter.