Sports
Pac-12 Football Review: Week 5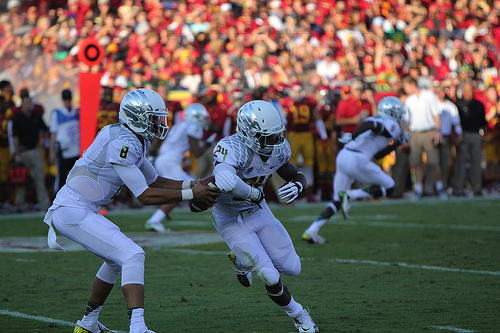 Four weeks of predominantly non-conference games are in the books, leaving six teams in the Pac-12 undefeated. Although Oregon and Stanford again lead the conference in the polls, the competition looks as fierce as ever. Let's take a look at where the teams stand heading into conference play.
Offense
Just about every team can score on offense, with six teams ranking in the top-25 in scoring and 11 teams scoring over 30 points per game. USC ranks last in the Pac-12, averaging only 22.2 ppg.
The Pac-12 can air it out. Cal is second in the country and leads eight teams that rank in the top-18 in the passing yards (438.7 yards per game), followed by Oregon State, Colorado, Arizona State, UCLA, Washington State, Washington and Oregon.
A few teams have top-12 running attacks, led by Oregon's high flying offense that ranks second in the nation (355.3 yds/game), followed by Arizona, Washington and UCLA.
Defense
Several teams in the Pac-12 have played stifling defense as well.
Arizona leads the Pac-12 in scoring defense, allowing only 8.7 ppg, which ranks third in the nation. Oregon, Washington, USC and Washington State all rank in the top-13 in scoring defense in the nation.
Overall, USC is the class of the conference, allowing a stingy 230.5 yds/game, good for fourth in the nation. Washington State, Washington, Arizona, Colorado and Oregon all crack the top-30 in yards allowed per game.
When examining yards yielded per play, USC is second in the nation with 3.5, followed by Oregon, Washington State, Colorado, UCLA, Stanford and Washington all in the top-20.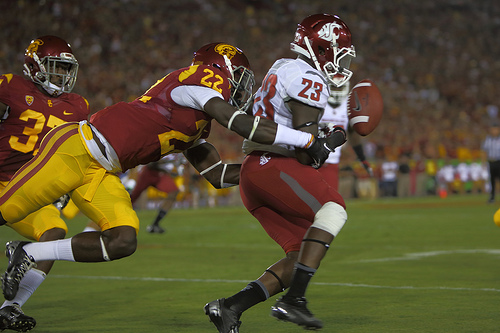 Most memorable moment
What a wild finish in the game between then #20 Wisconsin and Arizona State. Wisconsin mishandled the ball and the clock while making a last second drive into ASU territory that left everyone in the building and watching at home scratching their heads. Nevertheless, the Sun Devils escaped with a 32-30 victory over a top-25 team in a game they dominated statistically that won't be soon forgotten.
SEE MORE: Pac-12 Condemns Arizona State-Wisconsin Referees
Standout player
Most people would have thought Marqise Lee would take this category by a long shot after the type of years he's had in the past. However, given USC's struggles on offense, this distinction goes to Oregon's Marcus Mariota. In three games, the Ducks QB has thrown for 889 yards, 7 touchdowns and 0 interceptions and rushed for 262 yards and 4 touchdowns. He is one of the top candidates at this point to win the Heisman in 2013.
Biggest upset
Let's make this one a tie between Oregon State losing to Eastern Washington, an FCS team, and USC's 10-7 home loss to Washington State. Both games were embarrassments to respective programs ranked in the top-25 at the time. The Trojans' loss is just as bad due to their abysmal showing on offense that warranted chants of "Fire Kiffin" to bellow throughout the Coliseum. USC's defensive performance was stellar, with the only blunder being a field goal allowed late in the fourth quarter, which would ultimately cost the Trojans the game.
What to watch for
Week 5 kicks off Pac-12 play for most teams in the conference.
Arizona travels to Seattle to take on #16 Washington. Neither team has really been tested thus far on either side of the ball, so it will be interesting to see who will come out on top. It may be a scrappy, low scoring game or an offensive shootout.
The other game to keep an eye on is Arizona State vs. USC. The Trojans have had the Sun Devils' number in recent years, winning 12 of their last 13 matchups. But these are both different teams than we've seen in the past, and ASU handed the Trojans one of their two losses in 2011 on their home turf. This game should give us a good indication on where USC stands in the Pac-12 South race.
Reach Staff Writer Josh DeMilta here.