Sports
Pac-12 Condemns Arizona State-Wisconsin Referees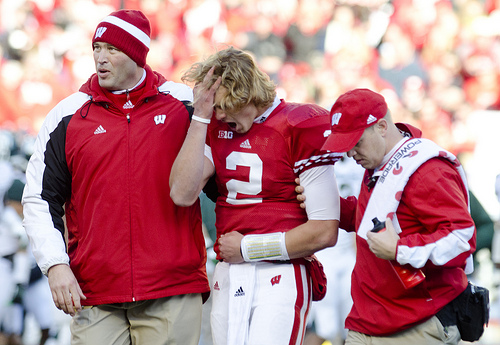 The Soviet Union received three extra seconds to steal the
Gold Medal
from the United States in 1972. The NFL's
replacement referees
blew a call at the end of last year's Packers-Seahawks game and cost the Cheeseheads a victory. Jim Joyce called Jason Donald safe and snatched away
Armando Galarraga's
perfect game. If only the list ended there.
The newest entry into the game-changing blown-call saga came this past weekend when Wisconsin headed down to Tempe to face Pac-12 contender Arizona State. Down by two, Badgers quarterback Joel Stave drove his squad down the field in a one-minute drill to set up a 30 yard chip-shot field goal that John Carney circa 2003 could have made. The win would have kept Wisconsin's record unblemished and propelled them to a rank well within the Top 20. Instead, they sit at 2-1 with a non-conference loss that will undoubtedly come back to bite them when BCS standings begin to be released in week eight.
The play, by no means was typical; However, by-the-book or not, it is the responsibility of the referees to not interfere with the flow of the game unless it becomes necessary. What happened on Saturday night was in no way necessary. Stave snapped the ball, ran to his left, touched the turf with his knee, and placed the ball down to prepare to stop the clock and send out the field-goal unit. From there, all hell broke loose. The defensive linemen of Arizona State dove on the ball thinking it was a fumble, and while the referees pulled them off, the clock ticked closer and closer to zero. By the time the referees actually spotted the ball, the clock touched zero and the game was over. The clock winding down prior to a spike has to remind Wisconsin fans of the still-open wound that is the 2012 Rose Bowl featuring the Russell Wilson fiasco. The only difference between those situations is where the finger can be pointed. In the Rose Bowl, it was at Russell Wilson. In the past Saturday's contest, the only place the blame can logically rest is on the referees.
In a statement released by Pac-12 commissioner Larry Scott on Monday, it was revealed that "additional sanctions" would be befall Saturday's referees for "failing to properly administer the end of game situation and act with appropriate urgency on the game's final play." The referees will undoubtedly be reprimanded, but the only ones truly being punished for the blown call are the Badgers themselves. They are the only ones who truly feel the repercussions as they play this season, because despite the fact that people might remember the call was botched, the BCS computers will not. The official Pac-12 statement ended with Scott saying that the conference "will continue to work with all our officials to ensure this type of situation never occurs again." The Trojans head to Tempe in two short weeks, and the USC faithful should sure hope nothing close to a repeat of last Saturday's debacle occurs then.