National
Occupy Wall Street's Second Anniversary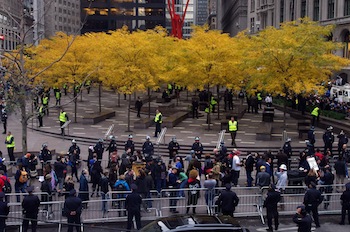 Occupy Wall Street protesters celebrated the movement's second anniversary by returning to the plaza near the New York Stock Exchange on Tuesday.
Instead of the once massive groups that swarmed Zuccotti Park, there was a group of about 100 occupiers. The event's organizers had planned a march in front of the United Nations with an expected turnout of 1,000 protesters.
According to ABC News, in the afternoon, an "assembly for the 99 percent" was held in Zuccotti Park, an event that happened frequently when the movement was in full force.
In November 2011, former New York City Mayor Michael Bloomberg ordered a police raid of the park. Since then, the number of Occupy participants has decreased.
The protesters claimed there was still plenty of fuel behind the movement.
With the movement's two-year anniversary, protesters were focused on a new goal called the Robin Hood Tax. According to Occupy Wall Street organizers, the Robin Hood Tax would inflict 0.5 percent tax on Wall Street trades. Ultimately, the revenue would be given to schools, hospitals and local governments.
"We're here to celebrate two years: We're still here, still fighting, still strong," said protester Sumumba Sobukwe to ABC News.
Reach Staff Reporter Kelly Masuda here.