Arts+Culture
Nina Davuluri Crowned Miss America 2014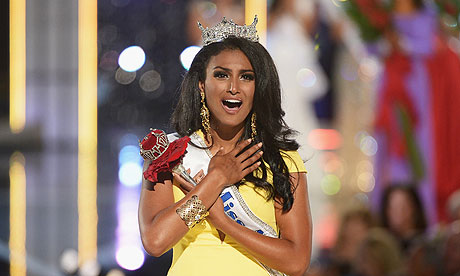 Nina Davuluri made Miss America history on Sunday as the first woman of Indian descent to be crowned Miss America. Representing New York, Davuluri grabbed the state's second consecutive victory in the Miss America pageant.
In the 92 years the pageant has existed, there are only four other "ethnic" women who have won the Miss America crown. The first was Bess Myerson, having been the first Jewish women to win in 1945.
The first African American to win Miss America was Vanessa Williams in 1983, and the first Haitian to win the crown was Marjorie Judith Vincent in 1990. It was only three years ago that the first Asian American, Angela Perez Baraquio (Filipina), won the national crown.
Davuluri attended the University of Michigan, where she graduated with a Bachelor's Degree in brain behavior and cognitive science. The beauty queen hopes to be a doctor one day and has yet to apply to medical school.
Davuluri captured the hearts of America during the swimsuit, talent, evening gown and final question categories.
Her platform is "Celebrating Diversity Through Culture Competency," which was showcased in her talent portion of the competition with Bollywood-fusion dance.
In her final question, she was asked about her opinion on Julie Chen's eye surgery to make them appear "less Asian."
"I don't agree with plastic surgery," Davuluri responded. "However I can understand that from a standpoint. More importantly I've always viewed Miss America as the girl next door. And Miss America is always evolving…I wouldn't want to change someone's looks. Be confident in who you are."
Although Davuluri went home with the crown, it was not always an easy journey when controversy erupted a few days prior to winning that she had called the outgoing Miss America, Mallory Hagan, "fat as f***."
The Board of the Miss America pageant reviewed recordings of the alleged conversation, but no information was confirmed.
Moments after winning, Davuluri was scrutinized on Twitter for not being "American enough" and others incorrectly labeled her as a terrorist.
"I have to rise above that," the new Miss America said to CNN. "I always viewed myself as first and foremost American."
Despite such racist remarks, Davuluri seems to be rather optimistic. "I'm so happy this organization has embraced diversity," said the 24-year-old beauty.
The winner of Miss America receives a $50,000 scholarship and promotes her platform for a year.
Reach Lauren Alvarez here.