NFL
NFL Week 4 Predictions
Chicago Bears (3-0) @ Detroit Lions (2-1)
Christopher Coppock: Bears 36, Lions 24
The first three weeks of the season couldn't have gone much better for the Chicago Bears, beating the Bengals and Vikings at home before thrashing the Steelers in Pittsburgh. Jay Cutler has played so well people have started throwing around the moniker 'clutch-ler.' Detroit, apart from a surprise loss to the Cardinals, has played well, albeit not brilliantly. Unfortunately for Lions fans, Chicago is one of the best teams in the NFL right now and so don't expect Detroit to put up too big of a fight.
Law Murray: Lions 31, Bears 27
An overlooked fact in the Bears' 3-0 start is that they have given up 21+ points in each game. While that spells offensive progress, it also raises a defensive yellow flag (not red because they're winning AND they're still doing that thing where they score defensive TDs). Lovie Smith's Bears NEVER started the first three games allowing more than 21 points in each game. The true Optimus Prime to Calvin Johnson's Megatron is Charles Tillman, but he isn't 100%. Bears DT Henry Melton is out for the season. And the Lions have been finding the end zone this year. I'm expecting a shootout in Detroit.
Russell Simon: Lions 28, Bears 27
The Bears have gotten out to a hot start, but they could just as easily be 1-2 as 3-0. They escaped two very close games in Cincinnati and Pittsburgh. but I think their luck will run out this Sunday. Although the Bears have won 9 out of 10 in this NFC North matchup, I expect the Lions' offense to have another big game after last week's huge performance. It will be close, but I expect Matt Stafford to step up in big moments and win this division showdown.
David Tobia: Bears 34, Lions 27
The Bears are only averaging 330 offensive yards per game. Luckily for the Bears, points matter more than yards. The Bears are averaging 32 points per game this year, and the Detroit defense, while strong, won't be able to stop Matt Forte on the Ford Field turf.
Matthew Tufts: Bears 24, Lions 21
Megatron is dominating on offense, but the Bears' D is too good. Look for "da Bears" to capitalize on turnovers.
Seattle Seahawks (3-0) @ Houston Texans (2-1)
Coppock: Seahawks 27, Texans 13
Even though Seattle will not be playing the impenetrable fortress that is Century Link Field this weekend against the Texans, they still have the best defense in the NFL, not to mention an offense that should be counted among the very best. Everyone assumed the Texans were good, but barely beating the Chargers, pulling out a close one against Tennessee and getting hammered by Baltimore should indicate that they may not be as good as we all assumed. They'll score some, because that is what the Texans do, but Seattle's defense will keep their side of the scoreboard pretty low.
Murray: Texans 20, Seahawks 17
To say that Texan RB Arian Foster is off to a slow start is an understatement – but also the expectation. He didn't do anything this summer. He'll need to be ready to match zone-blocking wits with his Madden brethren Marshawn Lynch to give the Texans a shot in this one. The Seahawks are mighty, but not so much on the road, and not so much after winning big games and/or blowouts. This is a statement game for both teams, and the Texans.
Simon: Seahawks 31, Texans 23
It is a two horse race between Denver and Seattle for the best team in football and the Seahawks may have snuck ahead for the time being after last week's great win over the 49ers. This is a dominant team on both sides of the football. The offense has looked very strong under sophomore QB Russell Wilson and with Richard Sherman the Seahawks D is always imposing. They should not have a problem with Houston.
Tobia: Seahawks 27, Texans 10
Two comeback victories over mediocre San Diego and Tennessee make Houston and its 2-1 record seem better than it really is. In reality Houston is overrated, and last week's 30-9 loss in Baltimore represents this team more so than the first two victories. Seattle is the best team in the NFL. Expect another dominating defensive performance on the road.
Tufts: Seahawks 23, Texans 20
As two dominant defenses face off, the quarterbacks will decide this game - my trust lies with Russell Wilson.
New York Jets (2-1) @ Tennessee Titans (2-1)
Coppock: Titans 20, Jets 10
Despite nearly setting a record for number of penalties in a game last week, the Jets managed to beat the Bills. The Titans meanwhile beat a solid Charger squad and look like a decent team. In other words, this will be a battle of average teams and two young quarterbacks attempting to prove their worth in this league. Expect Tennessee to win, however, as the Jets will find any number of ways to punish themselves through penalties and undisciplined play.
Murray: Titans 17, Jets 16
The old Titans will play at the new Titans, and one of these perennially sadsack franchises will be 3-1. I have a hard time believing that the J-E-T-S will fly in and play a disciplined game on the road. The Titans were impressive in holding Chargers QB Philip Rivers to under 200 yards passing. This should be a low scoring affair, and I expect the Titans to take advantage of the Jets' mistakes. How Jet QB Geno Smith handles the Tennessee pressure on the road will go a long way in defining this game.
Simon: Jets 24, Titans 13
The last time these two teams played, Mark Sanchez threw four interceptions in a 14-10 loss that eliminated the Jets from playoff contention. How times have changed. The Jets are riding high at 2-1 behind the play of a rejuvenated defense and an offense that has looked competent under the leadership of rookie Geno Smith. Smith outplayed EJ Manuel last week in the Jets victory over Buffalo and if he can limit the turnovers, I expect the defense to take care of the rest.
Tobia: Titans 13, Jets 10
Both the Jets and Titans have young, and mostly ineffective quarterbacks complemented by effective rushing attacks and defense. The Jets have allowed the 6th fewest rushing yards in the NFL this season, and will force Jake Locker to make more plays than he has all year. Whichever quarterback limits turnovers will give his team the best chance to win.
Tufts: Jets 21, Titans 17
Geno Smith needs to prove his miracle throws aren't flukes. He should have an easy time with Tennessee.
New England Patriots (3-0) @ Atlanta Falcons (1-2)
Coppock: Patriots 24, Falcons 17
Last week I picked the Falcons to beat Miami because I assumed that they weren't too excited about the prospect of being 1-2. They lost, however, and now face the prospect of dropping to 1-3 against a good, not great Patriots squad. While New England is 3-0, they haven't really impressed all that much, so this weekend will be a really good test for both teams. The Pats will want to keep the streak going, and the Falcons, especially in a division where the Saints don't look like losing much this year, will be desperately fighting for a win.
Murray: Patriots 24, Falcons 21
The Patriots offense is in 2006 mode if your a pessimist. The defense is in 2004 mode (possibly). New England has yet to face a quality quarterback this season, and Matt Ryan at home will be the toughest passer the Patriots face on the road. That said, the entire Falcons team comes down to whether or not Ryan can get the ball to Julio Jones. If Patriots head coach Bill Belichick does anything, it's punish teams for one-dimensional/one-weapon offenses. With Falcons WR Roddy White still hobbled, RB Steven Jackson still out, and TE Tony Gonzalez slow to start, I wouldn't be surprised if the game is a sloppier than Atlanta would like.
Simon: Falcons 24, Patriots 21
It was a big story that the Patriots young wide receivers came out of their shells last week against Tampa Bay. Yes two players named Kenbrell Thompson, who had two touchdowns and Aaron Dobson, who had seven catches, had good games for the Pats. But that does not hide the fact that this team is a shell of its former self, especially in offense where Tom Brady has virtually no weapons. The Patriots are 3-0, but I expect Atlanta's D to step up and give the Patriots their first loss of the year.
Tobia: Patriots 30, Falcons 20
Atlanta is better than its 1-2 record indicates, and New England is worse than its 3-0 record. But New England continues to eek out games it has no business winning and this one looks to be headed in a similar direction. Matt Ryan is a promising talent, but he's no Tom Brady. Brady will pick apart the leaky Atlanta secondary and hope his receivers can catch a ball or two.
Tufts: Patriots 34, Falcons 27
New England's D has been dominant, but it's all up to Brady to make do with his lackluster receiving core and out score Matty Ice. In Belichick / Brady we trust.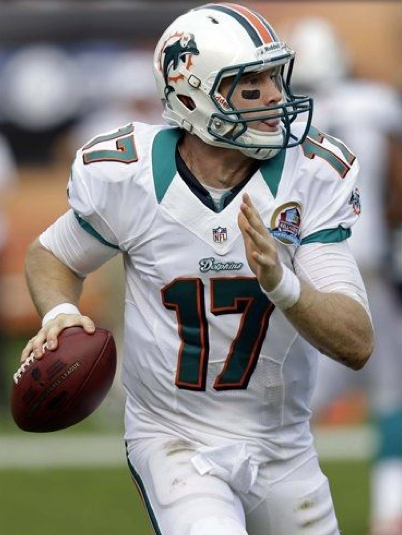 Miami Dolphins (3-0) @ New Orleans Saints (3-0)
Coppock: Saints 40, Dolphins 24
Ryan Tannehill has had to work harder than many other quarterbacks in this league to earn some respect, but he's finally managing to win just about everybody over. After three impressive performances, the Dolphins will face their biggest test so far this season on Monday night. The Saints seem to be able to score just about at will this season, so expect big numbers from both teams. New Orleans will run away with it, however, as the Dolphins simply can't compete with Drew Brees' firepower.
Murray: Dolphins 27, Saints 24
The Saints are off to a strong start, especially defensively. But the Dolphins have made good passers sweat the last two weeks, and the Saints won't even try and run the football. Meanwhile, Dolphins QB Ryan Tannehill has survived a lot of pressure (which he'll see plenty of from New Orleans) and an inconsistent running game to lead the Dolphins to three wins. The Saints have not defended the run well at all, and Miami will need to control the clock. Look for the Dolphins to steal a close one.
Simon: Saints 27, Dolphins 23
Miami is 3-0 and they have looked great in their wins over Cleveland, Indy and Atlanta. Drew Brees is still a big step up from Brandon Weeden, Andrew Luck, and Matt Ryan and I expect the Saints offense to have a big day in a close win.
Tobia: Saints 26, Dolphins 19
I really want to pick my pre-season Super Bowl pick Miami Dolphins, but the Saints are too powerful at home. Miami is a balanced, effective team, but will struggle to keep pace with the Saints. The Saints also have sneakily built a pretty effective defense to complement their always-powerful offense.
Tufts: Saints 35, Dolphins 20
Miami has been dialed in as of late, but I just don't trust Tannehill to keep up with Brees. New Orleans offense will post numbers too big for the Dolphins.
Standings after Week 2
Law Murray 10-4
David Tobia 9-6
Christopher Coppock 8-7
Russell Simon 6-9
Matthew Tufts 5-10