NFL
NFL Week 1 Predictions
Baltimore Ravens @ Denver Broncos
Christopher Coppock
: Broncos 30, Ravens 13
The addition of Wes Welker this offseason has added one more weapon the Peyton Manning's already potent receiving corps. Though the Broncos were ranked an acceptable 13th in rushing last year, Montee Ball will definitely push Denver into the top 10 in total rushing yards this year. Expect Baltimore to try to run the ball with the explosive Ray Rice set to take center stage. The Raven's anemic passing game, however, will lead to offensive struggles and a major loss to Denver in week one.
Law Murray
: Broncos 24, Ravens 20
You would think that Broncos head coach John Fox dedicated his offseason towards not allowing wide receivers to run uncovered through the secondary. This game is a bigger deal for Denver than it is for the defending Super Bowl champions. Look for Broncos QB Peyton Manning to test the new Ravens safeties a few times. Both defenses have a lot to prove without key personnel from last season; Manning at home has a slight edge since the Ravens have some feeling out to do offensively as well.
Russell Simon
: Broncos 28, Ravens 21
The Ravens will return to Denver for the first time since they eliminated the Broncos from the playoffs in a 38-35 double OT victory. In front of a rabid home crowd the retooled Broncos team will take care of business, unlike what happened last January. With Wes Welker added to the dynamic mix at WR Peyton Manning has no shortage of threats to give the ball to. It will be too much to handle for a Ravens D that has been overhauled following the retirement of MLB Ray Lewis and the departure of Ed Reed.
David Tobia
: Broncos 30, Ravens 24
Baltimore may have the better defense, but defenses always struggle to start the year, and Denver may have the best offense in the NFL. Baltimore will keep it close, but won't win on the road.
Matthew Tufts
: Broncos 35, Ravens 14
Lewis, Reed, and Pollard are out of Baltimore. Wes Welker and Montee Ball are in with Denver. This game is a complete mismatch in terms of skill. Oh yeah, and the Broncos have been waiting for this game since their season ended last January. It won't be close.
Cincinnati Bengals @ Chicago Bears
Coppock
: Bengals 24, Bears 17
Cincinnati has been improving over the past several seasons, and this season they look set to compete for it all in the AFC. They have very few weeks spots on either side of the ball, and as a result should manage to beat the Bears, albeit by a narrow margin, in Chicago at Soldier Field. Despite the Bear's strong defense, Jay Cutler's all around inability to through the ball anything under 30 yards downfield will hamper their offense. Expect Cincinnati to win a close one.
Murray
: Bengals 16, Bears 13
This game is going to be a doozy. The Bears usually don't mess around in the home opener, and there's a real chance that Bengals QB Andy Dalton will get his struggle on at Soldier Field. However, the Bengals front seven is going to challenge the Bears much the same way. The Bengals used their first two draft picks on TE Tyler Eifert and RB Giovani Bernard; their impact needs to be felt right away.
Simon
: Bears 24, Bengals 14
Jay Cutler has had an entire offseason to recuperate after having to suffer behind one of the worst offensive lines in football last season. Now he's got a new coach, QB guru Marc Trestman and some great weapons in Brandon Marshall and Matt Forte. At home, this will be enough to beat the Bengals.
Tobia
: Bengals 20, Bears 17
The best game of the week no one will watch. Chicago's offense will eventually come around, but they'll have a rough time against the best defense in the AFC.
Tufts
: Bengals 17, Bears 13
This isn't likely to be a battle of quarterbacks. Both defenses pressure the passer very effectively. The Bears led the league in interceptions last year and will likely capitalize on any mistakes Andy Dalton makes. Cincinnati's defensive line is deadly allowing them to avoid pass rushing from their secondary. This one will be a nail-biter.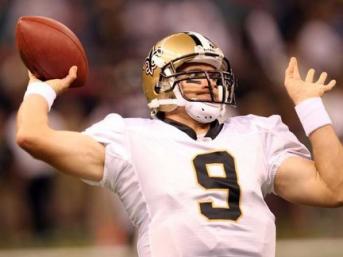 Atlanta Falcons @ New Orleans Saints
Coppock
: Saints 38, Falcons 28
Two words: Drew Brees. Five more words: He's on my fantasy team. Six more words: It's going to be a shootout. Expect New Orleans to pull out a major win over their biggest division rival in the Superdome.
Murray
: Saints 34, Falcons 30
Hard to believe that the Saints haven't hosted the Falcons in Week 1 since 1986. Saints head coach Sean Payton's return to the dome will be a spectacle to behold, and his first task will be wearing out Atlanta's defense. The Falcons actually ended Drew Brees' TD streak, and that was probably Payton's worst moment away. The Falcons' run defense needs to show improvement, and I expect to see RB Mark Ingram get a decent amount of touches to both balance the offense as well as keep the dreadful Saints defense off the field for as long as possible.
Simon
: Falcons 34, Saints 31
It seems as though every time these two teams play the game features plenty of offensive fireworks. That trend will continue as Matt Ryan and Drew Brees do battle once again at the Georgia Dome. While both teams have stellar offenses Atlanta's D is much improved. That along with a hefty dose of Roddy White will be enough to give the Falcons the win.
Tobia
: Saints 38, Falcons 33
It's going to be a really annoying week to play against any Saints or Falcons players in fantasy football. Points galore. New Orleans wins because I have irrational hate for the Falcons.
Tufts
: Falcons 38, Saints 31
The Falcons have struggled mightily against the Saints of late, going just 3-11 since 2006. However, with the additions of Stevan Jackson and an aging (yet effective) Osi Umenyiora, the Falcons plugged up some of last year's holes. Look for Matty Ice to go into the Superdome and shock the New Orleans faithful in a shootout.
Green Bay Packers @ San Francisco 49ers
Coppock
: 49ers 35, Packers 21
Sure, San Francisco has a good defense, but Aaron Rodgers is an even better Quarterback. Thankfully for San Francisco, Green Bay's defense is comparably worse than Colin Kaepernick and the rest of the 49ers' offense. As a result this is going to be a high scoring affair that will result in SF coming out on top, despite Green Bay packing a more balanced offense after drafting running back Eddie Lacy.
Murray
: 49ers 27, Packers 24
Packers QB Aaron Rodgers might find a way to drop 3 TDs on the board and still lose at the 'Stick. The 49ers have allowed less than 4.0 yards a carry every year since ILB Patrick Willis was drafted in 2007; welcome to the NFL, Eddie Lacy! Rodgers took more sacks than any other QB last season, and the blindside matchup is LT Marshall Newhouse vs. Aldon/Justin Smith. I'm looking for the 49ers to control the clock and find a way to score on the ground. We'll see if Packers rookie DE Datone Jones has an early impact when it comes to stopping the read-option.
Simon
: 49ers 35, Packers 28
In yet another rematch from last year's playoffs the Packers will try to avenge the embarrassing defeat they suffered last January at Candlestick. They won't be able to. Colin Kaepernick will dominate a defense that is still inconsistent and the 49ers improvements at WR, specifically the acquisition of Anquan Boldin, will be enough to give them the win.
Tobia
: 49ers 24, Packers 20
The Packers claim this is the year they commit to a run game. That's a horrible strategy against the 49ers. Hopefully they don't actually do that.
Tufts
: 49ers 31, Packers 20
The Packers were absolutely humiliated last postseason at the hands (and feet) of QB Colin Kaepernick. Don't expect the fleet-footed Niners' quarterback to run all over the Pack that easily this time around. That said, San Francisco's offense is just too loaded and its defense will be one of the best in the league yet again. Advantage: 49ers.
New York Giants @ Dallas Cowboys
Coppock
: Cowboys 20, Giants 10
We all know that come December, Tony Romo and the rest of the Cowboys will collapse, just like they do every year around then. However, because it's not quite December, expect Romo to play halfway decent in week one. More importantly, expect Dez Bryant to have a lights out game while the Giants will be mediocre all around. Also, picking against America's team is like picking against America, something I simply refuse to do. The 'Boys in Dallas by 10.
Murray
: Giants 28, Cowboys 27
"First Win in the New Stadium." That's what QB Eli Manning wrote after the Giants beat the Cowboys 33-31 at the new Jerryworld in 2009. Well, the Giants are 4-0 there, so maybe renaming the stadium to AT&T Stadium will do the trick. My guess is that the Cowboys come up just short again. The only question is which team's safeties are going to be lit up worse.
Simon
: Giants 27, Cowboys 23
Giants RB Andre Brown is out 4-6 weeks after fracturing his ankle in the Giants final preseason game against the Patriots. However WR Victor Cruz will be playing and the weapons the Giants have at wide receiver will be enough for them to cling to victory in Dallas. Expect big days for Eli Manning as well as for Hakeem Nicks and Cruz, as the Giants beat by Dallas in a nail-biter.
Tobia
: Giants 25, Cowboys 24
Dez scores three touchdowns, but the Cowboys still lose because I hate them. Go Wilson and Cruz.
Tufts
: Cowboys 28, Giants 23
Last year's Cowboys team begged the question: Can an NFL team be any worse at running the ball? Luckily for the fans of America's Team, Dallas opts to throw significantly more. Unluckily for them, Tony Romo is the one throwing the ball. In all seriousness though, lay off Romo. With increased protection this year his interception total should decrease dramatically. So should the Giants' chances.