Media
Nate Silver Talks FiveThirtyEight.Com, ESPN At USC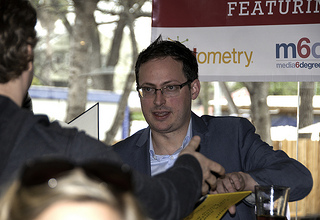 He gained his notoriety when he accurately predicted the winner of 49 out of 50 states in the 2008 United States Presidential election. He gained his voice through
FiveThirtyEight.com
, a blog site previously under the control of the New York Times. And now, Nate Silver is onto another chapter in his already illustrious life--ESPN.
Nate Silver visited USC this Friday as part of the Holt lecture series to talk about his past successes and present projects. Silver, the man behind the immensely popular FiveThirtyEight.com and the innovative PECOTA system of projecting baseball player's on field output, has turned his love of sports, politics, and statistics into a profession that is revolutionizing the world.
"Its been a very strange couple of years I suppose," said Silver. "I think there are a couple of things that I can attribute for my recent success. Having a combination of communication skills and understanding that however interesting your findings may be, it's never going to persuade anyone unless you portray your message to a wider audience past specialists and academics."
Nate Silver may be one of the worlds leading statisticians, but his realization that math and probability can affect everyday people's lives is what has propelled him to earn such praise as being named one of TIME Magazine's 100 Most Influential People in 2009. He improved his prediction accuracy to 50 for 50 in 2012, while also accurately predicting 31 of 33 senate races. The New York Times looked to capitalize on his work with the addition of the Silver's FiveThirtyEight.com, named for the total amount of electoral college vote. However, within the past couple months, Silver had a falling out with the Times, and will now be taking his website and his talents to ESPN.
"ESPN gives us the opportunity to ensure editorial quality," Silver said. "It will allow us to cover sports and economics, as well as many other things. The NY Times still does amazing, outstanding journalism, but selling the FiveThirtyEight brand was kind of a business deal, and you have to look at who runs a good business. The journalism side of the NY Times is great, but on the business side, they leave a lot to be desired." Silver went on to say that the site will focus about 1/3 on sports, 1/3 on politics, and the rest on a wide range of topics, such as food and travel.
Although Silver is an innovator leading the charge to change the world we live in, he is also very adamant on the negatives his work may portray. The social media revolution has caused vast amounts of data to become readily available to people all over the globe. Silver was resolute in the fact that big data creates big problems. News travels so fast that one single tweet can send off chain reactions of panic all across the globe. Silver agrees that although the abundance of information has its downsides, it can also be used to reshape projections and statistics we rely on today to make predictions.
"The digital revolution has forced everyone to leave a digital trail everywhere they go," Silver said. "I still don't think there's a way to correlate the amount of tweets a minute about a topic into anything in specific. I think it changes the metabolism of campaigns. If someone puts out an ad that is inaccurate, people on social media are immediately critiquing it."
Silver examines the past to predict the unknown. Sports, politics, travel, economics, and yes, even the 2016 election that few people are talking about now; Nate Silver is pouring over data so that we too can one day see into the future.
"If Hillary [Clinton] runs, it's hard to imagine that anyone could beat her," said Silver.