Los Angeles
Los Angelenos Oppose Obama's Immigration Innaction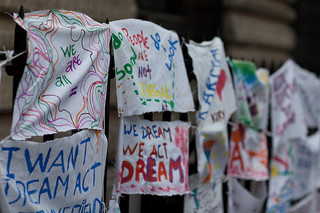 As Congress has not yet proposed a comprehensive plan for immigration reform, advocates have been rallying behind the hope that President Barack Obama may extend the suspension of deportations.
On Tuesday, however, these hopes were crushed when President Obama said that halting the deportation of undocumented residents is "not an option," in his interview with Telemundo.
Last summer, President Obama used his executive power to defer the deportation of hundreds of thousands of immigrants who came to the country as children. Yet, he said that expanding this policy to their parents "would be ignoring the law in a way that would be very difficult to defend legally."
On Wednesday, the Coalition for Humane Immigrant Rights of Los Angeles (CHIRLA) responded to the president's statement, and publicly criticized the inaction that has characterized national immigration policies.
"President Obama can stand on the side of history as an architect for change or as someone who let others do nothing while he watched," said the organization in a press release. "The same goes for leaders in Congress."
Founded in 1986, the organization has been fighting for a path to citizenship to enable the city's many undocumented residents achieve the legal, social, and economic benefits of American citizenship.
"Comments by President Obama in a Telemundo interview this week are hurtful, unhelpful, and insensitive to the millions of families suffering the indignity of deportation," said CHIRLA in a statement. "With his remarks, the President gives off the impression that someone else, not him, is responsible for the cruel and inhumane deportation of 1,100 immigrants on a daily basis."
As with any situation involving millions of people, immigration reform is incredibly complex; but Los Angelenos are very vocal in their criticism of the current state of inaction. Critics—including the Coalition for Humane Immigrant Rights of Los Angeles—have made it very clear that in doing nothing, the government is sending a very clear message about their priorities.
Contact Executive Producer Sara Newman here and follow her on Twitter.