USC Sports
Lane Kiffin Fired By USC After Arizona State Loss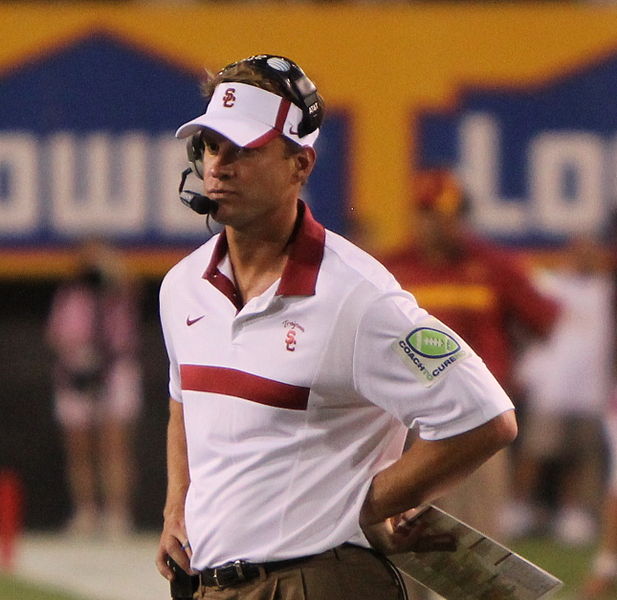 USC football coach Lane Kiffin
was fired on Sunday morning
by USC Athletic Director Pat Haden, according to an email release sent out by the school. Following Saturday night's debacle, a 62-41 loss against Arizona State, Haden decided to make the mid-season change with USC heading into a bye week. Defensive line coach Ed Orgeron will take over as interim head coach.
Kiffin finished his USC tenure by losing seven of his last 11 games, including two games in which the Trojans allowed 62 points. Los Angeles Daily News reporter Scott Wolf reported that Kiffin was relieved of his duties after Haden pulled him off the team bus once the team landed at LAX. Kiffin ended his time in Los Angeles with a 28-15 record as Trojan head coach.
Kiffin had been USC's football coach since the 2010 season, succeeding Pete Carroll after the latter left for a job with the Seattle Seahawks. Kiffin was originally thought of as the leader who would return USC to prominence after the crippling sanctions given to the school by the NCAA. His hiring came even though he had a controversial past as head coach of the Oakland Raiders and the University of Tennessee.
After upsetting Oregon on the road and beating UCLA 50-0 two seasons ago, Kiffin and USC had a very turbulent ride. After USC was ranked as the number-one team in the country at the beginning of 2012, the Trojans finished with six losses and ended the season unranked. Kiffin also embarrassed himself off the field that season, including switching jerseys of players in the middle of a game and abruptly ending a press conference after a reporter asked him a question about an injury.
MORE: Why Lane Kiffin Should Be Fired
After baffling losses to Washington State and Arizona State, USC's 0-2 record to start Pac-12 play marks the first time since 2001 that they've dropped their first two games to in-conference opponents. USC's offense is currently ranked last in the Pac-12 in points per game (26.0) and total yards per game (380.4).
With USC's head coaching position now vacant, Haden now has a lot of time this season to find his replacement. He also fired ex-basketball coach Kevin O'Neill in the middle of last basketball season. Former baseball coach Dan Hubbs and women's basketball coach Michael Cooper were additionally fired during Haden's reign.
Haden will be holding a press conference about the situation later this afternoon, although an official time has not been announced. USC's next game is at home against Arizona on Thursday, October 10th.
Reach Senior Sports Editor Max Meyer by email.