Entertainment News
John Krasinski And Emily Blunt Expecting A Baby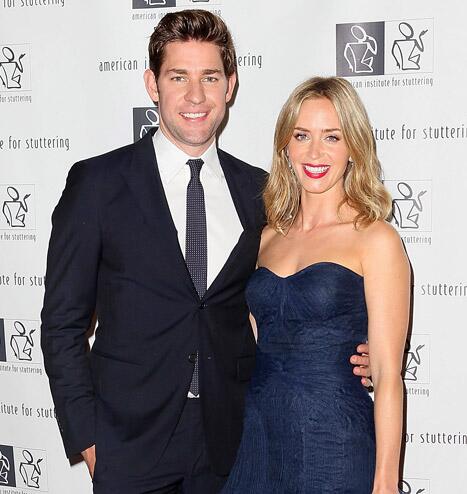 Married couple Emily Blunt and John Krasinski are expecting their first child together,
US Weekly
reported this morning. The couple was married in Italy in 2010.
The pair has always been quite public about how they've wanted children. Krasinski has been learning about fatherhood from other Hollywood actors such as Matt Damon, the 33-year-old "Office" star said in an interview with Matt Lauer last year.
"We actually wrote with children climbing all over [Damon], and he was doing bath time and dinner and everything, and we still got it done," Krasinski said about Damon balancing fatherhood and work while working on "Promised Land," a film they both wrote and starred in.
A few years ago, Krasinski even appeared in an episode of "Sesame Street."
Former "Office" co-star Rainn Wilson even joked on Twitter that Krasinski and Blunt should name their baby after him because "Rainn is gender neutral."
Blunt, 30, also said in an interview with Manhattan Magazine, "We want to have children. I'm just not sure about the timing of all of that. We're both from big families, so I think it's something we want."
As to the state of her marriage, Blunt added "This is what I find difficult about talking about my marriage: It's hard to sum up something that's so vital and means everything to you in a sound bite. Do you know what I mean? All I can say is that it's an effing blast."
After a three year relationship with Michael Buble, Blunt began dating Krasinski in 2008 and became engaged a year after. Their marriage took place in a star studded event in Como, Italy.
No due date has been announced for the bundle of joy.
Contact Staff Reporter Jillian Morabito here.