Entertainment News
Holly Madison Joins List Of Celebs Who Have Wed In Interesting Places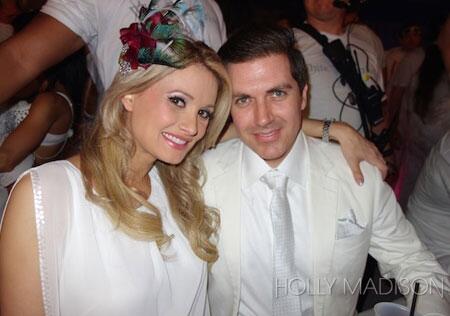 Last night, former Playboy Playmate and "Holly's World" star Holly Madison wed Pasquale Rotella at Disneyland.

E! News confirms the couple, who have been dating for two years married in front of a crowd of 150 closest friends and family, including former "Girls Next Door" co-star Bridget Marquardt. Another notable guest in attendance was Madison and Rotella's baby girl Rainbow Aurora (note the princess middle name). Disney characters such as Mickey, Minnie and Donald Duck also came out for Madison's big day.

Rotella, who runs Electric Daisy Carnival, proposed to Madison on a ferris wheel at the top of EDC three months after welcoming their daughter into the wold.

Madison's wedding dress was a big, white ballgown with a blue sash, which was possibly Cinderella inspired. Her bridesmaids all wore blue dresses.

Disneyland was forced to shut down early for the event. Sources reported that there was a carriage that took the pair down Main Street late last night. The carriage eventually ended up stopping at the Blue Bayou in New Orleans Square for dinner and the ceremony. Fantasmic! played after the ceremony, as well as the classic jazz band outside of the Haunted Mansion.

Disneyland may seem like an awesome place to tie the knot, but here are some others celeb couples who thought outside the box:

Gwen Stefani and Gavin Rossdale

The couple tied the knot at St. Paul's Covent Garden in London. But one wedding wasn't enough. The duo also had a ceremony in LA for more celebs such as Jennifer Aniston and Ben Stiller. Known for her outgoing style, Stefani wore a pink and white Dior gown.

Tom Cruise and Katie Holmes

Marrying in a real life Italian castle is pretty cool. I'm pretty sure any girl would marry Cruise if it meant she got a million dollar wedding in Italy. Well, any girl would at least consider it.

Catherine Zeta-Jones and Michael Douglas

Though now separated, they married at one of the most historical and classiest places in America-- the Plaza hotel. However, a beautiful place to exchange vows does not necessarily guarantee a happy marriage.

Reach Staff Reporter Jillian Morabito here.