International
Hitler's Bodyguard Dies At 96: Ten Things You Should Know About Rochus Misch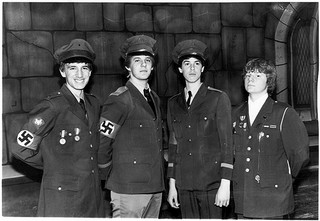 After serving as Hitler's devoted bodyguard throughout most of World War II, 96-year-old Rochus Misch passed away this week. According to the
Washington Post
,many people believe Misch to have been the last surving veteran of the
Führer's
bunker.
In the last few years of his life, Mr. Misch conducted a series of interviews with the Associated Press, who helped him write the best-selling memoir, "The Last Witness." These interviews have given us tremendous insights in the man who called Hitler his boss and his friend.
At the age of 20, Misch decided to join the SS, an organization that he hoped would be able to counteract the leftist threat of Communist Russia. "It was anti-communist, against Stalin — to protect Europe," said Misch. "I signed up in the war against Bolshevism, not for Adolf Hitler."
In May 1940, Misch and his SS comrade Johannes Hentschel were appointed to serve as Hitler's two personal bodyguards, accompanying the Fuehrer almost everywhere he went. "He was a wonderful boss," Misch said. "I lived with him for five years. We were the closest people who worked with him ... we were always there. Hitler was never without us day and night."

Misch

referred to Hitler as "friendly, nice" man—refusing to believe that the same man who sent Misch 40 bottles of wine and 1,000 German marks as a wedding present could be a sociopath. Misch affectionately referred to him as a "good boss" who was adored by his staff.
Misch denied having any knowledge of the ongoing murder of 6 million Jews, claiming that Hitler never mentioned his Final Solution in Misch's presence. Misch

attributed the mass killing of Jewish people, not to Hitler, but to SS commander Heinrich Himmler.

"'That's it. The war is lost. Everybody can go,'" Misch recalled Hitler saying on April 22—admitting defeat two days before two Soviet armies completely encircled. "Almost all were gone immediately," Misch said.
As Hitler's close confidant and personal assistant, Misch knew that even when he was admitting defeat, Hitler "still believed in a union between West and East. Hitler liked England—except for Churchill— and didn't think that a people like the English would bind themselves with the communists to crush Germany."
Hitler had made it clear to his confidants that he was not going to allow his enemies to capture him and mutilate his body, as they had done to Hitler's ally, Benito Mussolini. So, "everyone was waiting for the shot; we were expecting it," said Misch in an interview with the London Daily Telegraph in 2000. "I had just said to the technicians, 'I am going over [to Hitler's office,] can I fetch you anything?' And they said no. Then came the shot. I was just six meters away from him when he did it."
Even after Hitler's suicide, Misch continued answering the phones from the underground bunker, until May 2, Propaganda Minister Joseph Goebbels advised him to flee. "'You have a chance to live. You don't have to stay here and die,'" said Misch, recalling Gobbel's words to him.
After being tortured in a Moscow military prison by Soviets who refused to believe that Hitler was truly dead,

Misch

wrote to the head of the secret police pleading to be executed. Instead, he was sent to prison camps where he remained until Nikita Khrushchev came to power after Stalin's death in 1953.
At the time of his death, Misch was estranged from his only daughter, Brigitta Jacob-Engelken, who claims Jewish ancestry on her mother's side and has spent years working on a kibbutz in Israel. "I don't blame my father for the work he did," she said in a 2009 interview with BBC, "because it was harmless work."
Contact Executive Producer Sara Newman here and follow her on Twitter.