Science+Tech
To Frack Or Not To Frack: Los Angeles Considers A Citywide Ban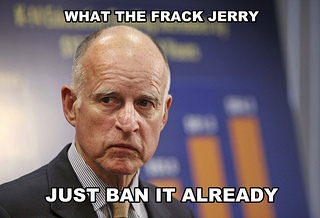 People often complain about the Los Angeles smog, and thanks to a recent proposal by two Los Angeles City Council members, something may suddenly be done about it.
Council members Paul Koretz and Mike Bonin are trying to place a temporary ban on fracking until oil companies can prove that their business does not pose serious environmental threats—no air pollution, water pollution, or increased earthquake risk allowed.
Fracking, the practice in question, is a controversial process that involves injecting a mixture of water and chemicals into rock formations under intense pleasure in order to create cracks, from which natural gas or oil can be accessed.
Fracking has sparked debate throughout the country as environmentalists and oil companies butt heads about the potentially dangerous effects of fracking. Recently Matt Damon and John Krasinski brought the issue to the silver screen with their environmentalist flick, Promised Land.
"Who in the world would think it would be a good idea to pump an unknown combination of potentially toxic chemicals right near our drinking water," said Bonin, a longtime critic of fracking practices. "Who in the world would think that made sense?"
Fracking is currently unregulated by California officials, so the new motion seeks to eliminate "all activity associated with well stimulation, including, but not limited to, hydraulic fracturing, gravel packing, and acidizing, or any combination thereof, and the use of waste disposal injection wells."
The City Council members have asked the City Council's Planning and Land Use Management Committee to work with the city attorney and planning officials to create an ordinance that would ban fracking and all related activities within the city and along L.A.'s water supply route.
David Quast, of the California Independent Petroleum Association, supports fracking as a safe process that has created thousands of jobs, and hence provided a tremendous boost to the Los Angeles economy.
"As far as the water contamination goes, there has also never been a case of water contamination that was directly linked to the process of fracking," he said in an interview with KCAL9.
Stay tuned as the debate over fracking in the city continue to unfold.
Contact Executive Producer Sara Newman here and follow her on Twitter.