Sports
Floyd Mayweather Is The World's Most Dominant Athlete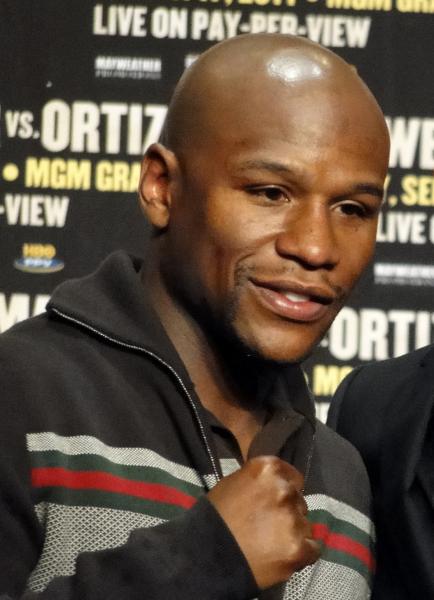 After cruising past Canelo Alvarez last Saturday and pushing his record to a pristine 45-0, the question quickly became "who will Floyd Mayweather fight next?" Will it be Danny Garcia, the 25-year-old from Philadelphia that impressed in his light-welterweight title defense against Lucas Matthysse in the final undercard? How about Bernard Hopkins, the 48-year-old light-heavyweight champ that has been practically begging to fight Mayweather the past few days? Maybe even Manny Pacquiao, even if it's three years too late?
To be honest, it doesn't really matter who Floyd will fight next. Eventually, Al Haymon and The Money Team will pick their next sacrificial lamb, and the cycle will restart. They'll hype the hell out of the fight. Me and millions of other people will say they're not going to drop $70 to watch Floyd dance around and toy with another opponent…until we wake up the morning of the fight and decide to order it anyway. And Floyd will win again. It's the closest thing to déjà vu you will find in sports.
At this point, the more interesting question has become "is Mayweather better at his sport than anyone else is at their respective sport?" In other words: Is Floyd Mayweather better at boxing than, say, Roger Federer is at tennis? Or Lionel Messi is at soccer? Or LeBron James is at basketball?
"No, because LeBron had to overcome a Kobe Bryant," argues Daniel Durbin, director of the Annenberg Institute of Sports, Media, and Society (and resident boxing expert at USC). "Floyd has never put himself in a position where he had to overcome somebody who is truly the superstar of their sport."
Oh. Professor Durbin touches on the notion that Mayweather only chooses fights he knows he can win, something that has dogged him for years. The inability to set up a Pacquiao-Mayweather fight over Floyd's insistence on Olympic-style blood testing certainly is a glaring hole.
Part of this is simply how boxing functions. As Professor Durbin notes, "There is not a track in boxing that leads boxers to fight more and more competitive fighters." Mayweather and his management team set themselves apart because they- as Durbin says- "understand what the ground rules are…they know how to manipulate them to put Floyd in the best situation."
Nonetheless, knowing that the act of setting up fights has always been tenuous at best and shady at worst lends me to give Mayweather a little more leeway when it comes to "ducking" fights. Maybe Floyd genuinely felt Pacquiao was doing something illegal and didn't want to risk his unblemished record. And besides Pacquiao, it's hard to see where Floyd could have challenged himself more. He's fought, and beaten, the best fighters of his generation. Cotto, Mosley, Oscar, Gatti…they're all a part of 45-0.
Even after these great points from Professor Durbin, I still found myself thinking Floyd is better at boxing than any other athlete is at their sport. Even LeBron has a bad game once in a while. Floyd rarely has a bad round, let alone a bad fight. Don't bother looking at the scorecards from the Alvarez fight, because anyone that watched it knows giving Canelo more than one round was being generous.
And this isn't to say Canelo was an unworthy opponent. Having a 15-pound weight advantage by the time the bell rang, Alvarez fought hard and was in constant pursuit of the elusive Mayweather TKO. The problem is, you can't knock out what you can't hit, and Mayweather is damn near unhittable at this point of his career. Alvarez only connected on 22% of his punches, while Floyd landed 46% of his.
There isn't much evidence to suggest Floyd is going anywhere anytime soon. He's 36, but has barely been touched in his last four fights. Maybe Floyd will get bored just enough to leave a glimmer of hope for one of his opponents, but I highly doubt it. As long as he keeps getting offered $40 million to show up and fight, it's hard to see Mayweather mailing it in. His nickname is "Money", after all.
The lack of a true peer isn't something that diminishes Mayweather's brilliance, but amplifies it. Lebron has Durant. Federer has Nadal. Messi has Ronaldo. Mayweather has 100 yards of foam peanuts and then everyone else. He is making the top fighters in the world look like amateurs not because they're second rate, but due to his advantages in preparation, conditioning and skills. Floyd Mayweather is better at boxing than any other athlete is at their sport. Try keeping this in mind when his next fight rolls around in May, and you become tempted to bet on his opponent.
Reach Staff Reporter Sean Burch here.