Food
Etchea: Cafe Provides Home Away From Home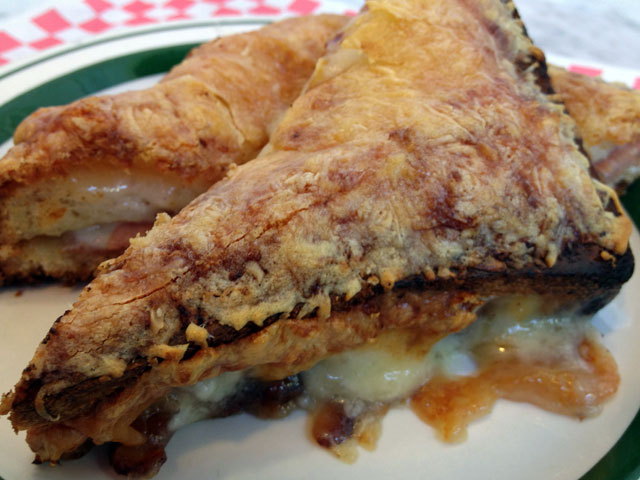 Located on South Figueroa Street lies
Etchea
, a quaint, café-bakery hybrid that just opened in the beginning of August.
Described as a place that combines "the warmth and sophistication of a rustic, Basque bakery" with the "casual feel of a local neighborhood café," Etchea—pronounced "eh-chi-ah"—truly provides a safe haven for those looking to escape the hustle and bustle of Downtown L.A.
"'Etchea' means 'home' in the Basque language," explains Linda Griego, one of the company's partners. "John Baptiste Garacochea's [one of our partners] family has been baking bread for over 100 years. They opened one of the first bakeries in Santa Monica in 1912."
Having a café-style eatery that provides a cozy, comfortable environment for diners was always one of Griego's dreams.
"I grew up in a bakery in a small town in northern New Mexico," says Griego, who owned Engine Co. No. 28—a large restaurant in Downtown L.A.—for 23 years. "My grandmother was a baker for 45 years and from the time I was 11, I worked in the bakery — either in the front with the customers or in the back, wrapping bread. I've always liked that concept of a small, neighborhood bakery-café that the neighborhood saw as part of their daily eating. That's why we called it 'Etchea' … it should feel like home. I always wanted [to own] something cozier."
The whole concept behind Etchea's bakery, café and market is bread — freshly baked artisan bread, to be specific, that's delivered daily to the eatery from Garacochea's wholesale bakery located in Hawthorne.
"Bread is really an integral part of our menu," Griego says. "Great bread makes terrific sandwiches and great rolls with soup."
The menu at Etchea—created by Chef Laurent Quenioux—features a variety of breakfast, lunch and dinner options.
Breakfast is served at Etchea daily from 7-11 a.m. The pastries, homemade granola and parfaits—as well as the "Eggs Piperade Sandwich"—are popular choices for breakfast, according to general manager Yvette Nuñez.
"Our breakfast sandwich is on a fresh roll with eggs, Serrano ham—it's crispy, like bacon—with roasted peppers and fresh tomato sauce," Nuñez says. "Another item that's becoming popular [for breakfast] is the 'Atlantic Smoked Salmon' — a sourdough or buttered multigrain toast with smoked salmon, capers and red onions."
Soups, salads, sandwiches and other entrées are available for lunch and dinner. Vegans and vegetarians will be happy to find that Etchea provides options for them via its "Vegetarian Chili"—made with summer vegetables, Anaheim chiles and assorted beans—the "Zucchini, Mushroom & Basil" soup and "Seasonal Salad," a dish made with grapefruit, avocado, red onion and citrus dressing (the latter two are Vegan-friendly).
While these dishes are currently being featured at Etchea, the menu will change with the seasons, according to Griego.
"The concept of Etchea is it'll [the menu] be seasonally adjusted," she says. "The fall will bring apples and pears. Right now, we're ending the summer menu and by early October, we'll be starting the fall menu."
The café's best sellers, of course, will remain on the menu. The "Basquaise" Salad—a medley of red and green onions, garbanzo beans, Anaheim chiles, hardboiled eggs and albacore tuna with a house vinaigrette dressing—is one of the more popular salads, while the "Pizza Style Basquaise" features peppers, tomatoes, cheese, kalamata olives (optional Serrano ham) atop ciabatta bread.
The two most popular sandwich items at Etchea easily the "Roasted Chicken Breast"—made with Anaheim chile peppers, red onions, avocado spread and roasted chicken on sourdough toast—and the frequently ordered "Croque Monsieur," which includes ham and Swiss cheese on white bread. The former features a flavorful sandwich that's served with a small, mixed, green salad on the side, while the latter portrays a crispy, hearty sandwich bursting with cheese.
"The 'Croque Monsieur' and the 'Roasted Chicken Breast' compete with each other," Nuñez says. "Our 'Grab & Go Sandwiches' are also becoming popular. We have four varieties that are made on small, sourdough baguettes: the 'Basque,' which is made with chile aioli and Serrano ham; the 'Parisian,' which features white ham and butter; the 'Atlantic Smoked Salmon' and the 'Ham & Cheese.'
"It's [the 'Croque Monsieur'] like a grilled cheese sandwich turned inside out," Griego adds. "The cheese is on the outside [of the sandwich], and the bread's on the inside with a slice of ham."
Etchea's bakery also provides many delicious pastries. Among the most popular include coconut macaroons, chocolate brownies and its famous "Fresh Fruit Tart."
"People are always coming in for the 'Fruit Tart,'" Nuñez says. "It's an individual-sliced tart, made with almond and it's got pastry cream and beautiful blueberries and raspberries. It's hard to keep them on the shelf."
Whole cakes are also available at Etchea with 24-hours notice. The "Gateau Basque"—a traditional, almond-filled cake—reigns as the café's most popular cake.
Besides its plethora of food options, Etchea provides diners with various beverages. The café features both, iced teas and hot teas, as well as the signature La Colombe coffee, a French-American brand.
"Our coffee is very specialized and customers can buy the beans to take home," Nuñez says. "We have a good selection of hot teas and iced teas. We also make fresh squeezed orange juice, a carrot-ginger orange drink and a green drink that has apples, celery, kale and spinach. If you want your energy and vitamins, this is where you're going to get it … and we make these drinks fresh on the spot."
Currently, Etchea is featuring several different promotions. Students receive a 10 percent discount with their IDs. The bakery has a "happy hour"-like special after 4 p.m., with breads and pastries selling for half price. Etchea also has an ad running in The Daily Trojan, the campus newspaper at The University of Southern California (USC).
"If you bring in the ad—or mention it—you get a free baguette," Nuñez confirms.
In the months to come, Griego and Nuñez are hoping Etchea gains more awareness in the surrounding community. Not only is the eatery convenient for those who work and go to school in Downtown L.A., but for residents of the nearby Lorenzo Apartments and other lofts as well. The outside patio seating is convenient for those looking for a leisure lunch spot, and students can take advantage of the free Wifi. And, unlike most places in Downtown L.A., Etchea provides free parking.
"Customers enter [the lot] off of Figueroa," Griego says. "The parking in the front is very convenient and is for 20 minutes. There's also parking in the back — there's a row of 30-minute parking stalls and regular parking behind it and it's free."
Regarding new items coming to the café, Griego says Etchea will eventually carry products like cheese, olives and other amenities that customers requested, giving the bakery-café an additional market-like component. Individuals can already purchase fresh bread and granola from the bakery, so these other items will enhance the customers' Etchea experience.
"We want to make it [Etchea] like a neighborhood market because customers go so far [to markets like Trader Joe's]," Griego said. "We want to start carrying some of those things they like at the market."
Although Etchea has only been open for nearly two months, Griego and Nuñez already see regular customers, as well as newcomers who come to check out the new eatery. Seeing their dream of opening a café in Downtown L.A. come to fruition has been a satisfying experience for both women.
"Yvette and I have been involved in South L.A. for a long time," Griego says. "We know the neighborhood very well. We find it very gratifying to be here. This area has a lot of fast food and not fresh, homemade bread. There's a lot of Carl's Jrs. and McDonalds and that's fine, but you also need variety."
Etchea has two locations: 254 S. Hope St., Los Angeles, 90012 and 2280 S. Figueroa St., Los Angeles, 90007. Both locations are open Mondays thru Fridays from 7 a.m. to 7 p.m. and on Saturdays from 9 a.m. to 5 p.m.
See the Flickr gallery below for some of Etchea's delicious, signature items.
Reach Kelli Shiroma here.