Sports
College Football Week 4 Picks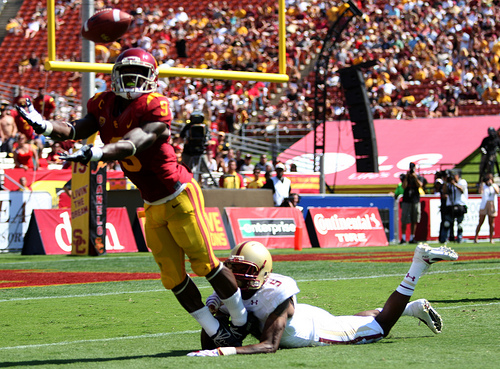 Even though this week's slate of college football games aren't the most exciting, Neon Tommy's college football experts will still predict the winners from the best of the bunch.
Utah State at USC
Max Meyer (@trojanmax12): USC 28, Utah State 24
USC will have trouble with Chuckie Keeton and Utah State's read-option offense. However, this isn't the same Trojan defense as last year. Keeton will have a few hiccups against the toughest defense he'll face this season, and USC's offense will score enough points to prevail.
Mike Piellucci (@mikelikessports): USC 31, Utah State 28
USC is in a no-win situation here. Win, and they don't get enough credit for beating a good Utah State team. Lose, and everyone bashes them for losing to a non-AQ school. Ultimately, I think USC guts out a close one - closer than some might prefer but a solid early season win nevertheless.
Andrew Tweedy (@nyy_baseball): USC 42, Utah State 7
USC's offense appeared to have been revitalized last week with strong performances from QB Cody Kessler (15 for 17 for 237 yds and 2 TDs), and a third straight 100+ yard rushing game from Tre Madden. USC's defense has been strong all season and they should be able to follow up a solid performance last week with yet another game allowing only one touchdown.
Darian Nourian (@dariannourian24): USC 42, Utah State 21
I think that the unpredictability of Chuckie Keeton and Utah State's read-option offense will give USC's defense some trouble. However, the Trojans will settle in with their home crowd (as many fans as that may be) as the game progresses. If Kessler and the offense plays similarly to the way they did last week, then the Trojans should be 3-1 after this Saturday.
Marc Sallinger (@marcsallinger): USC 28, Utah State 17
A week after a critical 35-7 victory over Boston College, the Trojan offense is rolling. Lane Kiffin finally has some semblance of belief in his quarterback. Tre Madden continues to run straight through the opposing defenses. Cody Kessler is beginning to settle into his starting position. This week, USC has the chance to convince the Trojan faithful that perhaps this season isn't over. Utah State will be USC's toughest test yet. The Aggies won the WAC as well as their first bowl game in nineteen years last year, before moving to the Mountain West Conference in 2013. This is a must-win for the Trojans.
Gabe Quintela (@gabequintela11): USC 28, Utah State 7
Riding the momentum and solid quarterback performance from last week's win, the Trojans should pick up another victory at the Coliseum. If Cody Kessler continues the high pass-efficiency we saw against Boston College and USC is able to draw up the right calls to utilize Marqise Lee effectively, this should be a comfortable win.
Boise State at Fresno State
Max: Fresno State 38, Boise State 31
It's amazing that so many people can forget the results from a few weeks ago. This Boise team got stomped on by Washington. I can't see this team being able to stop Derek Carr, as Fresno shows why it's the class of the Mountain West Conference.
Mike: Boise State 34, Fresno State 31
I'm a long-time Boise skeptic, and I have less faith in this year's group than any one before it. Even I, however, am nervous about a Fresno State team that has proven as little on defense as much as it has on offense. My heart says that Derek Carr's bunch runs the Broncos off the field. My head says that Boise's superior talent and coaching will help them eke this one out.
Andrew: Boise State 35, Fresno State 24
Even though Fresno State is much improved this year, they lack the speed of Boise St. QB Joe Southwick, who had a strong game last week (27 for 29 for 287 yds and one TD) and continues to show improvement after an embarrassing week 1 loss to Washington. With Boise's strong secondary this year, the Bulldogs will need to run the ball to have a shot in this game, but without an established RB, expect a win from the Broncos.
Darian: Boise State 45, Fresno State 35
This looks like another high-scoring game with both teams having vulnerabilities on defense. Fresno State quarterback Derek Carr has thrown for 661 yards and eight touchdowns in just two games, but I don't see the Bulldogs' defense being able to stop the Broncos. FCS team Cal Poly even put 25 points up on the board against them. Although Boise State is the underdog and on the road, I think they will win this game.
Marc: Boise State 38, Fresno State 35
This matchup between two of the top Mountain West Conference contenders promises to be a high-scoring affair. Fresno State comes into the game with an undefeated record after two games, since their previous game was cancelled due to Colorado flooding. Boise State will look to ride the momentum they gained last week, thanks to a 42-20 victory over Air Force. Both defenses seem to have major holes, so look for this game to be a shootout. Boise State comes out on top in a close one.
Gabe: Fresno State 42, Boise State 38
Two high-powered offenses with the potential to put points on the board. Boise State has been a terrific program throughout the last several years, but after an ugly loss to Washington State and the rise of Fresno State, I'm picking the home team. Fresno's Derek Carr knows how to throw touchdowns, with 71 in his career and eight in the last two games. I expect him to continue to do the same against the Broncos.
Michigan State at #22 Notre Dame
Max: Notre Dame 14, Michigan State 13
As USC proved against Washington State, you can't win with a terrific defense and a brutal offense. That's Michigan State's biggest problem, and they have to play on the road against the Irish this year. Tommy Rees makes enough plays for Notre Dame to win in a squeaker.
Mike: Notre Dame 17, Michigan State 7
Michigan State is all defense and no offense; Notre Dame is mostly defense and a little Davaris Daniels. In a battle of two fairly well-matched teams, I'll take the one that doesn't have the misfortune of starting the perennially disappointing Andrew Maxwell on the road.
Andrew: Notre Dame 17, Michigan State 13
In a defensive struggle, the Irish come back to win this game after the Spartans take an early lead behind QB Connor Cook. Irish QB Tommy Rees looks to continue his strong senior campaign and should be able to exploit the Michigan State defense with his fourth-consecutive 300 yard passing game to open the season.
Darian: Michigan State 34, Notre Dame 17
Michigan State possesses one of the best defenses in the FBS, allowing just 177 yards per game, albeit against inferior opponents. After losing to Michigan on the road 41-30 the week before, the Fighting Irish escaped from Purdue with a 31-24 win after being down 10-0 early. I don't know how productive Notre Dame quarterback Tommy Rees is going to be against this Michigan State defense, so I see the Spartans taking this one.
Marc: Michigan State 35, Notre Dame 28
Notre Dame allowed 294 total yards to Purdue's 116th ranked offense in a close win a week ago. Michigan State is much better than Purdue. Also, Notre Dame has been held to under 100 yards rushing twice this season, against Michigan and Purdue. Michigan State comes into South Bend with a No. 1 total defense ranking under their belt. All signs point against the Irish being able to pull out the home win against the Spartans. Michigan State wins by a touchdown.
Gabe: Notre Dame 28, Michigan State 14
Notre Dame's defensive front will give Michigan State problems, as the Spartans have experienced already this year. Tommy Rees has been playing impressive football of late, and if he can continue his offensive dominance and limit turnovers, the Fighting Irish should win this football game.
#23 Arizona State at #5 Stanford
Max: Stanford 28, Arizona State 20
There's a reason why Stanford is considered to have one of the top defenses in the nation. Even though Arizona State has a strong arm in Taylor Kelly, the Sun Devils will struggle to maintain offensive rhythm the whole game. I am looking forward to seeing Stanford's offensive line battle in the trenches against Arizona State's defensive front.
Mike: Stanford 31, Arizona State 20
Anyone sleeping on the Cardinal after a sluggish first two weeks will get their wake up call this week. Taylor Kelly has never played a defense this good, while Will Sutton has never dealt with an offensive line this sturdy. The Sun Devils will notch some points by virtue of a bevy of offensive skill guys, but Stanford should win this comfortably.
Andrew: Stanford 31, Arizona State 21
Even with the absences of Cardinal DE Henry Anderson and CB Barry Browning, the Stanford defense is deep enough to stop an explosive ASU offense. Both teams have something to prove with ASU looking to assert themselves as a bonafide top-25 team and Stanford as a national title contender. The Cardinal defense will keep this game close until Stanford pulls away just enough in the second half to send the Sun Devils home unhappy in their first road game of the season.
Darian: Stanford 35, Arizona State 14
A referee mishap gave the Sun Devils a quirky win over Wisconsin last weekend, but even if they sat on a ball in the closing seconds this week, they would still not be in the game against the defending Pac-12 champions. The massive Stanford offensive line should be able to pave the way for the run game, even against a talented Arizona State defensive line that boasts run-stuffing tackle Will Sutton.
Marc: Stanford 21, Arizona State 17
Arizona State is coming off a very unconvincing win as they stumbled to a victory against Wisconsin. The debacle at the end of the game has surely left the Sun Devils feeling lucky, a trait they must have on their side if they want to beat a very good Cardinal team. Stanford is coming off a two-touchdown win over Army and will look to hold their undefeated season in tact. Stanford will win a close one in Palo Alto.
Gabe: Stanford 31, Arizona State 21
While I like ASU and what Taylor Kelly has done with the offense, Stanford is simply too good to get upset at home. The Cardinal are too well-coached, and the combination of quarterback Kevin Hogan and running back Tyler Gaffney is too efficient, having produced eight touchdowns this year already.
Utah at BYU
Max: BYU 38, Utah 31
Utah is better than they were last year, but I still don't think they have what it takes to win in Provo. BYU's Taysom Hill will be licking his chops since he's facing a defense that has struggled to stop anything.
Mike: BYU 41, Utah 28
We saw what this BYU team can do on the ground when it decimated the listless Texas Longhorns to the tune of 550 jaw-dropping yards. Utah, on the other hand, comes into Provo with plenty of questions after predictably blowing out Weber State, and splitting a pair of nail-biters against Utah State (win) and Oregon State (loss). There's talent here and Travis Wilson has the tools to be really good, but I don't think that's enough to upend a BYU team who knows what they are and has the pieces to execute that vision.
Andrew: Utah 45, BYU 38
Even though playing on the road in a rivalry game is tough, the Utes are much improved this year behind their high-flying offense powered by QB Travis Wilson and WR Dres Anderson. Wilson will use his arm and legs, picking the BYU defense apart all day after he proved himself as a legitimate threat last week in a close 51-48 loss to the Oregon State Beavers.
Darian: BYU 42, Utah 35
It's time again for the "Holy War". The Utes lost a heartbreaking Pac-12 conference game to Oregon State last Saturday, although sophomore quarterback Travis Wilson had five total touchdowns. He will be matched-up against another sophomore quarterback in BYU's Taysom Hill, who also is on the verge of a monstrous rushing performance this season. The home team wins this game, and that is BYU.
Marc: Utah 28, BYU 24
The battle for Utah begins. BYU looks to ride a massive momentum-boost from their last game against Texas two weeks ago while Utah looks to bounce back from a devastating overtime loss to Oregon State last week. Both teams have solid running games, which the opposing defenses must shut down if they want to give their offenses a chance at victory. This will be a shootout, but at the end of the day, BYU will come out on top as the Utes fall for a second-straight week.
Gabe: BYU 24, Utah 21
Toughest game to pick for me, as Utah has performed well this year, scoring often and putting up big numbers offensively. Yet, BYU is coming off a huge win against Texas, propelled by an unconventional running game with both running back Jamaal Williams and quarterback Taysom Hill having 300+ yards this season. I think the Cougars keep rolling at the expense of Utah this week.
SEASON STANDINGS
1. Max 8-2
2. Darian 6-4
2. Gabe 6-4
4. Marc 5-5
4. Mike 5-5
4. Andrew 5-5