Los Angeles
Campus Security Still An Issue For USC Students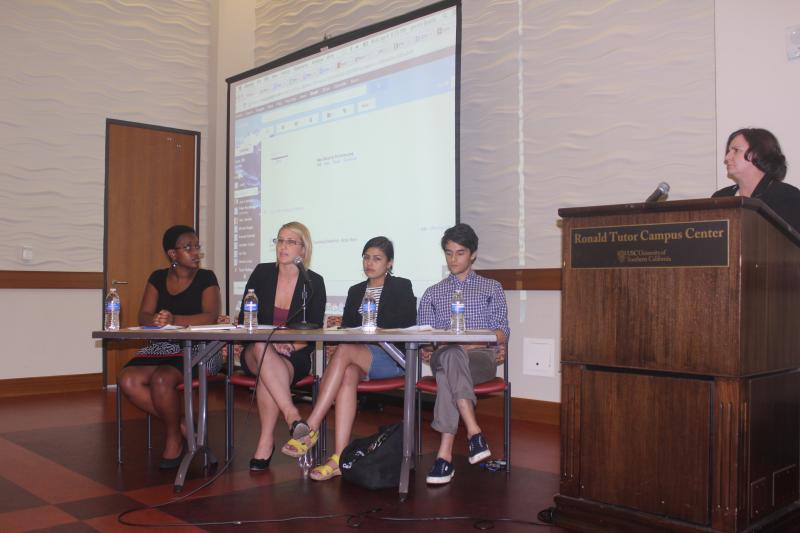 Dozens of students, faculty and staff poured into USC's campus ballroom Wednesday night, anxious to voice their concerns about security measures enforced on campus and in the surrounding community.
Extensive policy changes have been the target of student opposition for nearly a year after their initiation. But while campus security was the core of the town hall debate, issues of sexual violence, racial profiling and student programming also came into light.
Chief of Department of Public Safety, John Thomas pointed to two USC-related incidents — including the death of two graduate students and an on-campus shooting — as a "dark shadow" for the university and catalysts for improving campus security.
"Never forget we work for you," Thomas said. "We have worked all summer to being about progress and change that you will see."
READ: The new security policies have been enforced for nearly a year—so why after all this time is the discussion being revived?
For some students, security measures such as identification checkpoints, fences and visitor requirements made the university a safe haven for students.
Graduate student Peter Whyche pointed to the 95 percent decrease in campus crime as evidence for the success of increased security.
"These measures, most notably the 9 p.m. campus lockdown and guest registration policy, have made campus safer," Whyche said.
But many students called into question the effects of the measures.
Opponents of the security measures argued the new policies damaged the relationship between the students at the university and the outside community.
"It's important to make connections outside of these walls when we are boxed inside of these walls," said Mellissa Villafranco, co-director of Women's Student Assembly.
The separation of the USC community from the surrounding area contributed to racial profiling by security officials, said Makiah Green of the USChange movement.
"The failure to hold DPS officers responsible for their actions [of profiling] is also contributing to the racist sentiment on this campus," Green said.
And for many student organizations, the costs of mandatory security for events were too high.
"When the new security measures and the cost associated with them are affecting organizations' ability to hold these events in the first place, I think the administration needs to step in with monetary support, or different policies, to allow these organizations to keep going," said Sam Couch of KXSC Radio.
Kaya Masler, co-director for the Women's Student Assembly, said the debate surrounding the increased security measures was helpful, but the security effort also needed to address issues of race and gender.
"I'm hoping that the debate will inspire the many departments at USC to start collaborating on outside-of-the box safety initiatives based on student experience," Masler said. "You can fence a campus, but your job doesn't stop there."
Reach staff reporter Rachel Scott here.
Reach staff reporter Ben Kraus here.