Arts+Culture
Broad Art Museum Coming To Downtown LA
Los Angeles is welcoming a new art museum located on Grand Avenue in downtown. The Broad will exhibit the most pronounced pieces of postwar and contemporary art worldwide. The 12,000-square-foot museum that sits across from the Walt Disney Concert Hall, is still under construction.
Built by philanthropists Eli and Edyth Broad, the structure's vault-and-veil design concept will showcase more than 2,000 works of art on two of its floors.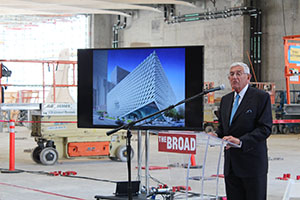 "If I don't mind saying so this is going to be a very iconic, exciting piece of architecture called the veil and the vault. The veil is going to be the exterior and it's going to be very exciting. The vault is going to be where we store all of the art," said Broad.
The third floor is a 35,000-square-foot, column free exhibition space covered by the veil, a honeycomb-like structure that spans across the gallery and provides filtered natural daylight.
At a hard-hat tour Tuesday morning, Broad announced that general admission to the museum's permanent collection will be free.
"We hope to achieve great attendance. We want to offer art to the broadest possible public. From people from this region and visitors from throughout the world."
Mayor Eric Garcetti made an appearance at the construction site to express his excitement for the opening of The Broad.
"But today we see that Grand Avenue is coming to life. It's a place where people want to spend time and bring their families too," said Garcetti.
The $140-million building will feature works from over 200 artists including Roy Lichtenstein, Andy Warhol, and Jeff Koons.
The museum is scheduled to open in late 2014.
View a slideshow of tour photos here:
Reach Staff Reporter Madeline Ewles by email here. Follow her on Twitter.