Los Angeles
Arnold Schwarzenegger Back At Muscle Beach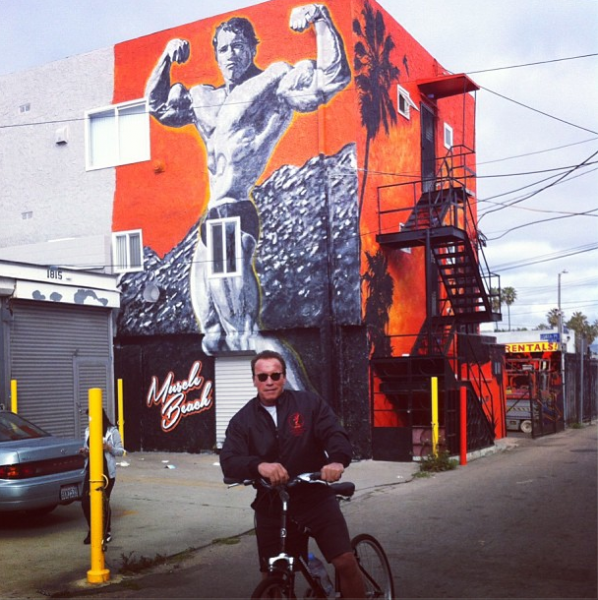 Come Sept. 20, Santa Monica Beach will
host the triumphant return of Arnold Schwarzenegger
. He plans on addressing the public for photos and meet-and-greets over
three hours on Friday afternoon
.
The master of muscle will be signing autographs and publicly pumping iron to promote the sale of supplements bearing his name. He announced plans to appear at Muscle Beach online the day before, offering to share bodybuilding tips with one fan in attendance.
'Arnie' hasn't always been this way. Over his 66 years of life, the man has made many alterations to his lifestyle and image—some intentional, others mired by misconduct.
Chapter One: Money Making Mogul
Even before he found fame in politics or cinema, Schwarzenegger wrangled his finances into shape as a self-started entrepreneur. In his autobiography, he claims to have preformed odd services for spare cash. He then partnered in the operation of a brick-laying service, before founding his own business in the late 60s.
The enterprise was based out of his apartment. Schwarzenegger produced pamphlets detailing bodybuilding tips, and distributed them through the mail.
While bodybuilding victories and film appearances would dominate his docket for the period immediate following his tenure as a DIY publisher, the Austrian hulk would return to producing print media nearly a half-century later.
Chapter Two: The Image Of The Mongoloid In Popular Culture
With wins in international bodybuilding under his belt, Schwarzenegger charged into the realm of film. Not letting his lack of English dissuade him, his first turn on screen came in 1970's "Hercules In New York."
While he achieved recognition for his turn as the Greek myth, it was not enough of a hit to wrest Schwarzenegger from his work as a professional tissue-craftsman. The decade would be chockfull of prominent wins for the Austrian, who had officially entered the next era of his existence.
The documentary "Pumping Iron" brought Schwarzenegger's one-of-a-kind persona to a broader audience than his previous work on celluloid. While the film's focus is not dedicated exclusively to Schwarzenegger, he steals the spotlight from his competition.
By the end of "Pumping Iron," viewers have been offered a multitude of windows into Schwarzenegger's mindset. His unique perspective on morality and professional practice are on display here, including his tactic of preaching poor quality advice to anyone he deemed a threat.
The line between performance and reality would continue to be blurred in future documentary works. One such example is his short-lived travel feature, which had him fly to Rio and share such insights as, "I can absolutely understand why Brazil is totally devoted to my favorite body part: the ass."
It was during the 1980s that Schwarzenegger's acumen reached a new plateau. He became a box office mainstay, and cemented his position as a one-man global cultural phenomenon.
Chapter Three: Meathead of State, Or, Who Is Your Daddy And What Does He Do?
Were it not for a historically unprecedented twist in California's politics, the trajectory of Schwarzenegger's life could have ended there. But in 2003, the first-ever gubernatorial recall election gave state residents the chance to elevate the actor into a new realm of power.
Schwarzenegger won 17 percent more of the popular vote than the closest runner-up, Democratic candidate Cruz Bustamante. His tenure in politics has been decried by some, but received positively by other, particularly by some environmental advocacy groups.
During this period of his life, and the decades that followed, investigations into Schwarzenegger's sexual conduct began to turn up new specifics. Numerous women came forward alleging that he had fondled them, or otherwise engaged them in sexual activity without their consent.
His turn as a staff member of American Media Inc. has been interpreted by some as a shrewd means of shirking public attention on these affairs. He served a symbolic role for the international publication powerhouse, and performed as an Executive Editor of Muscle & Fitness and Flex magazines during following his election in 2003.
Regardless, the ramifications of his libido came to light not long thereafter. 2011 saw a break-up of Schwarzenegger's family, when he was revealed to have borne a child with his housekeeper, Mildred Baena.
There's been nearly a half-decade of steroid-fueled strangeness between Schwarzenegger's early days on Santa Monica's weights and this homecoming.