Music
'America's Most Wanted' Tour Ends On High Note In Irvine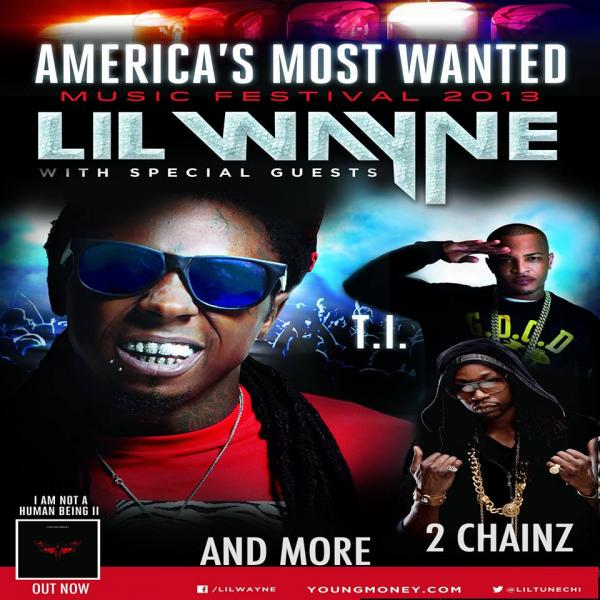 Lil Wayne's "America's Most Wanted" tour ended its 40-show summer music festival at the Verizon Wireless Amphitheater in Irvine, California, on Sunday night.
Its lineup -- consisting of Adrien Broner, G-Eazy, Hit Boy, 2 Chainz, T.I., and Lil Wayne -- ensured the music festival ended in a truly memorable night for its audience.
Thousands of people from the Los Angeles region, the Inland Empire, Orange County, and other areas flocked to the Verizon Wireless Amphitheater to see their favorites perform. Before the concert started, a handful of the group attended separate meet and greets with G-Eazy, 2 Chainz, or T.I.
Upon arriving to the actual theater, one can easily see how relatively miniscule the stage is. Most of the performers were only able to utilize a small part of the front of the stage, as the rest was blocked off. Still, as each music artist proved when it was their turn to come out, a small stage means nothing with the right energy to dominate it.
First up was Adrien Broner. If "Who?" is your immediate response, then you share the opinion of the majority of the concertgoers tonight. P
uzzled faces and whispers went around when he took the stage and it took a while for me to realize the concert was starting and he was the first one performing. He performed a seemingly unfamiliar song ("Cook," was it?). He then brought out Soulja Boy, who -- of course -- performed "Crank Dat." It must be beautiful to still be making thousands of dollars off a single released years ago.
Neither artist recieved much applause, which is perhaps because only one-third of the amphitheater was full and the majority believed in being fashionably late. Still, Adrien Broner has a promising sound and opening for a music festival of this caliber is not to be taken lightly. Good effort. Also, he performed for what seemed like an entire five minutes and left abruptly.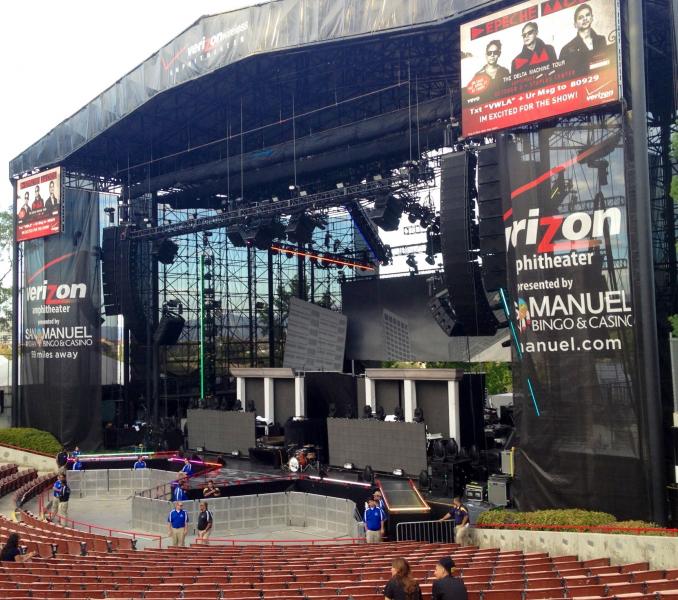 Next up is G-Eazy, a rapper from Oakland, California. Though I had no idea who he was, he quickly won me over. He performed
"Breathe,"
"I Don't Believe You,"
and a few others.
G-Eazy is one of those lesser-known music artists to remember at big concerts like this one. You may not know his name when he first comes out on stage, but you find yourself searching for his songs on YouTube the next morning. He is a mix of Mac Miller and T. Mills, if there ever could be one. He, too, had to deal with a mostly-empty theater, but the people who were there were definitely paying attention to G-Eazy.
Hit-Boy was next on the list. This rapper from Fontana, California, was joined on stage by two other artists, Audio Push. They performed "Them N****s," "Shoebox Money," and a couple other songs. They also did remixes to "Clique" and "N****s in Paris."
Unfortunately, though Hit-Boy is named in the lineup, he was overshadowed by the dynamic duo known as Audio Push. Perhaps their sound is better than Hit-Boy's, or they simply had more energy to offer the still-barren theater. The performance was still decent, despite Hit-Boy fading out.
Finally, a widely recognized performer hit the stage. Music artist 2 Chainz utilized the front of a boat prop as his DJ's area and two screens on other side of the stage with images of the ocean swaying back and forth. It was initially a confusing concept until 2 Chainz reiterated several times that his next album, entitled "BOATS II: Me Time," will be released on September 10th. We see what you did there, 2 Chainz.
He performed "Crack," "UOENO," "Beez in the Trap," "Own Drugs," "RIP," "I'm Different," and several others. While he was performing "I'm Different," the two screens on the stage flashed the words "I'm Different" in an assortment of languages. An interesting touch, kudos to whoever thought that up.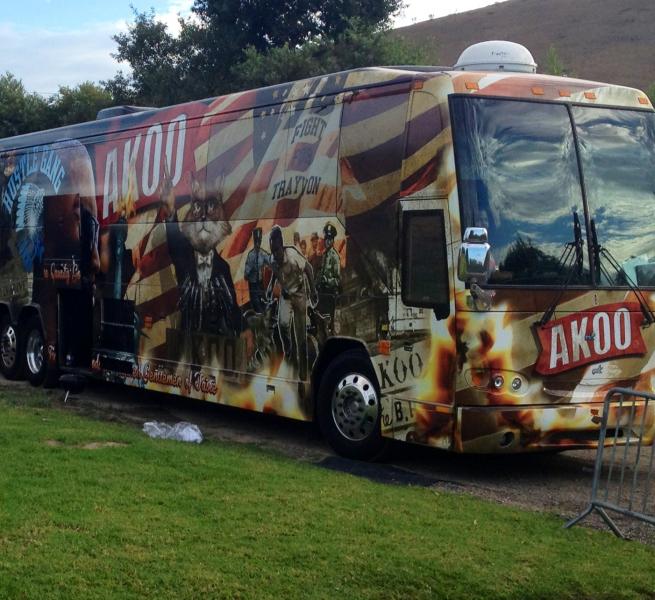 T.I. was next and by now most of the amphitheater was actually filled with people. His intro was a video of the events in his life, particularly his time in jail and how he has matured since that time. The intro leads into a music video for "Dope Boyz." Oh, it is also crucial to mention that T.I. morphed the stage into the outside of a white southern house of sorts, complete with a little staircase, a white door, and a porch.
When it was time for him to come out, he busted out the door in a white durag, a t-shirt, and basketball shorts. He had a band playing on the stage's "porch," and even they were dressed leisurely (The guy on keyboards was wearing a wife beater and basketball shorts, for goodness sake).
But, of course, T.I. prepared this performance to have an overall theme to it. This one was about his life and how far he has come. For the first part of his performance, T.I. was dressed casually to convey his roots and played songs like "Rubberband Man" and "24's," some of his early singles. He also played more recent songs like "Trap Back Jumpin."
He left the stage while a video played explaining his progression from the hard times to better ones. He then came out dressed in a sharp suit, and the crowd went wild. He proceeded to perform more songs, this time about the long way he has come and how more he needs to progress. Two of his older songs, "Still Ain't Forgave Myself" and "Live in the Sky," fit the mood perfectly.
To lighten things up, he stripped off the jacket and shirt he was wearing and performed more upbeat songs, including "Blurred Lines," "Pour It Up," and "Whatever You Like." T.I. then left a second time and returned dressed in a sweat suit. He performed "Bring Em Out" (In which he asks "Who got a flow and a live show better than mine?" Answer: No one before you tonight!), "Live Your Life," "What You Know," and more.
T.I. generally did a phenomenal job in Irvine. It is refreshing to see a rapper embrace his roots, but also realize his flaws and choose to embrace a better lifestyle for himself. He dedicated his performance to the people who face struggles and/or lost someone dear to them, bringing up his father, his cousin, and Trayvon Martin. (Sidenote: Trayvon Martin is also featured on the side of T.I.'s tour bus, a touching gesture of respect.) T.I. performed with so much energy and emotion that it was absolutely contagious. It is just about impossible not to dance when a performer exhibits such dynamic energy. T.I. certainly proved why he is a king at what he does.
At long last, it was Lil Wayne's turn. It looked like every seat in the amphitheater was filled, just in time for the main event. Lil Wayne opened up the stage for himself, putting in a mini skate ramp at the front of the stage and a few platforms in the back. He had a crew of young men skating around the stage periodically during his performance. A backup singer helped him perform some of his songs, including "How To Love." The song was not Lil Wayne's best one of the night, thanks to no autotune to guide him in the right direction. Such a shame. The rapper also used a troupe of skillful female dancers, and their sensual moves were the perfect compliments to his overall stage presence.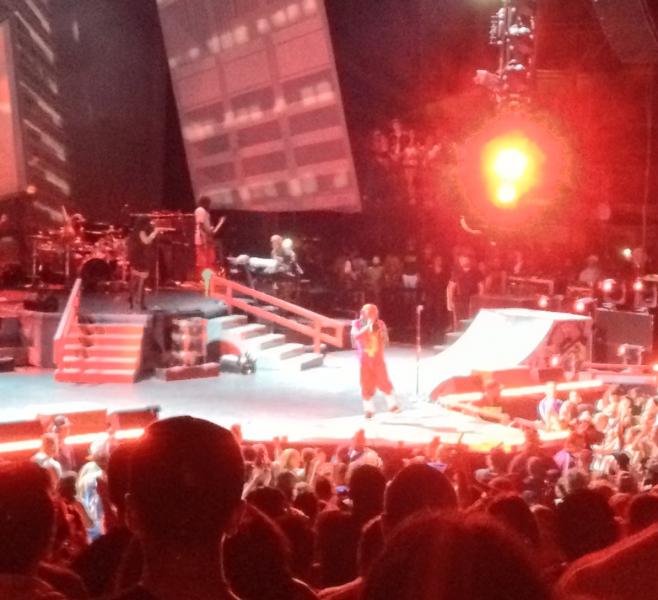 Lil Wayne peformed a plethora of his songs -- both old and new -- some with the help of a few special surprise guests. He brought Tyga out to perform "Faded" with him, as well as Birdman for "Still Fly." He also had T.I. come back out to perform "Ball" with him, and 2 Chainz to perform "Duffle Bag Boy" (You never ran from a man & you're not about to start running, 2 Chainz? Are you sure?).
Other songs performed include "A Milli," "She Will," No New Friends," "Lollipop," "Blunt Blowin," and "Pop That." Of course, this was his music festival and he rightfully owned the night. As great as the other acts were, Lil Wayne came out on top with his classic songs and more current ones. He made no mention of his very recently released "Dedication 5," a surprising move. He did, however, bring up the album that he and his mentor Birdman are preparing together.
He also promoted his new little boy band, W3 The Future. They are apparently new additions to the Young Money family. They went around the crowd while two of their music videos played during intermission before Lil Wayne's performance. They seem promising, and it'll be interesting to see how Lil Wayne markets them to the public later on.
Some random moments of the show include a concertgoer setting off fireworks during T.I.'s performance (and again later in the parking lot), a group of people in the very back waving shirts lit on fire for a brief moment, Lil Wayne bringing female concertgoers to the stage to twerk while he performed a song, Lil Wayne getting frisky with his female dancers when the lights were cut off, and a beach ball being thrown around during 2 Chainz's peformance (until it was confiscated by an employee).
The "America's Most Wanted" summer tour began on July 9th in Birmingham, Alabama. Since then, the team of performers spent the summer touring cities across America like Atlanta, Buffalo, Hartford, Detroit, Chicago, Austin, and Las Vegas, before ending up in Irvine.
Reach Film Editor Kathy Zerbib here; Follow her on Twitter here.